So, I was watching Man vs Food a few nights ago and my hero Adam Richman was in San Diego at a BBQ joint. The owner there is famous for his BBQ Tri-Tip. Drooling while I was watching this, set the course for my next BGE challenge.
I went to see my butcher today at Publix and asked him for a tri-Tip. For those of you that don't know, tri-tip is a cut of beef from the bottom sirloin. It is a small triangular muscle, usually 1.5 to 2.5 lbs. My butcher buddy cut me one fresh. It weighed in at 2.3lbs.
Honestly fellas (and ladies), it was the most amazing BBQ I have yet to cook on my Egg and I have done just about every BBQ imaginable. It literally melted in my mouth and from start to finish, it only took about 2.5 hours. Here's the recipe I used. I highly recommend you get a tri-tip immediately and try this.
1) Apply rub to both sides and refrigerate for several hours
2) Bring BGE to HOT (650-700)
3) Sear both sides of tri tip for 3 minutes each side
4) Remove and wrap with foil.
5) Cool BGE to 300. Add wood chips and set up for indirect cooking. I soaked my wood chips in a mixture of guava juice, yes guava juice and water for about 2 hours.
6) Put tri tip on for 30-45 minutes until internal temperature reaches 130 degrees (medium rare). I used a remote thermometer and took it off at exactly 130. I also basted about 3 times with BBQ sauce.
7) Rest for 10-15 minutes in foil
8) Slice against grain and serve
It came out a perfect medium rare and was oh so tender. The sear in the first step carmelized the rub I put on it and gave it a really nice crust. I sliced it about pencil thickness. I also added a bit more rub to it before I put it back on the Egg for the final 30 minutes. Mine came up to temp in about 30 minutes.
This is a picture of the tri-tip after removing it from the fridge.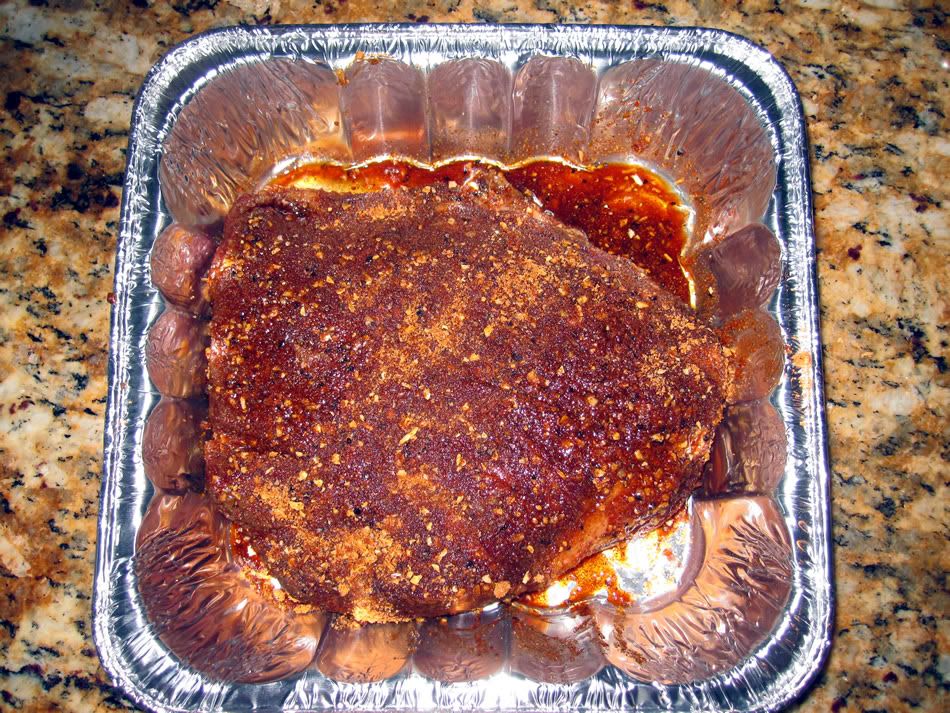 This is a picture of the tri-tip after the initial 3 minute a side sear
This is a picture after removing it from the BGE when the internal temp was 130 degrees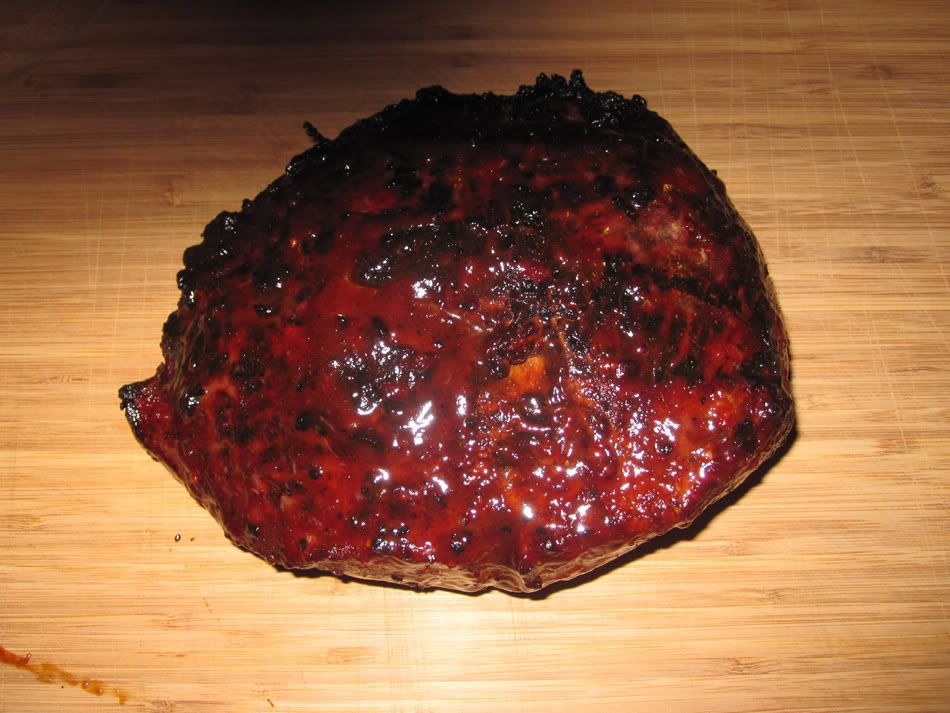 This is a picture after slicing. Perfect medium rare.
Another picture of the sliced tri-tip and the rosemary garlic bread I served it with. Didn't do the bread on the Egg :(