I tried to up load my picture yesterday but when I tried to it took a long time and I couldn't do it. I tried again when Mom went out for cigarettes because her compuetr is faster and I thought I broke her computer :ermm: . I couldn't go to the website. I tried a bunch oftimes but the green egg site wouldn't work.
I' am back on my computer trying to make it work. Here is the picture. I will try again. I can see the website now but the photo doesn't work yet.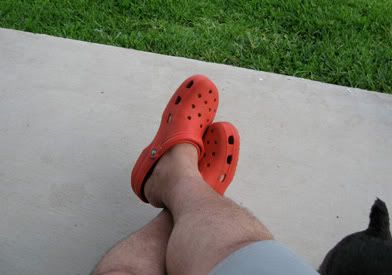 These were my new crocks from July forth.
In june we put in our hand made hot tub. It is supposed to be the one before we get the real one. We had a deal if mom liked it, we would get the new one that holds four people. this is oneI actually got from my best friend. It is from a fish pond plastic thing, and you need to fill it with hot water, but it works. Bad part is you need to take turns. Which is why we have the bench. Mom always goes first and gets to send the extra water over.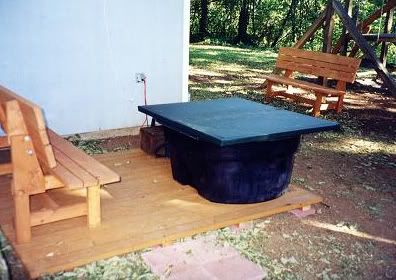 Mom was at the pool store getting patio cushions for the bench and thats when she saw the egg first. She bought it for Xmas with her extra tips money.
So can I really hot tub my steaks in it ? I searched for steaks last night and found hot tubing and will try it tonight. I will actually try it in the sink because I don't feel like filling the tub. I know you don't need a hot tub but thouhgt you would get a kick out of our pretend hot tub
Sorry for the long post. In the RC forum we always get in trouble for long posts.I promise I will take a pic of the steaks tonight.
Dave Montgomery at Wheeling West Virgina