I love wings so much, it just seemed natural to see if I could somehow incorporate Hatch Chilies into them. Looked around the internet for awhile, but I couldn't for the life of me find a recipe that included Hatch and wings. Found a few that used green chilies, but not Hatch. So I took one and used it as a base to come up with my own recipe.
First thing was to roast the chilies and peppers at 500F on the Mini to get them all charred up.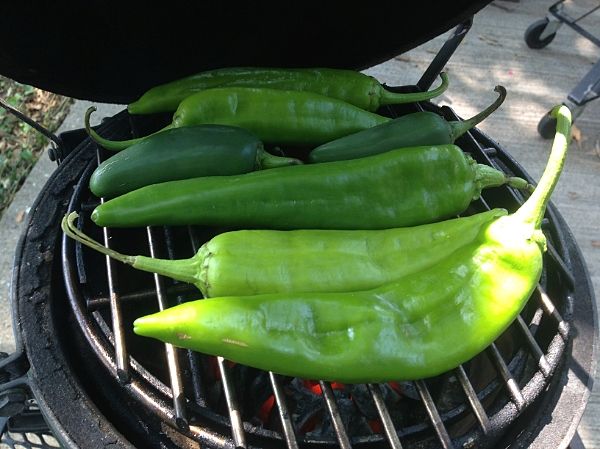 The chilies and peppers were then skinned, deveined and deseeded and tossed in a food processor along with the rest of the ingredients for a marinade. Wings got marinated for about 3 hours. Then I removed the wings from the marinade and brought it to a boil for ten minutes so I could use it as a baste while the wings cooked. The Egg was set up for a raised direct cook at 400F.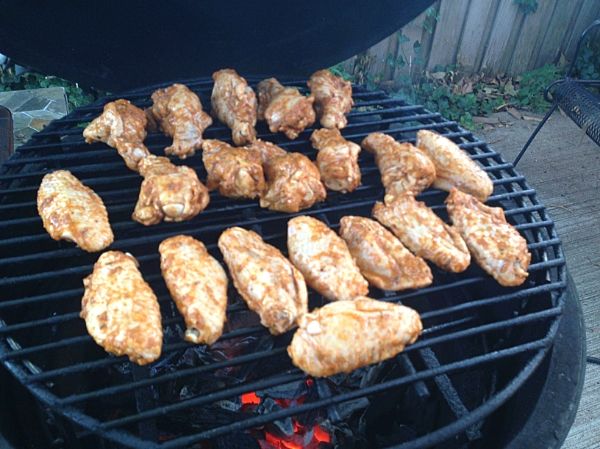 I grilled the wings for about 30 minutes, basting them every 5 minutes. And of course, when I have wings, I usually have tots. I thought of you guys as I cooked them, @Dyal_SC and @Eggcelsior and @henapple in particular.
All I can say is WOW!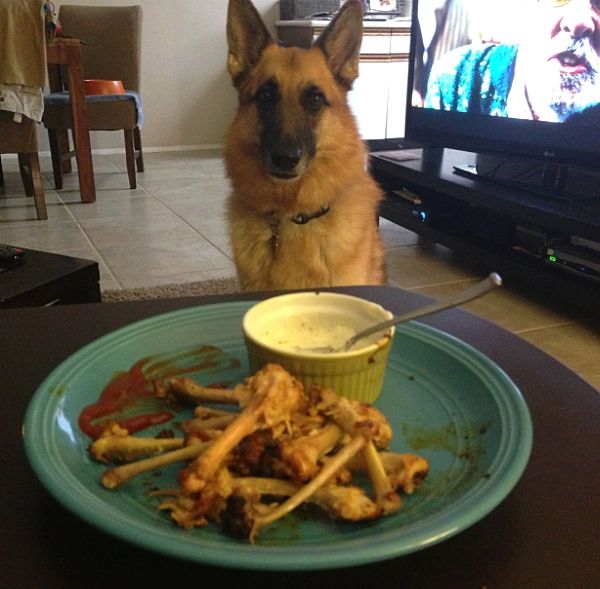 Those were some good wings, easily landing in my top 5. Not too spicy, just a bit of a burn on the lips, but the fresh squuezed limes really made it unique. Gonna have to make these again. I just hope that if I use Anaheim peppers once Hatch Chile season is over that they will be just as good. Oh...and sorry about the tease post on Friday. Some people should just not drink and get on the forum...
Ingredients
5 Hatch Chilies (I suppose you could use Anaheim if Hatch isn't available), roasted, skinned, de-veined and de-seeded
2 jalapenos, roasted, de-veined and de-seeded
3/4 cup of freshly squeezed lime juice
1/4 cup olive oil
1 Tbsp soy sauce
4 cloves of garlic
2 Tbsp paprika
1 Tbsp McCormick's Grill Mates Lemon Pepper with Herbs
1 Tbsp sugar
1Tbsp salt
1/8 tsp cayenne pepper
2.5 lbs chicken wings
Toss everything in a food processor, but the wings, then let marinate. I went 3 hours as that was all the time I had, longer would probably be bettter and hotter. Remove wings, reserve marinade. Bring marinade to a boil, reduce and let simmer for 10 minutes. Grill wings 400F raised direct for about 30 minutes, basting and turning every 5. Serve with TATER TOTS.
Rowlett, Texas
Griffin's Grub or you can find me on Facebook
The Supreme Potentate, Sovereign Commander and Sultan of Wings