Still trying to figure out the best method for me to cook pizzas on the MINI and last night was not a winner. :(
I had every intention of having a healthy dinner last night. I was thinking seafood. I was thinking shrimp. And then somehow it all spiraled downhill from there into shrimp alfredo pizza. But at least I kept it smart portion wise and opted for a MINI pizza rather than a large, right?
Starting off with the dough, I opted for the Naked Whiz bread machine dough. Simple and it only takes 90 minutes in mine once you hit start. Gives you time to run to the store for other ingredients. No overnight rise in the fridge or other long steps. I haven't used this dough recipe in a long time. And I mean a LOOOOOONG time. So long ago, that back then I didn't realize there was a difference between AP flour and bread flour. I used to use AP flour. Bread flour....so much better for this one. Trust me.
Anyway, got the MINI set up with the Woo and two pizza stones and let it pre-heat at 500F
The dough recipe said it was for 2 12inch pizzas. I figured that could also be 1 12 inch pizza and 2 6 inch pizzas. I can do simple math.
While prepping my dough, I think an errant wind, possible a mini tornado, must have blown through my kitchen just as the dough was reaching the apex of its arc into the air, blowing it off course causing it to go sailing and fall with a wet splat on the floor. Or I may have just dropped it. We have two dogs, one who sheds quite a bit. The 5 second rule doesn't apply in our house. Into the trash and started on the second small ball of dough. No problems with this one. Built my pie and onto the Egg it went.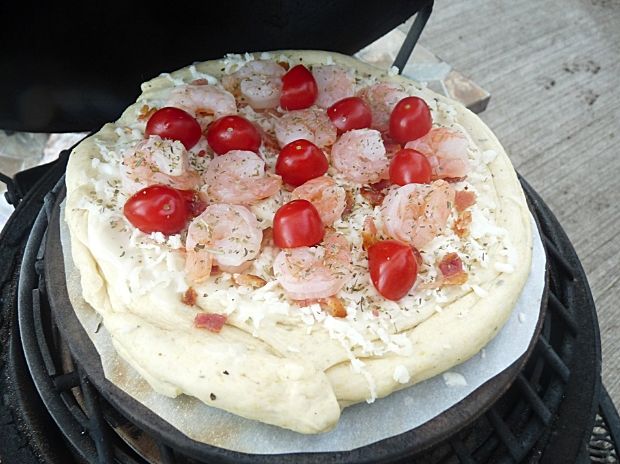 Guess the Egg was too hot for this pizza. I also think there was too much dough. Probably should have gone with a smaller dough ball to start with. I pulled the parchment after 4 minutes. Checked again 4 minutes later and the top wasn't nearly ready. On a whim, I checked the bottom. Oh no! Cooking way to fast. Might have lost it already. Pulled it and tried to save it by finishing it under the broiler in the large oversized clock thing in the kitchen.
Looks like it wasn't a lost cause. Side shot had good air bubbles in it. Should be edible.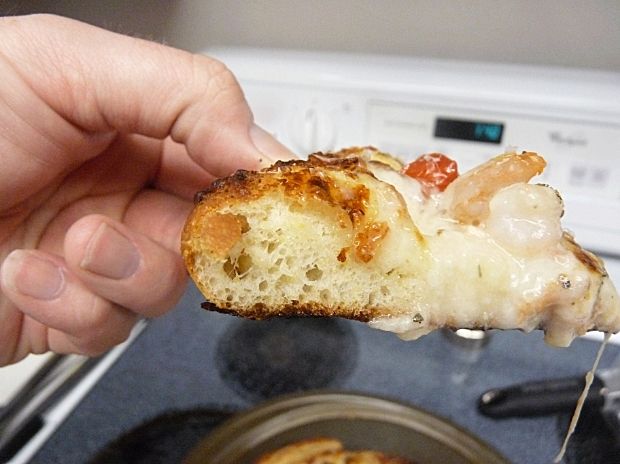 Not so much. The bottom of the crust was a total loss. 8 mintues at 500 was just too much for this little disc of happiness. Charred like....like something charred. I was able to scrape off some of the dough and the toppings and eat that and it was really tasty. This pizza could be a winner, if'n I can figure out how to cook it properly. Shoulda gone with 425 or 400 maybe. Oh well. Still got half a batch of dough left. I can either try another MINI pizza again later this week. Or maybe I'll just build a large pie.
)
Rowlett, Texas
Griffin's Grub or you can find me on Facebook
The Supreme Potentate, Sovereign Commander and Sultan of Wings