This past weekend I smoked some pork butt. Originally I was going to smoke both of the butts on the BGE, but decided to make it a 'contest' 'tween the egg and the weber smokey mountain:
Here are the raw, trimmed butts...both ~ 7.5 pounds.
Rub applied (Renowed Mr. Brown):
Big Green Egg:
Weber Smokey Mountain: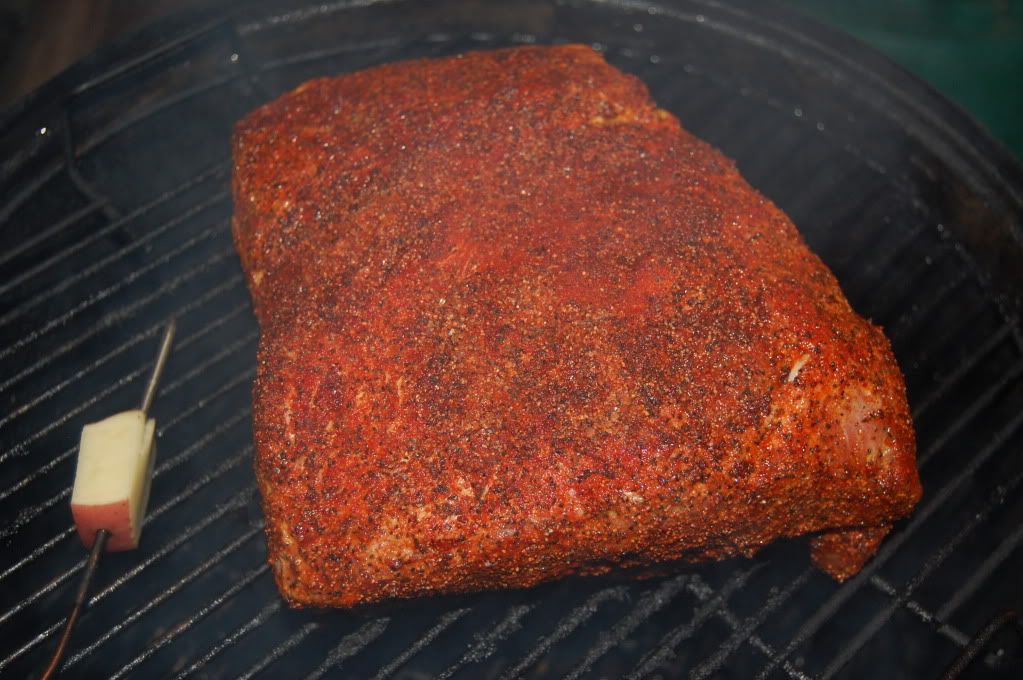 The Battlefield: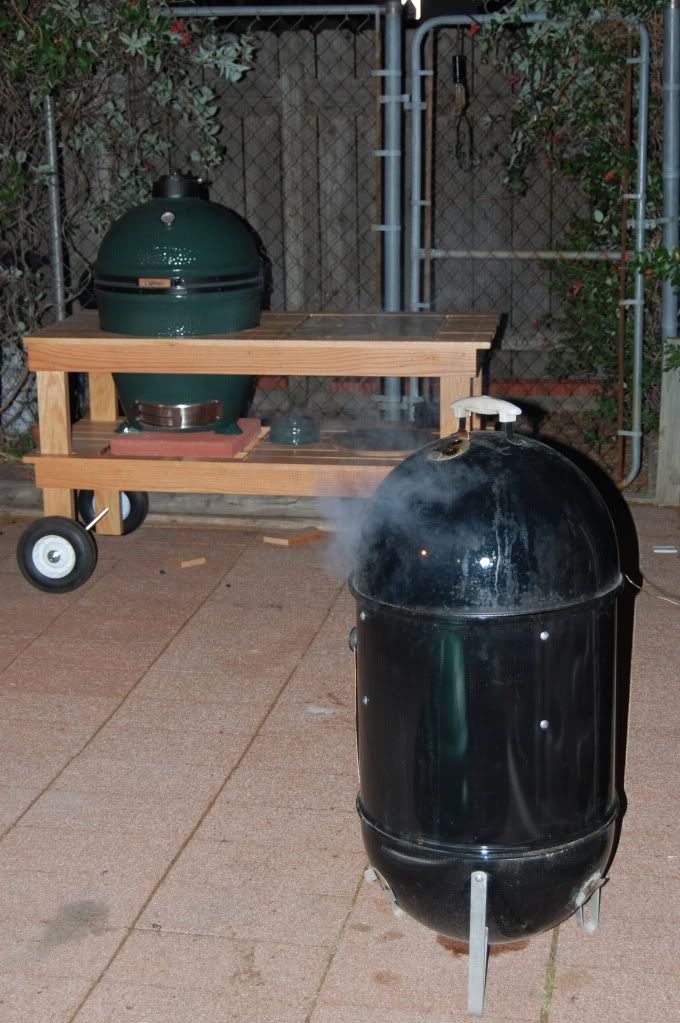 BGE Finished Butt: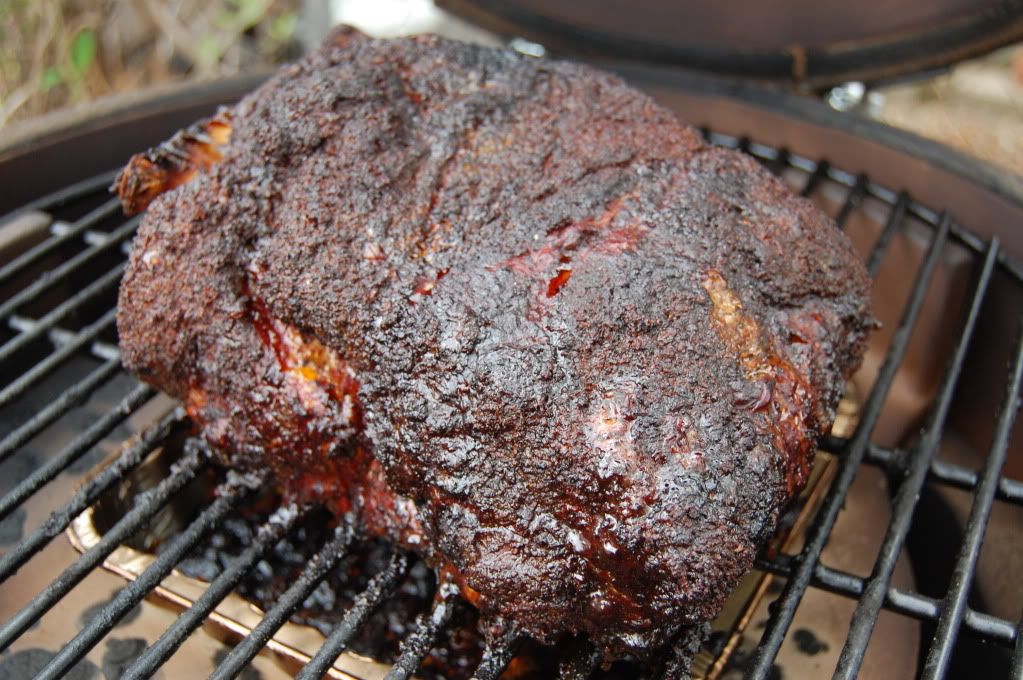 WSM Finished Butt: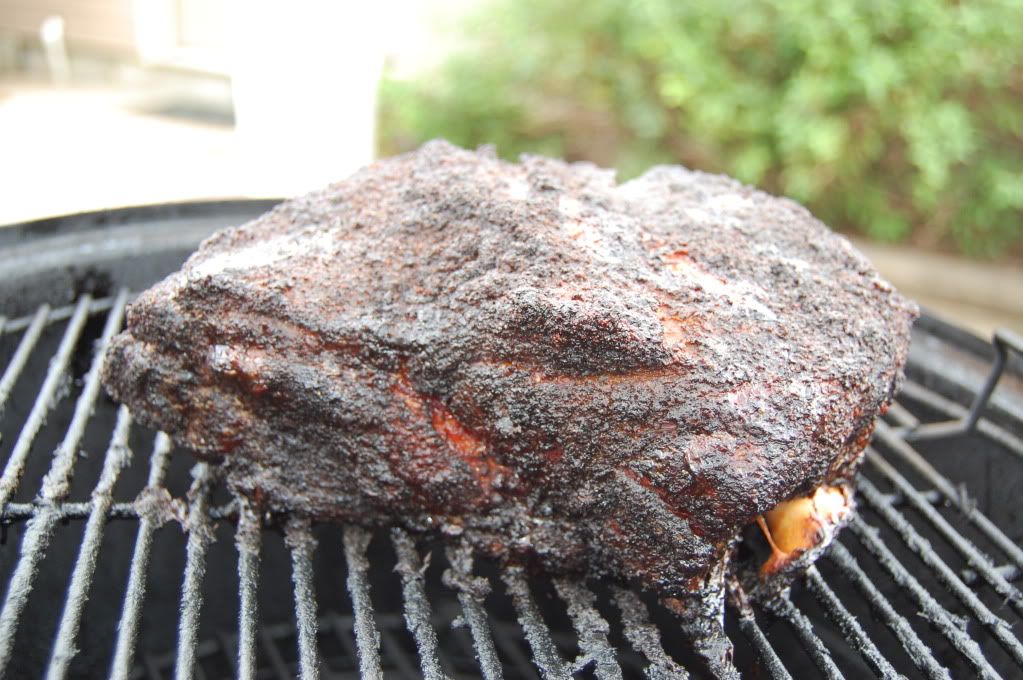 BGE Pulled Pork: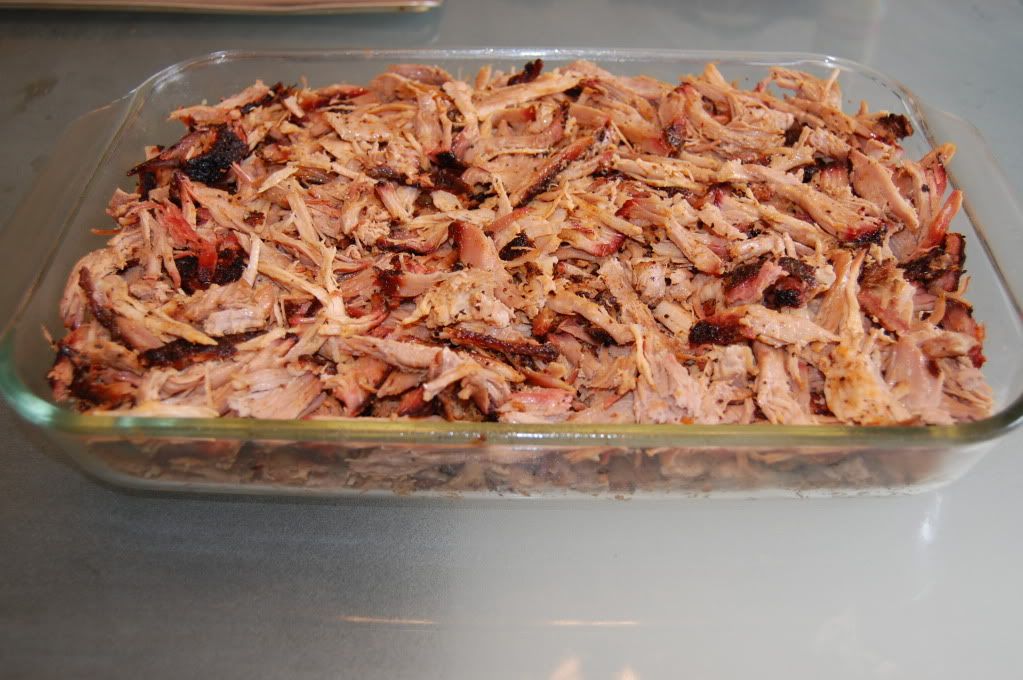 Closeup of BGE Pork:
WSM Pulled Pork:
Overall, I'd have to say that the BGE won this battle. The finished product from both were very similar...both very, very good...but the cooking process was where the BGE won. The weather conditions of the cook were horrible...about 45 degrees out with 30-40mph wind. Started them both at 10:45pm Friday night. Stayed up 'till midnight to make sure the temps were steady, went to bed with both hovering around 250. Woke up at 4:30am...went to check temps. The WSM was at 269, so I closed the bottom vents quite a bit. The BGE was at 190, so I opened the bottom vent a lil on it. Went inside for ~10 mins or so. Went out to check, and both were getting back to where I wanted them, so I went back to bed. Woke up at 7:15. The WSM was at 200, so I opened up the bottom vents. The BGE was chuggin along at exactly 250 (dome temp, so at the grid it was ~220-230). Gave the WSM time to heat up, but it didn't...so I opened the door on it to find that all of the charcoal was burned! I started with a full ring of coal (minion method) with only ~12 coals lit at first. This was the first long cook on my WSM where that much coal didn't last at least 12+ hours. I blame it on the wind. Anyways, started another 3/4 full chimney of coal and added it to the WSM...temp rose and stabilized around 230-240. All the while, the BGE chugged along at 250 on the dot.
Finally, after ~16.5 hours, both butts reached 195-197. Pulled 'em off the smokers and wrapped 'em in foil. After ~2 hours I pulled the pr0k.
Very good pr0k came off of both cookers, but the BGE won by way of ease of cook! I think the next contest will be ribs. Of course, if the BGE ever 'loses' a contest to the WSM in smoking....it'll just want a rematch: Searing Steaks. :P