Spreading the love this
Valentine's Day
with your EGG? Virginia Willis' three course menu is perfect for a date night! February is also National Chocolate Lover's Month, so don't feel guilty if you've been cooking a little more
dessert
than usual on your EGG. If you're looking for something a little more savory than chocolate, try some
Roasted Chicken Flatbread
or
Pork Tenderloin with Honey Mustard
.
Big Green Egg headquarters has moved - come visit our new showroom and check out the History of the EGG Museum and the
Culinary Center
too!  3786 DeKalb Technology Parkway, Atlanta, GA 30340.
Butts Again?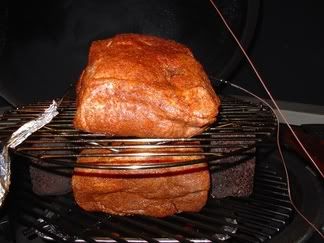 <p />
My wife told me this afternoon we'd be having her mom and a friend over for dinner tomorrow night and to please "EGG" something. Got 13.8 lbs of butts going with that Wicked Good. This'll be my first low and slow with a firebox full of WG. I did a blend a couple of weeks ago with BGE lump and the WG and I honestly expected to see more lump leftover after the cook than I did. On the Whiz's site the WG looks hardly used after a low & slow.[p]Anyway, I've got the top butt rubbed down with Dizzy Dust and the bottom butt rubbed down with Swamp Venom. I'm really looking forward to the hotter butt of the two. The Guru is puffing along so I know I'll sleep well tonight![p]Jimbo

Spartanburg, SC - 1 Large, 1 Small, 1 MiniMax and a Mini. I may have a problem...