I thought I would try baby back ribs for the second time. I was optimistic that I had learned enough from my first try.
Yesterday I had cleaned the egg and loaded it with RO and a fist full of Jack Daniels oak chips mixed in. I set the egg up with plate setter, drip pan, grate and rib rack. I used foil to shield between the legs on the plate setter.
I guess I have a bad probe o my DigiQ so this was my first Low & Slow with out it. I didn't have any trouble getting the egg to stabilize.
I brushed the ribs with yellow mustard and used a homemade rub.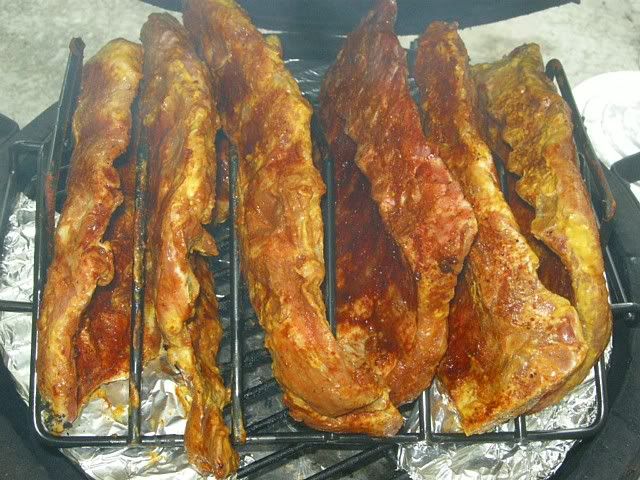 I misted them at 1 hour with equal parts frozen apple juice concentrate, apple cider vinegar and water. I used the frozen apple juice concentrate so I could refreeze what I had left over. It also boosted the sweet apple flavor I was spraying on.
Again at 2 hours . . .
. . . and again at 3 hours. My temperature had decided to go up . . .
. . . but all was fine.
After another 30 to 40 minutes I decided it was a good time to check them for doneness.
They were looking good so I pulled them so I could get ready to sauce them.
I reconfigured to a raised grid, direct and opened the vents till the egg was almost up to 400º, the afternoon rains were getting ready to rain on my parade in a big way so I was in a bit of a hurry. I used Sonny's Sweet sauce.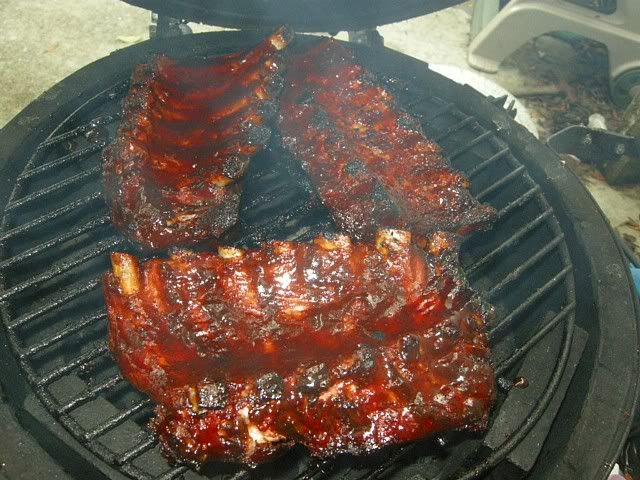 I had to sample, this was the first rib off the end of the longest rack and was probably just a little bit dry. It made up for it in flavor! These are almost like candy. They aren't fall off the bone tender but bite off the bone leaving a spotlessly clean white bone and may be the best ribs I have ever had! :cheer:
Blair