I had a craving for some caramelized/smothered onions. They go with just about everything and I never have any on hand. A trip to Sam's produced a 5 pound bag of Texas 1015 Sweet Onions. I had never experienced Texas 1015's before, now I'm glad I have. Mild, super sweet, no tears, these can be eaten like an apple!
While the BGE came up to about 450* I gave the onions a course chop, 5 pounds of onions filled my 10" cast iron skillet twice or 12 to 16 cups raw. With a little oil and salt and a close eye I cooked them in the covered skillet for about 40 minutes. At that point I could combine them into one pan and cooked them a little longer for some added color.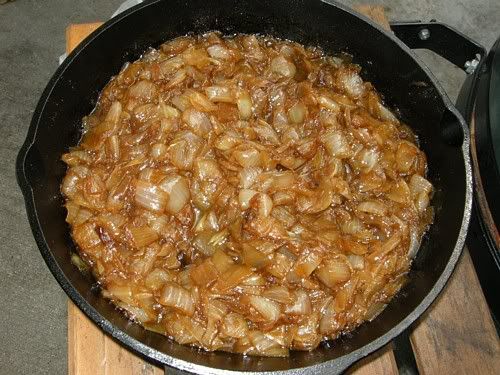 These are candy!!! I could sit down to a bowl of these by themselves, instead I divided them into small storage tubs and popped them into the freezer.
LOL, out of 12-16 cups of raw onion I ended up with 2.5 cups cooked. :blink: :blink: :blink:
Some of the simple things in life can be sooooo sweet!

Gator