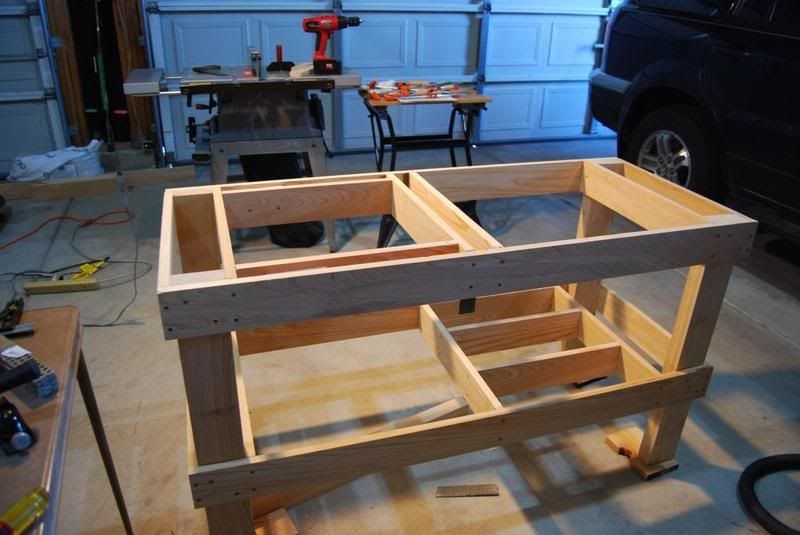 As you can see I'm making fair progress in getting the table built. So far I don't believe I've made any mistakes that I can't recover from, and I'm doing my best to keep it that way. That leads me to my question. . .
I'm struggling with exactly how the 18x18 tile for the top table is supported. In the plans it references "cleats" that can be positioned based on the thickness of the material used for the 18x18. Can you give me a better idea of exactly what you used, how they were attached to the 18-1/8 x18-1/8 frame, and how the tile was positioned on them?
I'm envisioning these things as "feet" upon which the tile rests. These feet would elevate the tile to become flush to the table surface, and the tile would just rest on top. Is that it?
Once again
THANKS!!!!
Now just a few notes regarding the building experience so far. . .
This is the first time I've ever attempted anything like this. I'm learning and cursing a great deal and enjoying most of it. I had never owned or used a table saw before. I still have all my fingers, but I have made a lot of really crappy cuts that I'm chalking up to learning. The rip cuts have gone very well. I've been fair to poor at the accuracy on my cross cuts. All I can say is thank God for something I found at Home Depot called "Composite Shims" (or something like that). If you look closely at the pic above you can see one still protruding from the bottom of the top rail that I haven't trimmed off yet.
One of the reasons I chose to build rather than buy a table was cost. For me, that turned out to be a really dumb reason! With the purchase of the cypress lumber, the table saw, clamps, the heavy duty wheels and other miscellaneous stuff, I've now exceeded the entire defense budget of many Central American countries. So I'm paying to teach myself some basic carpentry skills that I hope I can use to make up on this investment somewhere down the line. However, it will probably just lead to buying more tools.
I'm at the point now where a lot of what I've build is still underneath the table tops. I know it's not 100% square and fitting the tops so that they look halfway decent may have its challenges. I am very much open to getting general advice on this from anyone!
Sorry about the long-winded post! :blink: