The time has finally arrived for me to attend my first Eggfest, after hearing what many of you have said about not going too crazy and enjoying the fest as well as cook, we decided on making Pork Mojo Tacos with two kinds of salsa roasted on the egg. I am also directing people to this thread to view the recipe instead of making recipe cards so we shall see how that goes. If this is your first time to the forum, welcome!
Now for the meal! Today was the first cold rainy day of the season, but as we know the egg can cook in any weather.
Veggies and chilies get drizzled in olive oil and on to the egg.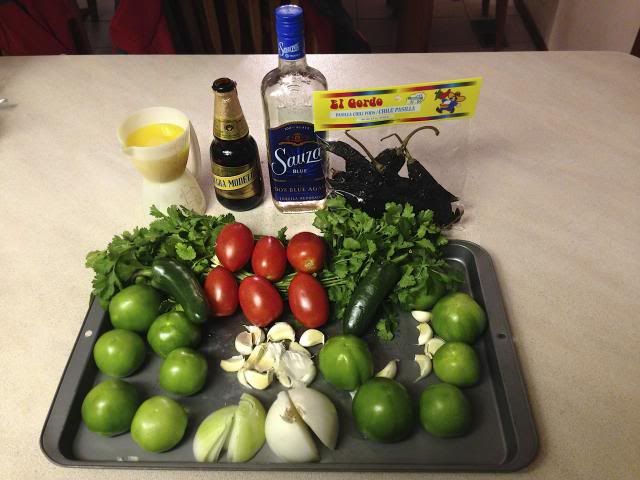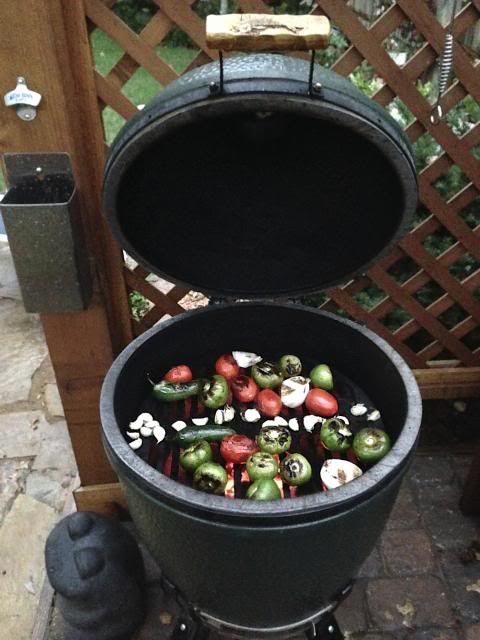 First up was the Roasted Tomatillo Salsa, it is a Rick Bayless recipe and one of my favorites.
INGREDIENTS
8 ounces (3 to 4 medium) tomatillos, husked and rinsed
Fresh hot green chiles to taste (1 or 2 serranos or 1 jalapenos), stemmed
2 large garlic cloves, peeled
6 sprigs of fresh cilantro (thick bottom stems cut off), roughly chopped
1/4 small white onion, finely chopped
Salt
DIRECTIONS
Roast the tomatillos, chile(s) and garlic on a rimmed baking sheet 4 inches below a very hot broiler, until blotchy black and softening (they'll be turning from lime green to olive), about 5 minutes. Flip them over and roast the other side. Cool, then transfer everything to a blender, including all the delicious juice the tomatillos have exuded during roasting. Add the cilantro and 1/4 cup water, then blend to a coarse puree. Scoop into a serving dish. Rinse the onion under cold water, then shake to remove excess moisture. Stir into the salsa and season with salt, usually 1/2 teaspoon.
Next up was a version of Rick Bayless Drunken Salsa with Pasilla Chilies
Ingredients:
6 garlic cloves
6 large dried pasilla chilies
⅓ cup fresh orange juice
⅓ cup dark beer, preferably Negra Modelo
1 tablespoon tequila
salt
Directions:
roast the garlic, toast the chilies until they are aromatic and have lightened in color. In a small bowl, cover the chilies with hot water and let rehydrate for 20 minutes, Drain reserving ⅓ cup of the soaking water.
Combine in a food processor or blender and process to a smooth puree. Taste and season with salt, usually about 1 teaspoon.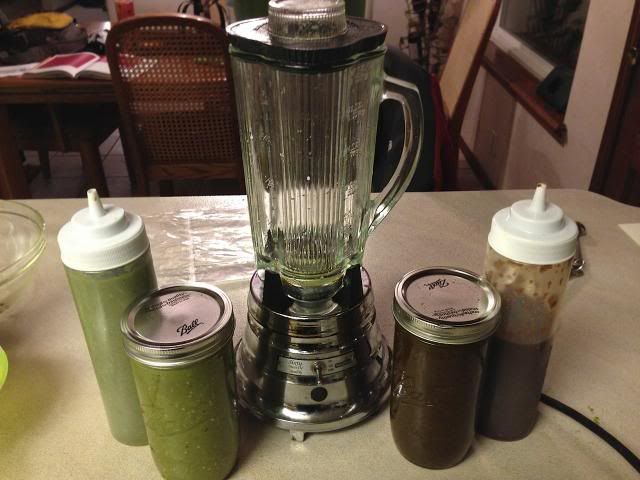 Then it was time to marinate the pork to have it ready to go on the egg in the morning. We went with a pretty classic Mojo marinade orange juice, lime juice, roasted garlic, spices, and white onion. We poked holes in the pork to help the marinade get into the pork.
Into some ziplock baggies and back into the fridge for the night.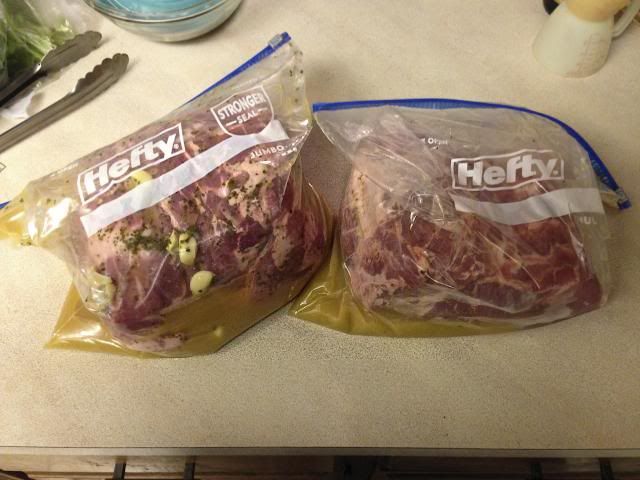 Thats all for now, I will post more pictures and the time and temp for the pork either saturday night or sunday morning.
I hope everyone is off to a good start to the weekend!
Large & Small
BGE
, CGW Two-Tier Swing Rack for
BOTH EGGS
, Spider for the Wok, eggCARTen & and Cedar Pergola my
Eggs
call home in Edmond, OK.