I was going to add my Rutland installation experience onto @Black_Badger 's thread, but decided that due to the many pictures, folks (especially those looking at the site with their phones) should be warned so I made a new thread. Here's a link to Black_Badger's thread:
http://eggheadforum.com/discussion/1155144/installing-rutland-gasket-on-xlbge-thank-you-rrp
I expertly fused the gasket using BBQ sauce. Here's the damage:
Now for the fix. Big THANK YOU to @RRP for my new Rutland gasket! Here's the tools & materials: I never did use the trowel.
I thought I would heat the egg to get the rest of the gasket off, but I don't think it made a difference. I scraped off as much as I could from the base.
As for the dome, I removed it and scraped that too.
Here's the dome re-installed and the paint stripper wheel has done it's job.
Applying the sealant and spreading it with a putty knife:
Applying the gasket and "bunching" it as I go.
It didn't take long, but I'm glad it's on!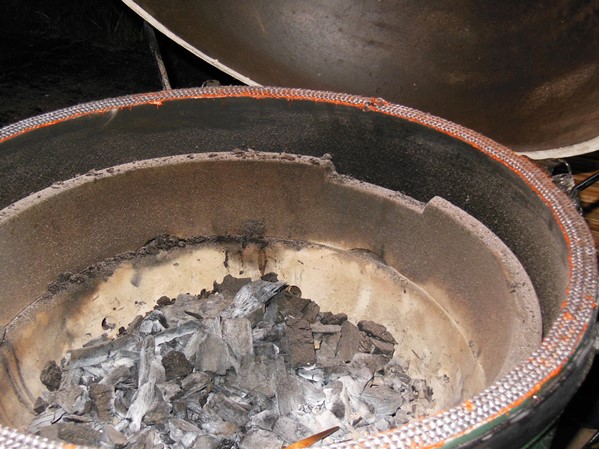 Put some wax paper on it and close the dome to weight it down evenly.
Done! Cured for 24 hours and the XL totally cleaned out. Now I'm ready to add the ceramics, some lump and fire it up!
EPILOGUE: According to RRP's instructions, I should have had about 2 inches of gasket leftover. I give myself a "C".
Thanks for looking!