Back in December, I got Bobby Flays "Grilling for Life" (gotta love used books and free shipping with Amazon Prime, picked it up for $4.02!) I've flipped through it a few times, but never cooked anything and then forgot I had it. Well, I dug it out yesterday determined to find something and seafood was calling my name. Didn't feel salmon. It seems to be our go-to fish and I get bored with it. Last week, I had some trout at a restaurant and that sounded good to me. He had one recipe in his book for Grilled Brook Trout with Horseradish and Tarragon Tartar Sauce. Sold! Except, all he seasoned his fish with was salt and pepper. That wasn't going to work for me. So we came up with a blackening seasoning for it. Didn't want to dredge it in melted butter, so we lightly brushed it with olive oil and then liberally seasoned it. Threw it on a grill basket on the Egg at 500F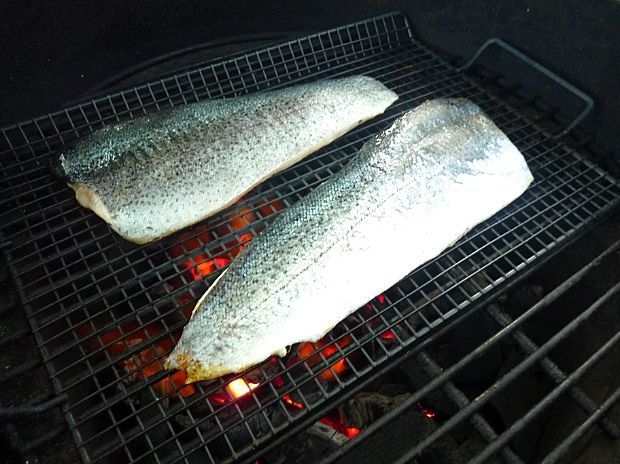 Grilled it about 2 minutes per side. Then, tossed some shrimp on.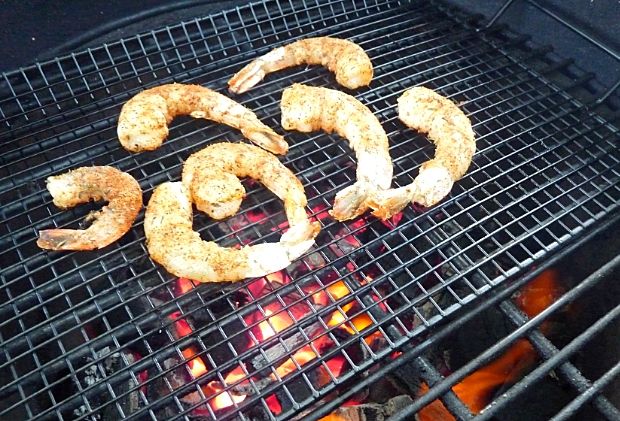 Plated it up with some Brussels sprouts that we got from the Farmer's Market this weekend. I had no idea I liked them. Guess everything really is better with bacon...and cooked in some bacon drippings.
This healthy eating stuff really ain't hard. I only eight half the trout (about 4 oz) and half the sprouts and was still satisfied. Got the rest for lunch today. The tartar sauce was amazing! I'll never buy store bought again. The cool, creaminess of it worked amazingly with the heat from the blackening seasoning. heavenly.
On a side note, my insurance company said I could get a blood sugar monitor for free from two different companies. Just got one in yesterday. Tried it out this morning and it was down to 106!! (fasting blood sugar should be somewhere around 60-100) Much better than the 303 and 216 I tested at earlier. Still got some more work to to, but filled with optimism.
Horseradish and Tarragon Tartar Sauce
(serves 4)
1/3 cup light mayonnaise
1 tsp grated lemon zest
1 to 3 tbsp of prepared horseradish, I'll let you decide how spicy you want it
2 tbsp finely chopped red onion
2 tbsp capers, drained and roughly chopped
3 dashes of hot sauce (I prefer Frank's, but feel free to sub in your own brand and adjust if you want more)
2 tbsp finely chopped tarragon leaves
1/4 tsp salt
1/4 tsp pepper
Combine all the ingredients in a bowl, cover and refrigerate for at least 30 minutes (2 hours would be better if you have the time)
Blackening Seasoning
1 tbsp paprika
2 tsp dry mustard
1 tsp cayenne pepper
1 tsp cumin
1 tsp black pepper
1 tsp white pepper
1 tsp dried thyme
1 tsp salt
Mix together ingredients in a small bowl. If not using immediately, store in an airtight container.
Rowlett, Texas
Griffin's Grub or you can find me on Facebook
The Supreme Potentate, Sovereign Commander and Sultan of Wings