I love grilled foods. I love smoked foods. I love bbq. But right up there (maybe even higher) is a good chicken fried backstrap. Right behind that is chicken fried steak. I didn't grow up hunting, but married into a family with a ranch and lots of deer running around. While my father-in-law no longer hunts, my brother-in-law does. This past Fall, he took me out and kept me company while I took down my first deer and then taught me how to field dress and process it. There's just a sense of accomplishement and pride of procuring your own meat. The hunters here will know what I'm talking about. For some reason, we haven't used any of the meat from that deer until last night.
Backstrap ready to be coated and fried
Mrs. G helping out in the kitchen.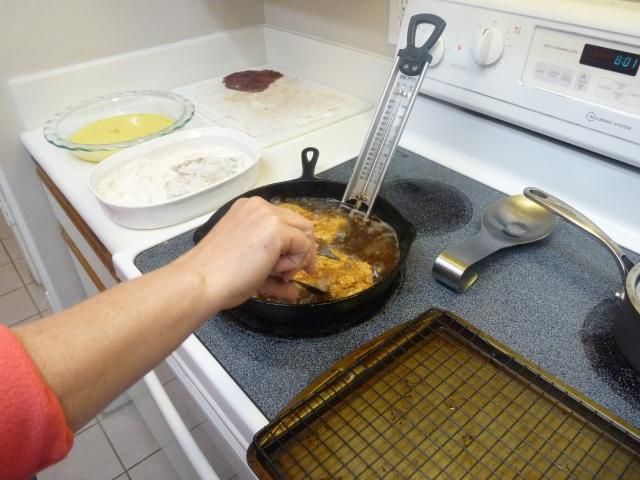 If I could choose my last meal, this just might be it.
I've loved chicken fried backstrap since the first time I had it, but the knowledge that I shot this deer, that I was responsible for it being on our table, somehow made it taste even better. Imagine chicken fried steak, but more tender and with just a bit of a difference in taste. We didn't even need to use a knife to cut it, it was so tender. I'll say it again. I love bbq, but I love me some CFB just as much. Hope y'all don't mind I went OT on this one.
)
Rowlett, Texas
Griffin's Grub or you can find me on Facebook
The Supreme Potentate, Sovereign Commander and Sultan of Wings