I got invited up to a friends family lake house at Grand Lake this past weekend and everyone wanted me to make something on the egg they keep hearing about and seeing pictures but haven't gotten the chance to eat any food off of it. So after talking about the plans and menu I decided on pulled pork for saturday night, so I could just plug in the digiQ and get out on the lake during the afternoon. Here is everything all loaded up ready to hit the road.
My friends wife ended up staying at work a little later than originally planned and they had to deal with a wreck on the highway so I was first to arrive and got all setup and prep work out of the way so I could relax once everyone arrived. Luckily they had this green wagon and even with the EggCarten carrying it down to the bottom of the house wouldn't have been very fun.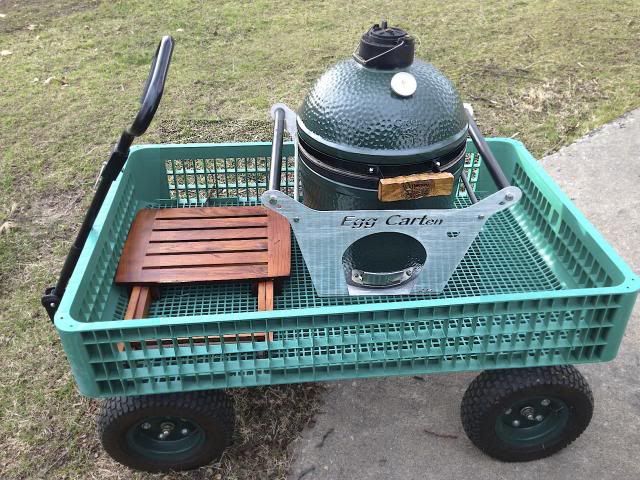 Did I mention how lucky I am, I love this place and will come cook anytime they will have me up!
Since I was the only one there I decided to prep the pork out on the deck and enjoy the view. I used my goto Bad Byron's
Butt Rub
on a 8.35 lb bone in boston butt.
I gave it a good heavy coat of rub and stuck it back in the fridge.
Then I got out my travel table all setup and went down to the dock to enjoy the view / weather until my friends arrived.
We had some pizza from a local place that my buddies wife craves when they aren't at the lake and had a great Friday night enjoying good company. I got up at 4 to start the egg and got it stabilized and the DigiQ all setup at 275° and threw some apple chips mixed throughout the lump. Back to bed and woke up to a beautiful sunny day at the lake. We got the boat cleaned up and put it in the water and spent some time out cruising around on the lake. Very few people out on the water but there were some fisherman around. We headed back after a couple hours and I bumped up the temp to 325° to finish the pork a little faster.
I only had my phone out to get a couple of pictures and didn't have my watch on but after a golf cart ride around the digiQ was beeping and it was at 185° so I stayed close by and started doing a probe test at 190° and finally was happy and pulled it off the grill at 203°.

Sitting on the top deck was almost impossible the smell was so good! I wrapped it in foil and stuck it in a cooler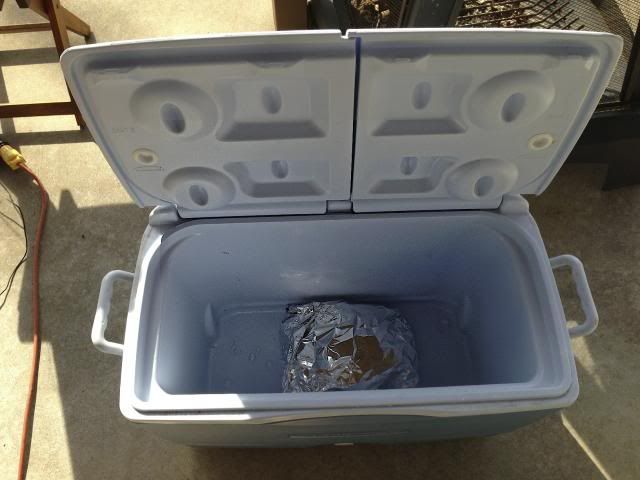 After a couple hour rest I had some potatoes going in the oven and threw some asparagus on the egg to get some sides with dinner.
I finally get to use a Christmas present to help pull the pork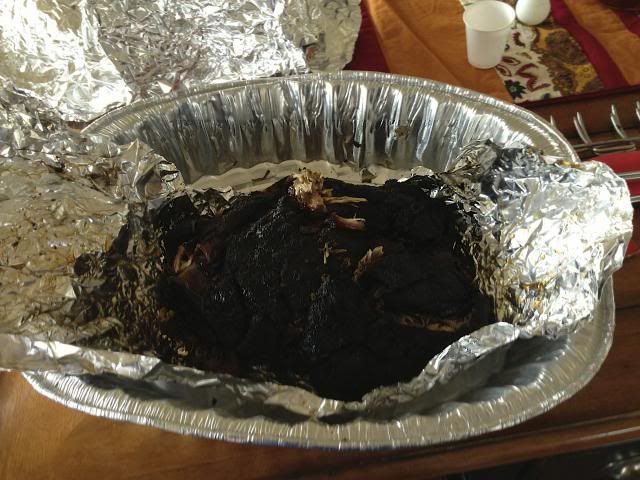 I got some Bone Suckin Sauce to go with it, but it isn't like Oklahoma Sauces so I had a bottle of my goto head country for anyone that wanted.
Here is a plated picture with some purple crashed potatoes, asparagus and a great pulled pork sandwich.
The next day was FREEZING and misting on and off all morning, it was hard to believe that we were in flip flops and shorts out on the boat the day before. But we had to get the cover back on the boat, the dogs were still happy to be outside though!
As we were doing laundry and getting everything all cleaned up I noticed over 20 deer down by the dock, I was trying to get my flip flop on as the deck was wet and scared them away as I was taking a picture.
It was a great weekend and I am always grateful anytime I have gotten to go up there. My friend wants me to bring my egg over to his parents sometime or up to the lake when they are there to try and convince his dad he doesn't need to buy a gasser every couple of years and just to get a egg. Everyone enjoyed the meal and I will cook up at the lake any chance I get..
Large & Small
BGE
, CGW Two-Tier Swing Rack for
BOTH EGGS
, Spider for the Wok, eggCARTen & and Cedar Pergola my
Eggs
call home in Edmond, OK.