I usually cook boston butt the traditional way, half a day and lots of baby sitting trying to hold out to make it to 190 for pulled pork. so this past weekend i tried something different. i cut up a 8 pound butt in three sections, and broke them down into strips about 1"-1.5" wide and 5"-6" long.
The first set i marinated for 8 hours in a homemade honey teriyaki sauce (tamari, mirin, honey, tonkatsu sauce, cane sugar, fresh garlic & ginger)
I then skewered them and got the grill to 350 with the plate setter legs up, with drip pans under a cast iron grate. I used apple & cherry smoking chips. They only took about an hour to reach a temp of 180 in the strips, and half way through i rotated them and coated them with more of the teriyaki sauce.
They were really great, smokey, crispy on the outside moist on the inside. sweet and tangy from the sauce. makes it tough to decide between BBQ and this now. so just to be sure a couple days later i made them BBQ style but i omitted the skewers because moving the teriyaki pork was a real PITA, so i just treated them like wings.
I first soaked the strips in apple juice + dejon mustard.I rubbed these down with brown sugar, coriander, cumin, paprika, cayenne, dry mustard, all spice, salt, and lots of pepper. made my BBQ sauce to paint them down half way through. same deal, indirect 350 on the cast iron grate. mesquite and apple smoking chips this time. took about an hour. these were insanely amazing. it was like eating the bark off my pulled pork on every bite. i know if i ever want bbq pork fast this is the way to go.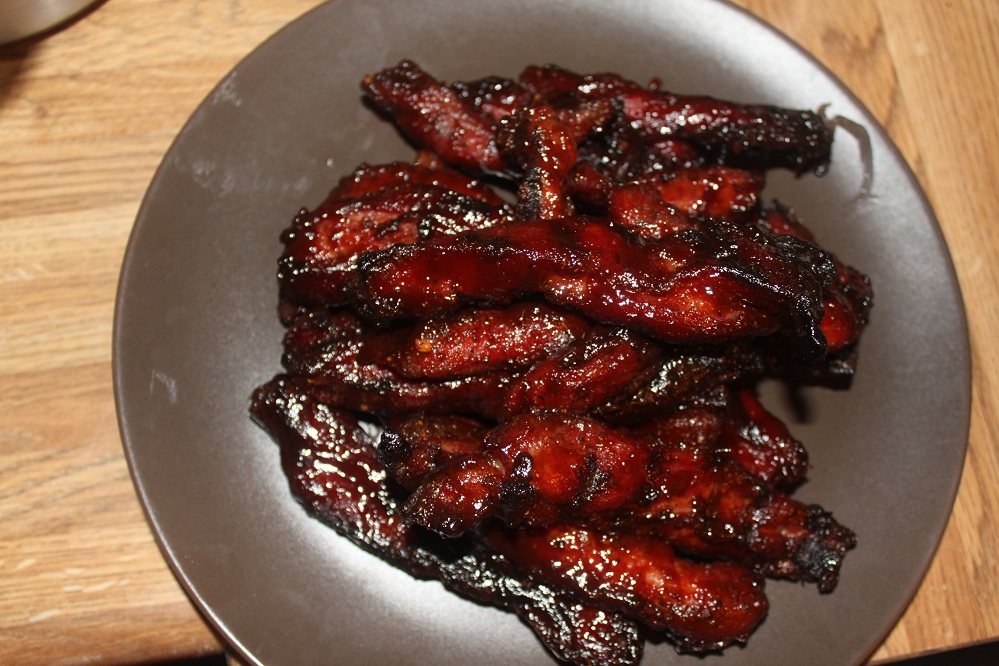 I highly recommend trying this to anyone who likes crispy bits.