As I suspected, I wasn't able to get back on the computer yesterday. Brunch was followed by errands, which were followed by some "Honey Do's" which was followed by a nap which was followed by spending some quality time with the Mrs. She's flying to Germany today for work and won't be back till the 20th and the day after that, she'll be flying out to Denver till the 23rd, but when she gets back I'll be in Austin for my friend's Beer and Diaper party (anybody else do those? A baby shower for the guys. All you bring is beer and diapers and it usually involves getting drunk, or playing golf, or other activities?). So I wanted to spend some time with her while I could.
That's probably enough rambling from me. I picked up a turkey breast last week for the sole purpose of having lunch meat this week. Used the Tony Chachere's Jalapeno Butter injection for some kick and rubbed it down with Dizzy Pig's Swamp Venom.
Threw it on the Egg with some apple wood chips for smoke. I had some serious issues with temperature. I was shooting for 400 (which the dome temp was reading). I'm used to having the dome temp not match the probe temp at the grate, but for most of the cook it was reading under 300....more like 250ish. I gave it plenty of time to heat up, but still. Oh well, it wasn't dinner and we weren't doing anything but watching movies so I wasn't in a rush. Here's one hour in.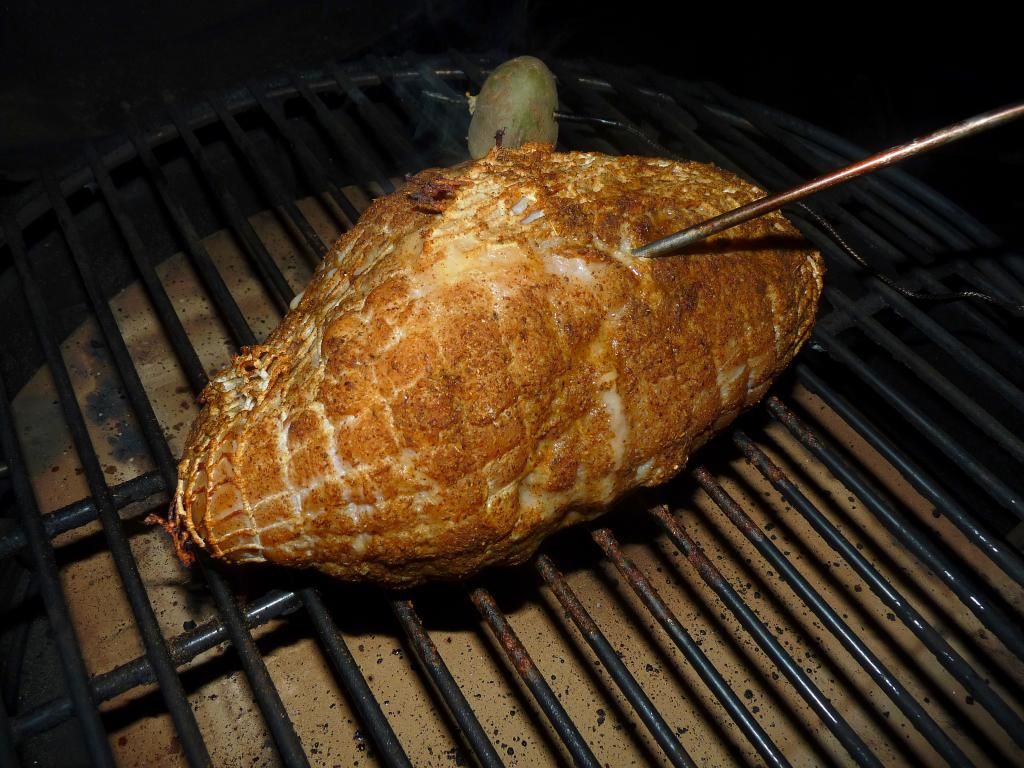 IN the hour and a half it took to cook, my Maverick finally hit 300. I'm just not trusting this thing anymore. Its old. Probably should check the probes to see how accurate they are. Oh well, like I said, we weren't doing anything.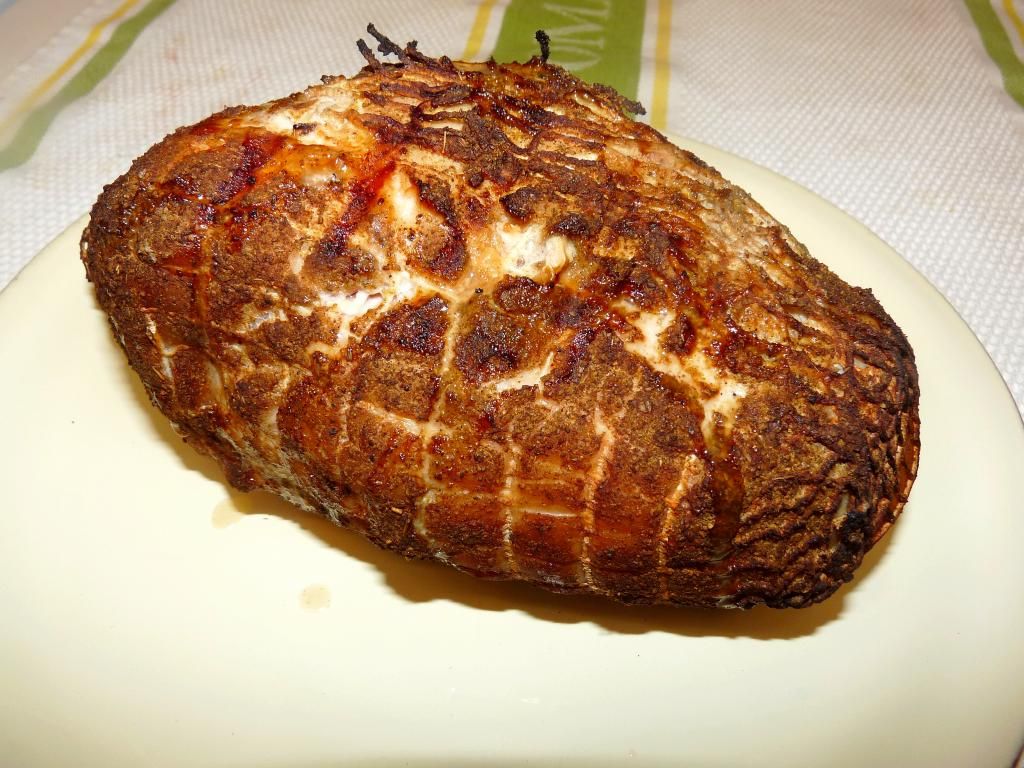 Pulled it at 160, double checked with my Thermapen. Loosely covered it with foil and let it rest on the counter for about 30 minutes. Did snag a few small slices, quality control and all that. Once it had cooled a bit, into the fridge it went to sleep overnight. Next morning, I got up, pulled out my slicer and went to town.
Made quick work of it. Really digging the slicer. Not the best in the world, but its gonna do just fine for us.
That should keep me in lunchmeat for awhile. Think I might have to freeze some for later as I won't be able to eat all that by myself before it goes bad.
Flavor was spot on for what I was looking for. Nice amount of smoke, not overpowering. Had a bit of bite from the DP and the injection. Texture was right on and sliced paper thin. Way better than any store bought stuff. Definitely gonna make some good sandwiches for the week. I am one happy camper.
Rowlett, Texas
Griffin's Grub or you can find me on Facebook
The Supreme Potentate, Sovereign Commander and Sultan of Wings