<?xml:namespace prefix = v ns = "urn:schemas-microsoft-com:vml" />I know everybody is probably sick to death about Thanksgiving by now, but I'm finally back and behind a computer for the first time where I could get a look at my pictures of Thanksgiving and share some of them with you guys. You may (or may not recall) that we headed down to the ranch this year for Thanksgiving. We took off Tuesday around 1:30. Traffic was bad until we got to the tollway going around Austin where it opened up to 80 mph. Then we turned off towards Lockhart on the newly finished tollway. @Mickey - 85 mph sure is nice, but a bit scary when people are still flying by you! We opted to skip Lockhart for BBQ and instead travel 15 minutes further to try and hit Luling City Market. I had called ahead and they told me they were open till 9. We pulled up right before 6 and low and behold...they were out of everything but cold sausage (not fully cooked). And they only take cash (but they do have an ATM). We opted to continue on with empty stomachs, and finally hit the ranch a bit after 7:30. Let the drinking and festivities begin!
I won't bore you with all the day to day activities, feeding horses and donkeys, fixing fences, making sure deer feeders were full and working, driving around on the ranch checking it all out and consuming beverages, yahda yahda yahda.
Wednesday night, I was in charge of cooking, somehow, not sure how. Kept it pretty simple. You may recall that we took the mini along with us. WellWednesday night was a small group of people. We started off with nibbling on some jalepeno cheese venison sausage.
Then moved on to cooking some chicken legs. Apparently you can get right around 6 on there with no problems (although it does make turning them a bit difficult, gotta make sure none roll off. Or nobody sees one roll off, get rinsed and put back on. 5 second rule in effect.) Somehow no finished pictures were available. I won't say it was because of the bourbon, but I won't say it wasn't either.
Thursday was a busy day with over 30 people, plus kids and dogs expected to show up. Unfortunately, there was no room for us to take the large down to cook a turkey on what with luggage, dogs, cooler and guns, so I had to resort to frying 2, while the M-I-L baked one. Guess which one disappeared first?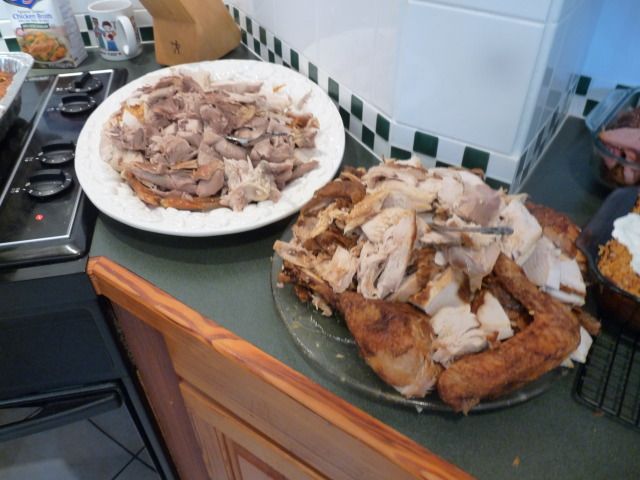 So many people we had to dine alfresco. How many outdoor cooking devices can you count?
While we were there, we also cooked some of the homemade brats we made a month or so ago.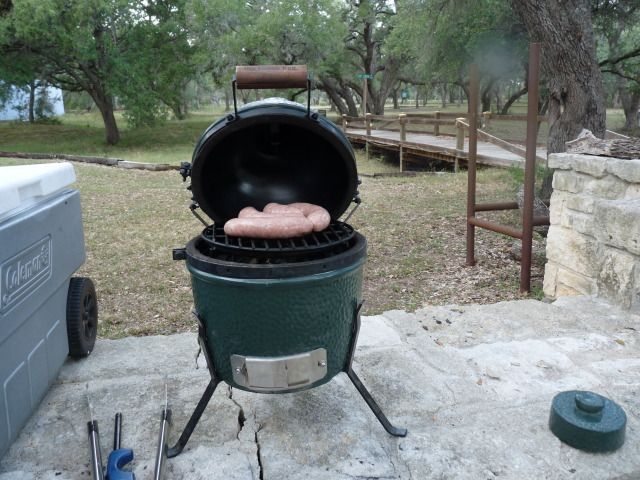 And some of my Brother in Laws Jalepeno cheese venison sausage.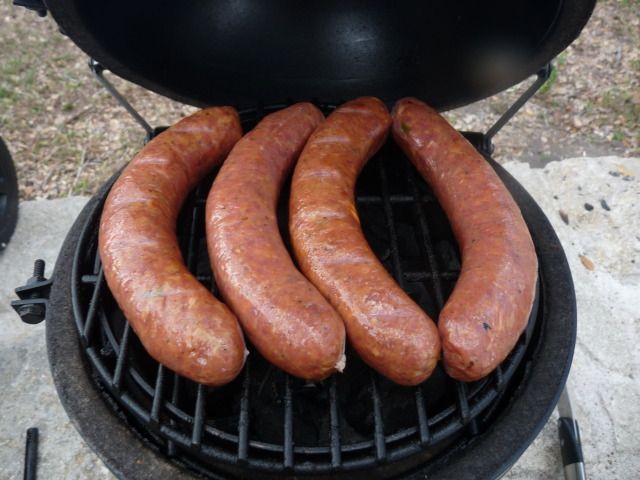 Friday night, I finally shot my first deer! I shot a doe because there weren't any bucks out. I had seen one Thursday, but he didn't come back and was too small anyway. Took it from about 100yds out with my .270 and then with my brother in law's help, I gutted it, skinned it and quartered it up. Unfortunately, we forget to bring along a camera and when Mrs. G came to get us out of the field, she forgot to bring one too. That night, we had pizzas done on the MINI. Mrs. G actually fired up the MINI for the first time, got it stablized and had everybody rolling out their dough and getting them prepped while we were still out in the field cleaning the deer. By the time we got back they were starting to cook them. I was so exhausted and dirty and had to shower that no pictures of the pizzas were taken, but by my count we cranked out at least 8 or 9 were done. Wish I had some pics of that.
Trimming the backstrap up Saturday morning. Had to do it outside. The Mother in law wouldn't let me trim it in the house. LOL. Oh well, it was a pretty day...and a bit messy.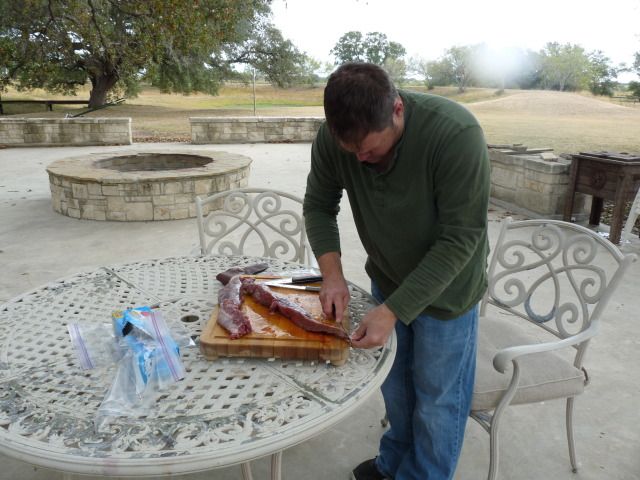 Final haul.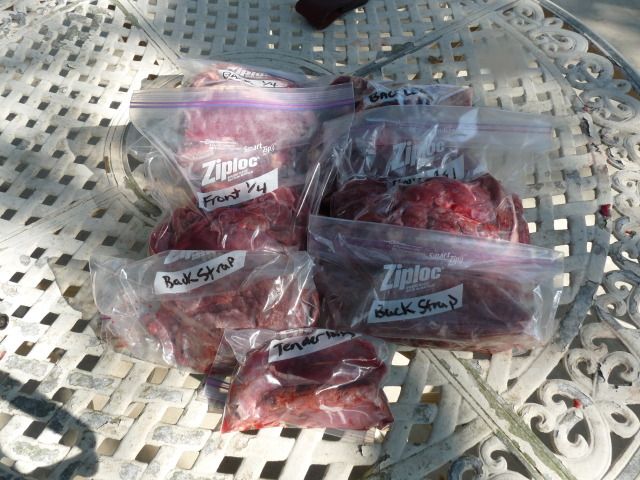 All in all it was a great Thanksgiving. We finally pulled back into Dallas around 5 Sunday night. So exhausted nothing got cooked and I actually burned a sick day yesterday so I could rest up a bit more. Fun, but tiring. Looking forward to going back for New Years.
Rowlett, Texas
Griffin's Grub or you can find me on Facebook
The Supreme Potentate, Sovereign Commander and Sultan of Wings