Wife's been wanting some seafood after all the turkey and Thanksgiving stuff, so I ran to the store to see what I could find. The only thing that really looked good was the salmon, so I picked some up.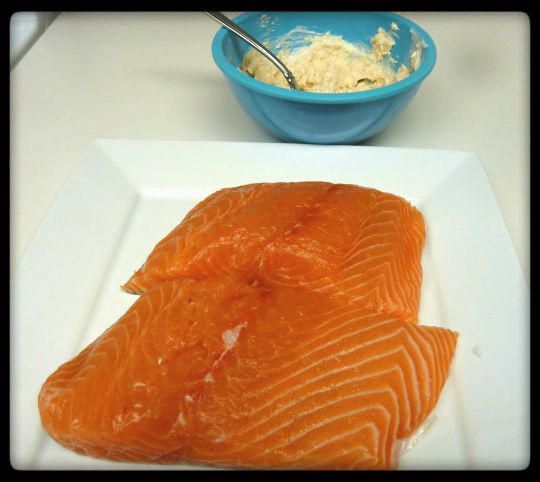 I wanted to try and change things up a bit instead of the normal grilled salmon, and I remembered seeing a recipe on a blog somewhere for a parmesan crusted salmon, so I thought I'd give that a shot. I couldn't find the blog again, so I just sorta winged it. 3 tbsp of mayo, 2 tbsp of freshly grated parmesan cheese (not the stuff in the green can) and a bit of paprika. Mixed that all up together and slathered it on the salmon. Then sprinkle some more parm and paprika on it.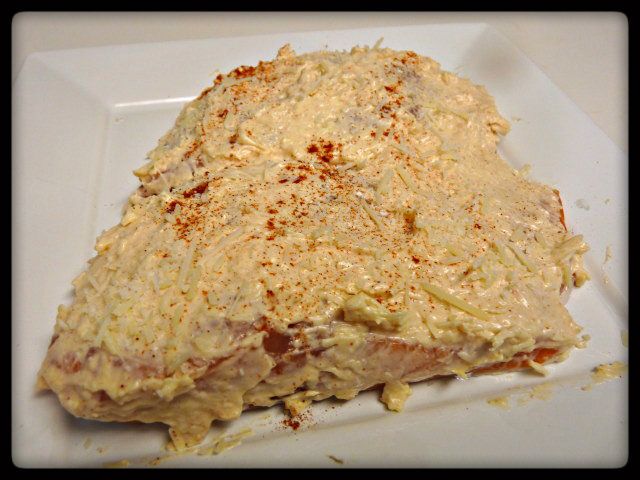 The egg had been preheating and was sitting at 400 for this cook. Just a bit of apple wood chips for some smoke.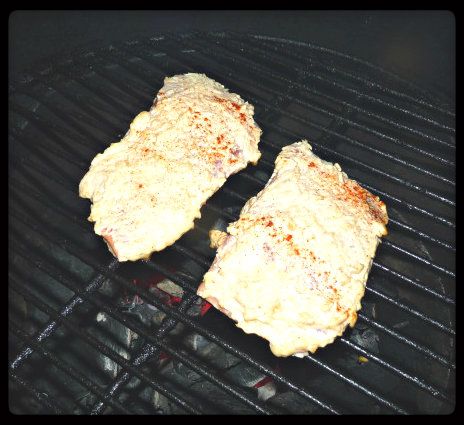 I let them cook for about 6 minutes or so (adding in some zukes sometime in there) and that's when I made my first mistake (well, maybe not my first). Seemed like the top wasn't getting done to my liking. Maybe it was being tired, maybe it was frustration, maybe it was the cold, I don't know...maybe the bourbon (but I swear it was only my first), but it seemed like a good idea to flip it for a minute or two. Well that resulted in flare ups and losing most of the mayo-parm slather. Pulled it off and to salvage what I could, I put it under the broiler for a minute or two to brown it and give it a bit of crisp.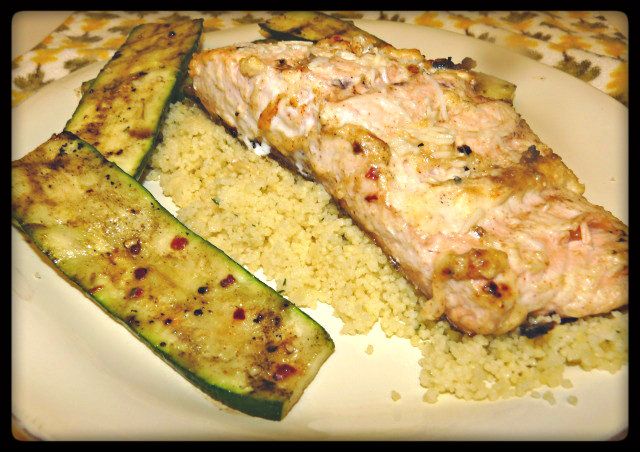 Served it up with the grilled zukes and some parmesan couscous (out of a box, don't judge...I hung all the Christmas lights last night and was getting a late start on dinner as it was). Flavor wise, it was pretty tasty...when you found a bit of the slather that hadn't come off. Rich and salty and cheesey. Could have really been a hit had I not screwed it up.
Thinking back, I've got a couple of ideas. One - use a raised grate to lift it higher, possible giving the top a chance to brown up. Two - use a plank to protect the bottom, giving the top a chance to cook more. (I thought of this right before putting it on the grill, but hadn't/didn't have the time to soak one. And three - cook at a lower temp. Or maybe a combo of all of them. I'll try it again and let you know when I get it right but just thought I'd share my lil failure with you guys.
Rowlett, Texas
Griffin's Grub or you can find me on Facebook
The Supreme Potentate, Sovereign Commander and Sultan of Wings