I posted this a few weeks ago on another web board where it got no replies.  I'm hoping there's more interest/ideas here. 
---
On a whim, I bought something I'd never cooked before and don't often even see. It's a "rack of pork" from Costco, apparently only sold this time of year. Mine was 5.4lbs, and I decided I wanted to smoke it. Previously, I've only ever used the egg for grilling steaks and cooking whole beef tenderloins a couple of times.
I don't have a plate setter, so my method for getting indirect heat is to use a disposable foil baking pan (which I've washed and reused several times) on the grill with the rib rack sitting inside the pan acting as a cradle for the meat. The pork came out ok...but I realized towards the end of the cook (4 hours) that I'd made a serious error in setting up the egg. 
I'd filled the fire box with lump, lit it with a fire starter stick from below, got it going good (around 400F), then mostly shut the top and bottom vents. It took nearly an hour for the egg to cool from around 400F to 250F. At that point, I placed several large chunks of apple and hickory on the coals and put the meat in. I used a leave-in thermometer so I wouldn't have to open the egg at all during the cooking. About an hour in, I decided the meat temp was rising too fast, so I shut the vents even more, and the egg eventually got down to about 200F. As the meat got closer to 140F, I shut the vents even more and the egg dipped below 200F. When I was ready for it to be done, I opened the vents and plugged my home made bottom vent fan back in to get the fire really going again. This took a bit of time, so I removed the meat and tented it while the fire built back up. When it was back up around 400F, I put the meat back in for about 5min and removed it at 147F IT and tented it again...it got up to 152F IT before starting to cool.
Anyway, towards the end of the cook, I realized that with the vents nearly shut, the fire had mostly gone out, with hot coals only remaining right over the fire grate...and my smoking wood was way up on the very top of all the lump.  I realize now, I should have distributed smoking wood throughout the lump, and probably tried to make sure some was as close as possible to the grate. It makes sense that with things nearly shut down, all the O2 getting into the egg will be consumed by whatever's burning right on top of the fire grate.
If I'd had the plate setter, I assume I could have done this rack of pork directly on the grill (no need for the rib rack)?
When smoking on the egg, how big/hot a fire do you get going (to make sure you have it well lit) before mostly shutting the vents to get down to smoking temps? 
---
Since then, I've already cooked another of these that was even bigger (6.4lbs).  Things went a lot smoother.  I cleaned out the egg first, put several smoking (hickory and apple) chunks at the bottom, with one right on top of the grate, added some lump, sprinkled in the left over hickory chips/scraps from a used up bag of hickory chunks, added more lump and chunks.  Again, I lit from the bottom using a fire starter, but this time as soon as the fire looked healthy, I mostly shut the top and shut the bottom to around 1" or so.  The dome temp quickly stabilized at 250F and stayed there for 3 hours until I opened things up at the end.  At about 3 hours / 140F IT, I removed the baking pan, placed the rib rack back on the grill, opened the vents and setup my bottom vent fan until the fire was much hotter.  At just over 145F, I removed it, tented it in a glass dish, and about 20 minutes later we ate.  
Both times, I used a combination wet/dry rub from America's Test Kitchen's Oven-Barbecued Spareribs which is basically a coating of yellow mustard+ketchup+crushed garlic and then a sprinkling of brown sugar, kosher salt, black pepper, chili powder, paprika, cayenne pepper (can't remember if there's anything else).  Once all that's on, wrap in several layers of plastic wrap and refrigerate overnight.  
At this point, the only thing I'd change is a bit less cayenne pepper (or omit it entirely)...the kids both refused to eat any pieces with bark ("burns my mouth"), and I'm not a fan of spicy foods anyway.
Here's a shot of the first rack.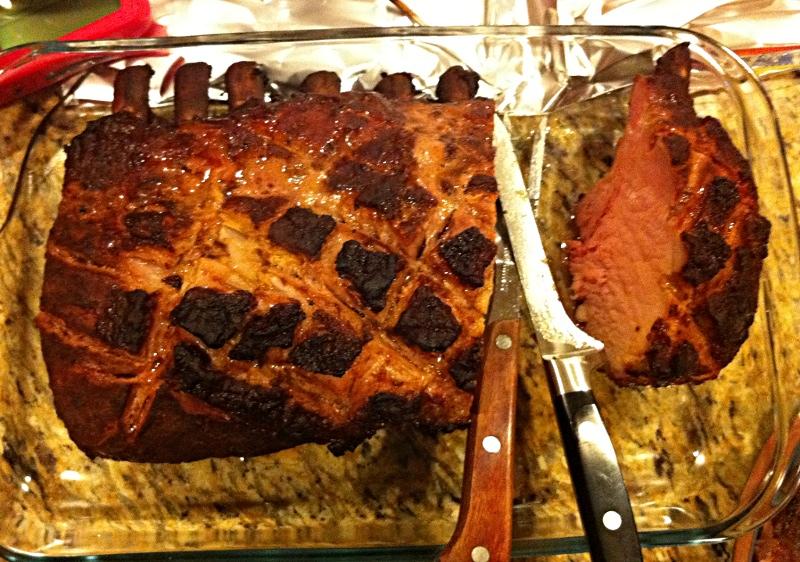 I like this so much, I wish Costco would carry it year round...but AFAIK, it's a once or twice a year thing there.  It's basically like a frenched rack of lamb, but much bigger with a much better meat to bone ratio.  I was actually surprised by how short the bones were in these, and how much meat there was.  The 6.4 pounder was dinner for 2 adults and 2 children for 3 nights with one really large lunch (end piece) left over for me.