Yesterday I posted I needed to make made from scratch chicken noodle soup for a very sick friend Margaret Chaffin and her husband Jim. Jim is staying home taking good care of her. Margaret as you know is a cancer patient again for the second time in two years for two separate illnesses.
This morning Cindy and I set out to make chicken soup per lowercase bill. Thanks lowercase bill!
I was going to make some real potato rolls from a recipe I got from Grandpas Grub but, I think I will do that tomorrow. Thanks Kent
We picked up 2 2.5 pound chicks and I riped the skin off of one so it would take on some smoke flavor per Jethro Bodine. Thanks Stikeman.
I dusted them with Tasty Licks Mellow Yellow. Good stuff.
I grilled them till the breast came to 180F IT.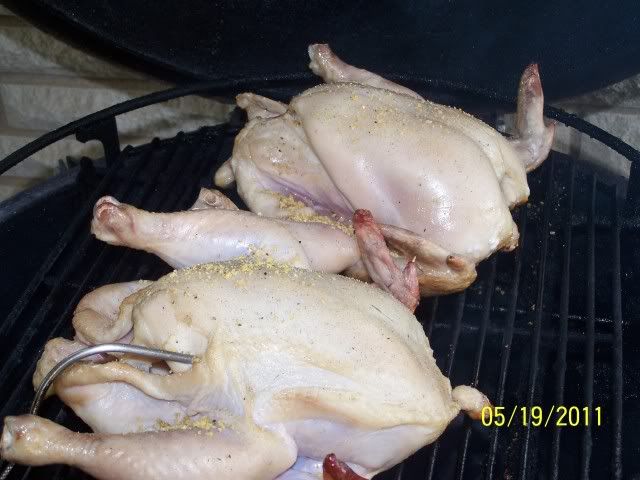 Then I took them straight to the stock pot with a couple of gallons of H20 and carrots and celery and onions and a little S&P.
We simmered until the meat began to fall off the bone about 3 hours.
Then we took everything out of the stock pot and took the chicken off the bones and tossed the used up veggies.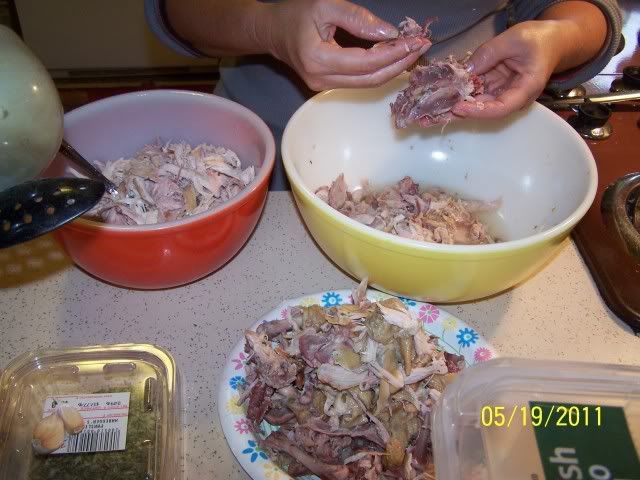 We divided the chicken stock about 2 quarts each and made a batch of plain chicken noodle soup with a few carrots for my friend who need to eat this nourishment.
Right after I took the chicks off the egg I setup for searing hamburgers for my friend Jim.
I grilled 8 and took Jim 4 with buns.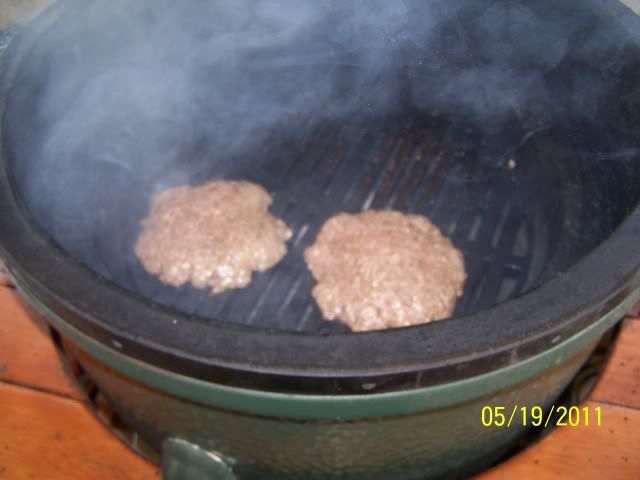 Next we turned to Village Idiot for a Chicken and dumpling recipe. Thanks Village Idiot.
http://www.eggheadforum.com/index.php?option=com_simpleboard&func=view&id=1091792&catid=1
Let me tell you this stuff is great! :P
We added 2 quarts to our 2 quarts and made some dumplings along with the chicken and carrots and celery and onions and garlic...
I rolled out the dough and sliced the dough with my pizza cutter.
And plunked them in to the simmering chicken soup.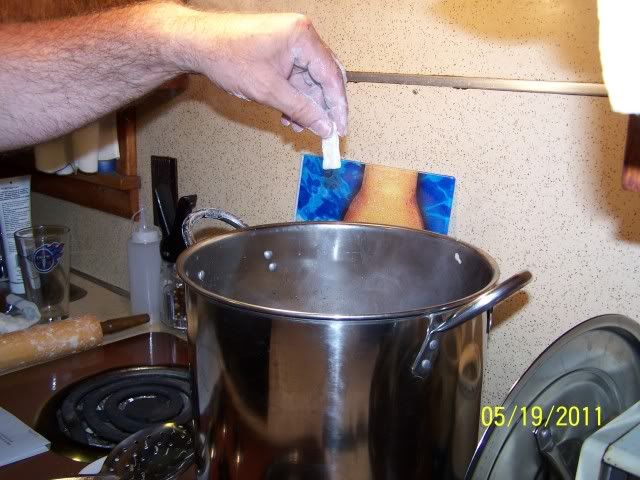 Here is one of 4 bowls I ate. This stuff is better than anything... :P :P :P
I couldn't believe how good this stuff is. :woohoo: :pinch: :silly: