First, no one died. Although we still haven't heard from Essexco and his wife, who left the next day for a trip to Brussels :ermm: . ...after getting back from California the day before. He was in town to play a couple games of a tennis match. They travel extensively. We live vicariously thru them.
Anyway...
Here she be, at 100 days.
This went into the fridge, unwrapped, what i coined as "Commando Style", on the 18th or so of November. I chunked off a three-bone roast for Christmas. It was stellar...
At 60 days, i took a chunk of this as a 2+pound 'steak' to the patriots/jets playoff game, a day to be remembered only for the steak. i honestly believe 60 days had a discernible difference over 45, but the vagaries of the human brain can't be counted on. I'll just say it was exceptional. there was no trimming of the roast (except the end cap) at Christmas or of the steak. The deep drown exterior is what you are after. Trimming that off would remove what's dry-aged, and makes no sense to me.
I called this experiment 'done' at 100 days. 90 was what i was shooting for (if only because it was 45daysx2), but work/family schedule and laziness kept me from it. Saturday was 100 days.
Here it is getting the end trimmed off.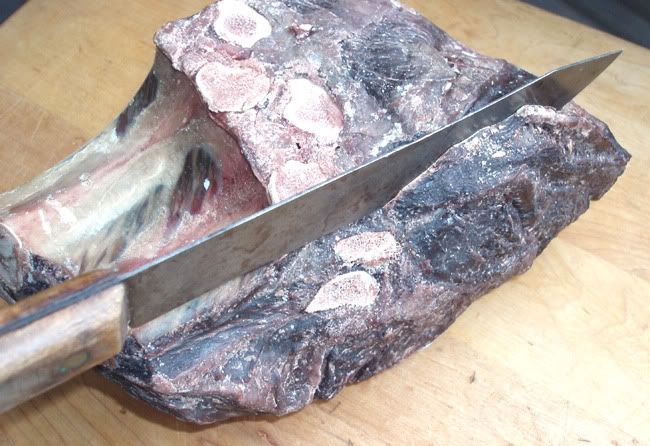 The ends are the ONLY thing i ever trim. These are still edible and safe to eat... i mean, what is jerky other than dried meat? These are sacrificial, though i have cooked them along with the steaks and eaten them.
Here's the split.
I cut the ribs off (rear) so that i could get three 1.5 inch steaks instead of two massive bone-in steaks.
Foreground is the trimmed off end.
Here's the "Yield"
Cutting the ribs off made that tag end of fat seem a little superfluous, and I actually decided I didn't need to eat that much beef fat in one sitting. I took it off. Got three steaks. Note that the closer steak is a pale brown, from where the plastic wrap was stuck to it to delay hardening of the exposed cut-end. I am on the fence about it. It smelled fine (aged beef is sweet and clean smelling), but the color was not very picturesque. Of course, that's from a guy who thinks deep brown hard beef is beautiful...
The plastic wrap i used was "Stretch-Tite" which is oxygen permeable, and likely allowed a little O2 in there to brown the meat. The plastic wrap worked far better than wax paper to delay drying of the cut end. Both were adhered to the meat with a little olive oil. This plastic went on at 60 days, so you are seeing an additional 40. Meat under the wrap was firm, but slightly shrunken (dried).
Here's the chef's treat. Carpaccio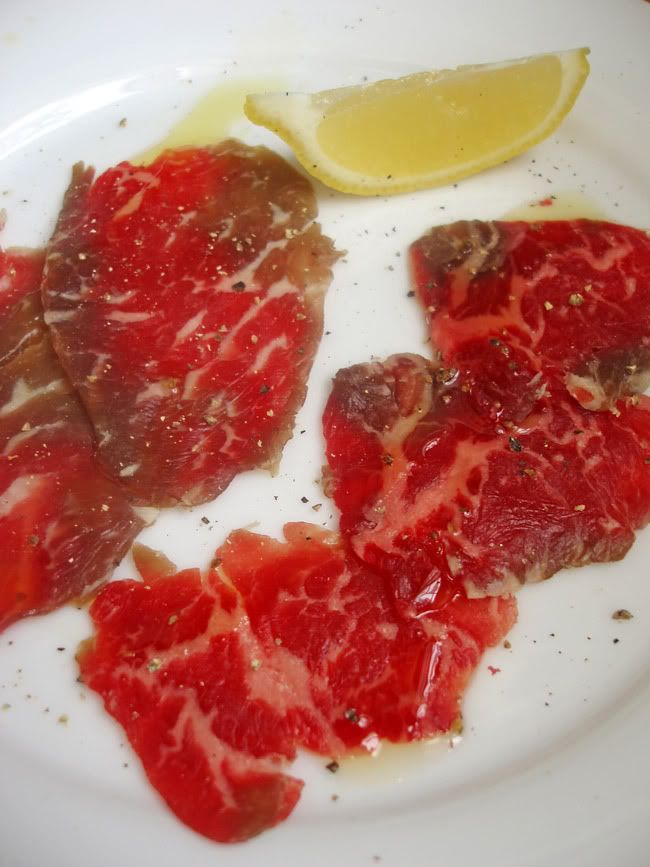 Yes, raw. This is slivered from the end-cut, but can be had from the steaks also, of course. At 60 days, I slivered pieces for myself, and ate it as-is, not olive oil, pepper, etc. The flavor was tremendous. Earthy, deeply beefy, very condensed, beautiful texture. I had no pics of it the carpaccio at 60 days. This time, I thought it'd be interesting to post, and i gussied up the plate with olive oil, lemon, etc. I will say, the flavor was there, but unfortunately the olive oil coated the tongue a bit and kept the beef flavor from coming through. I would not do that again. Just the meat next time.
I did the carpaccio to test the beef, honestly. We were having guests (essexco and co), and i ate this about 6 hours previous. Figured i'd be pretty sick if there were any issue. :laugh: Because we planned on eating the ribs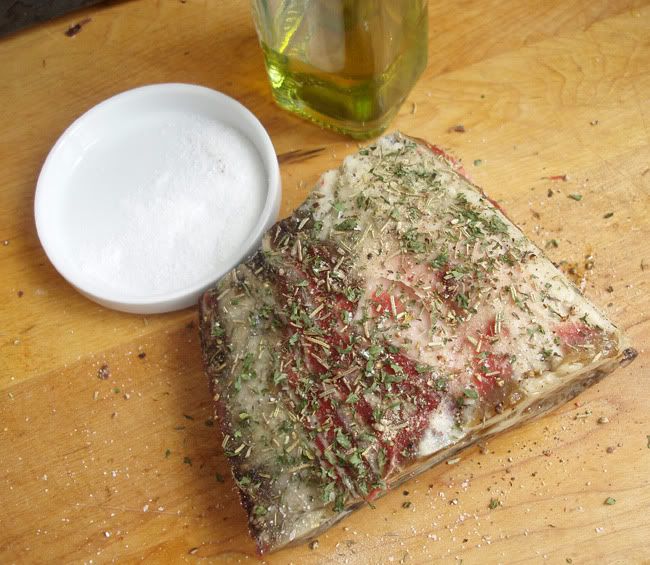 herbed and salted, with black pepper. they went on at 225, along with some cross cut beef shank. oak smoke...
the shanks came off when smoked, got a cast-iron pan sear, and was simmered all day as a slightly unconventional osso bucco. Typical Osso Bucco ingredients (tomatoes, garlic, etc.) were tweaked a bit with lots of red onion, celery and celery leaf, and black olives.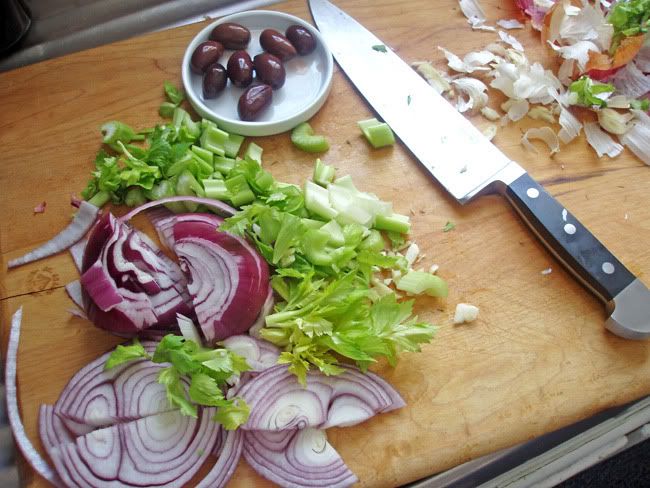 No pics of the Osso Bucco. It looked just like Osso Bucco, if you must know. :laugh:
Here's the rib appetizer after about 5 hours.
I passed it around just like that, and we slivered off meat as we wished. It was fantastic. Fishless will be interested to hear that there was (I felt it) a little tingling to the side of the tongue. a little metallic tingle. He swears that occurs around 45 days, with the done-in stuff. I never experienced any with the 45-day stuff, but this one had some. No one else experienced it, though, to be truthful.
Ok. Told you this was long.
The results.
I would say that the difference between 60 and 100 days is not substantial enough to warrant the extra time. There is considerable loss to dessication, which is fine, and only means it's that much
beefier", but the muscles groups did begin to pull apart at the exposed end. I will NOT trim the outer portion of those steaks, for the record. That stuff softens completely when cooked, when the fat liquefies. It is criminal to trim that part. But yeah, the exposed end, sure.
Flavor? The ribs were great (haven't had the steaks yet). The membrane was very tough. At 45-60 days, i don't notice it. but this time it was pretty stiff. The meat-side of the ribs though was nicely fatty, and had the pronounced dry-aged flavor you either love or hate. When allowed to cool, the remaining meat becomes again very hard. It is edible, but really, the most-aged parts need to be hot when eaten to be appreciated, as that's when they are tenderest, yet firm and with the crispy roasted fat we are looking for.
Ok.
You know i can ramble. Just wanted to get it all out there for those who are interested.
Cliff notes version:
Dry-aging for 45-60 days=ideal.
...for 100days=perhaps bragging-rights, but no appreciable gain in quality, and advanced yield loss due to extended dehydration.
Osso Bucco was great too, by the way. :laugh: