a cook from a few days ago. was in a dutch oven, not very egg-centric.
fresh rabbit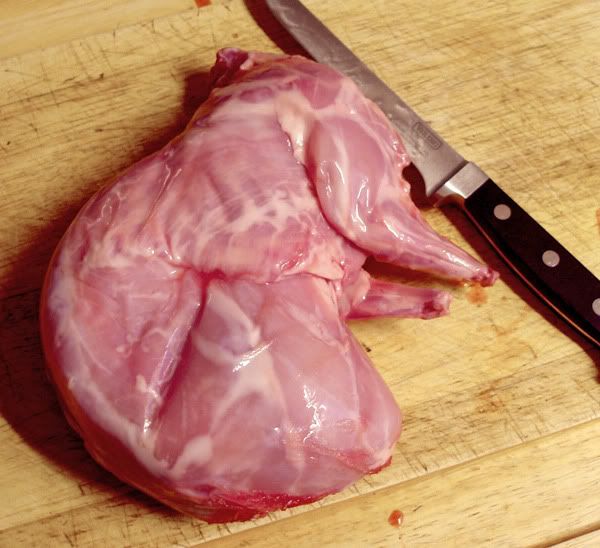 i cut it up into two forelegs, two rear, and two saddle pieces. that, together with some trimmings, liver, and kidneys (and the heart) got sauteed in the dutch oven in 2 tbs butter til browned both sides. pulled it out on a plate while i cooked down an entire shallot in the same butter, along with a few sprigs of sage and thyme and rosemary from the garden. a cup or so of calvados went in, and i touched a match to it to burn off the alcohol. two or three cups of cider went into the pot, along with the pieces. i put the backbone and ribs in first, and the rest on top of that. let it go for about 45 with the cover on.
took out the ribs and backbone and lever/kidneys/etc., and plated the rabbit pieces. fast-simmered (lid off) til the sauce was a little more reduced, added a couple tbs heavy cream, salt pepper to taste.
carmelized some tart apples in butter til the edges browned, and put those over the rabbit with a little sauce, the rest of the sauce on the side as a gravy.
mashed potatoes and some grilled eggplant rounded it out, along with some brussel sprouts.
kids seemed not at all concerned that it was rabbit. enjoyed it.
what's left over went into the gravy, thinned with some chicken stock, added some leftover corn, and am calling it rabbit soup.