Thanks to @Caliking, I have been thinking about these bad boys since he made them in early April.
Pics throughout the thread but are only cell phone quality(sorry for the high ISO and bad low light). I really need to start loading my DSLR pics onto the laptop.

This was a 2-day cook that involved me smoking a pork butt on Saturday and then making the bao on Sunday. I smoked rubbed the butt with North Market Spices Ltd. BBQ rub and Don Marco's BBQ Booster. I scored it to allow more surface area for bark. I had though this thing was bone-in since it wasn't at all "floppy" (I normally get boneless from Costco). Low and behold, it was. Hooray, butcher! If I had known better, I would have rubbed the cavity too.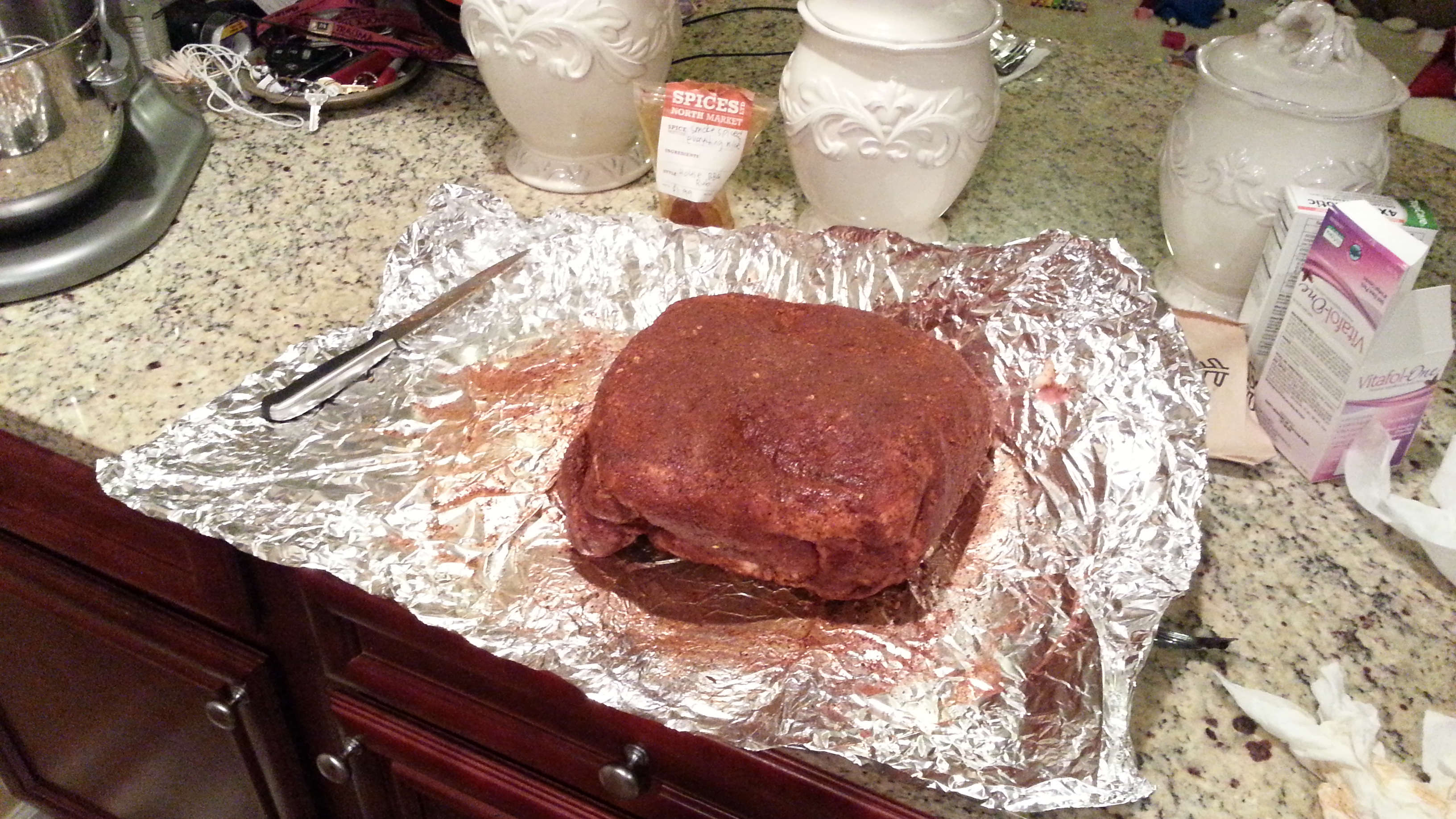 I smoked it overnight @ 250 from 2300 Friday to 1400 Saturday. Here is the gratuitous smoke shot:
All done:
On Sunday, I made cole slaw and took the dough out of the fridge(I made it Saturday night). I pulled the left-over pork for the stuffing.
I portioned the dough into 16 pieces and rolled them out into 4-inch rounds:
Here is the slaw with the sauce I mixed the pork with. Caliking commented that the pork dried out so I added in the mustard sauce to prevent this. I then placed pork then slaw on the round and made them real purdy with a pinch and twist pattern. I probably rolled the dough out too much as it ended up thin on the bottom.
Here is the slaw and sauce:
I forgot to take assembly shots so onto the cooking part. SWMBO'd and SWMBO-SIL were chomping at the bit so I had to speed things up. It was getting late. I don't have a bamboo steamer so I just used a stock pot and silicone steam basket. I placed parchment squares under the bao to prevent sticking. Swmbo didn't want steamed buns so I baked off 2/3 of them.
Here are the steamed bao:
Here are the baked ones:
Verdict?
Both were awesome! I only put slaw in about half for comparison(really because SWMBO is cabbage-averse). The dough was sweet and light which matched perfectly with the smokeiness and salt from the pork. The vinegar and pepper mix in the slaw gave a nice hot tanginess that made everything "pop". Since the slaw was heated, I don't know if I would do a mayo-based one. I served them with baked beans and slaw on the side. Sorry for the crappy plated shots, everyone was wolfing stuff down. I'm going to refine these and do a variety with a better presentation.