Let me start by saying I in NO WAY am trying to offend anyone with this post. Some of the pics of cute ducks being processed might upset some one so if you don't like it x out of this thread. This is me trying ot maybe help some one with a meal maybe.
OK with the disclaimer out of the way people who duck hunt a lot of times kill more than they want to eat and give some of them away at the ramp to hunters that might not have been as fortunate that day. Don't know how many times I have said something like that to friend or neighbor and the response was " Don't give them away I'll take them!!! :woohoo: " Ye till I show up with a half dozen bids with the feathers still on and THEN they don't want them. Maybe some of you have friends or family that hunts and would like more duck but they want bring you many shucked. Don't blame them as its work as we will see BUT now you can shuck and breast'em your self thanks to JL's duck shucking tuteral so lets shuck some ducks shall we! :woohoo: The raws: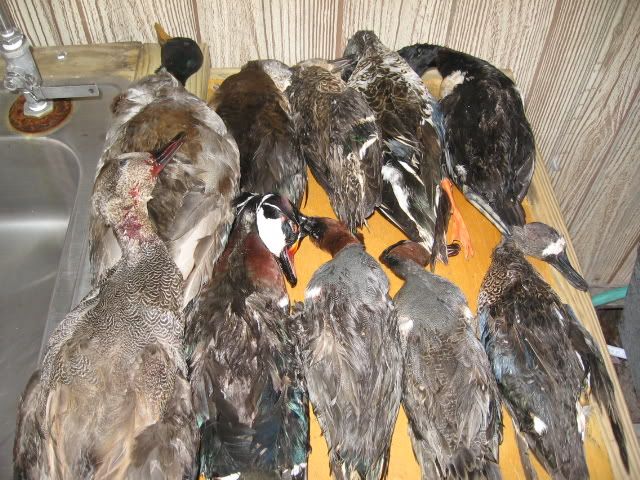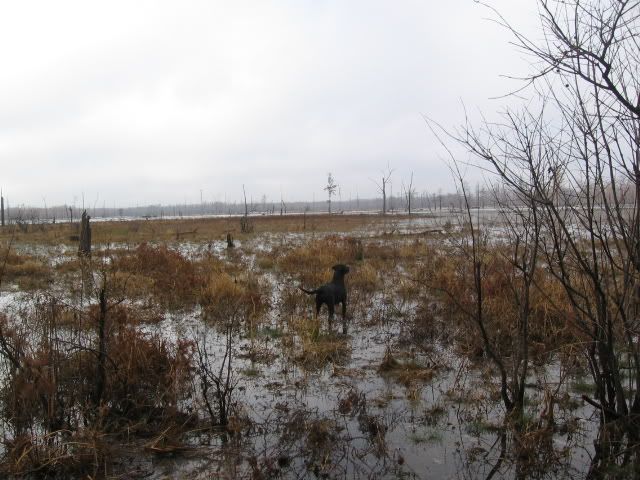 A reather mixed bag along with the duck fetching device than in this kind of hunting is indespensable. In the bag are 4 assorted teal. To me the best eat'en duck there is and I'm shucking them SO the first thing to do is remove all the feathers front and back down to the tail and half way up neck as well as ALL the feathers one inch up the wing. These wing feathers are the hardest ones to get especially on the wing edge but no one likes spitting feathers at supper now do we?!!LOL We arn't real concerned about the down as we will take care of that soon enough.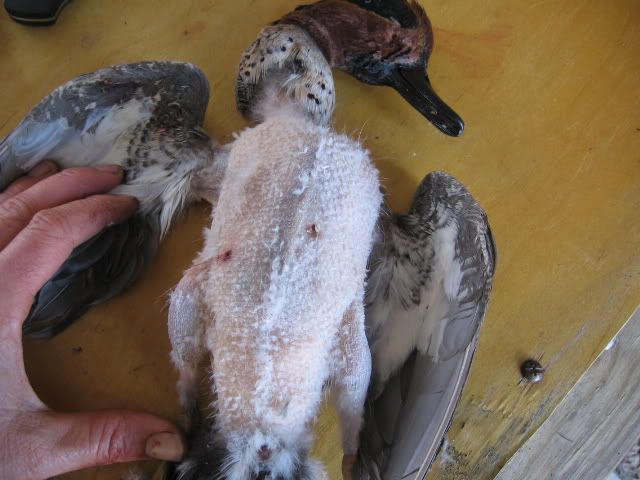 Now we are going to fire up the fish cooker or any open flame and after removing the wings will hold the duck by the head and tail and sing off the down unlike in the pic where I was using one hand to take pic and seared threw the skin! :pinch: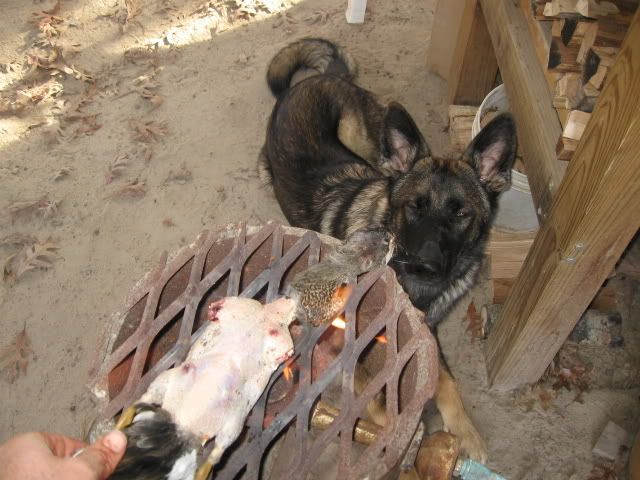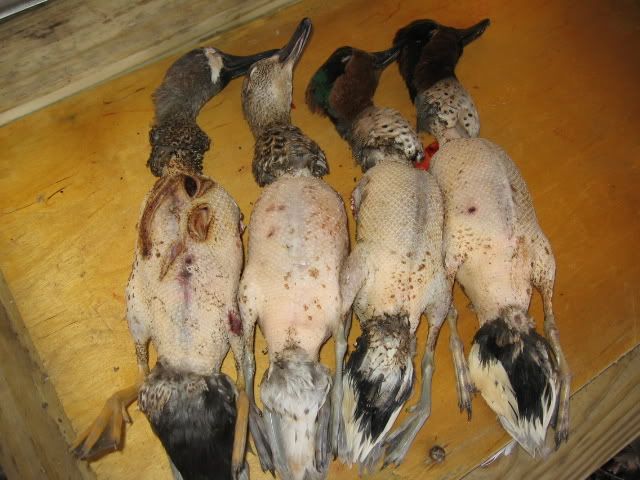 Now we are going to cut the head off about an inch up the neck and cut the tail off behind the legs using shears. I didn't include pics for obvous reasons. Next we are just going to spatchcock the sucker. Cut along both sides of the back bone and discard. Now you can get to the innards a whole lot easer and wash and scrub him down removing all the guts including the lungs that tend to stick along the back bone cut.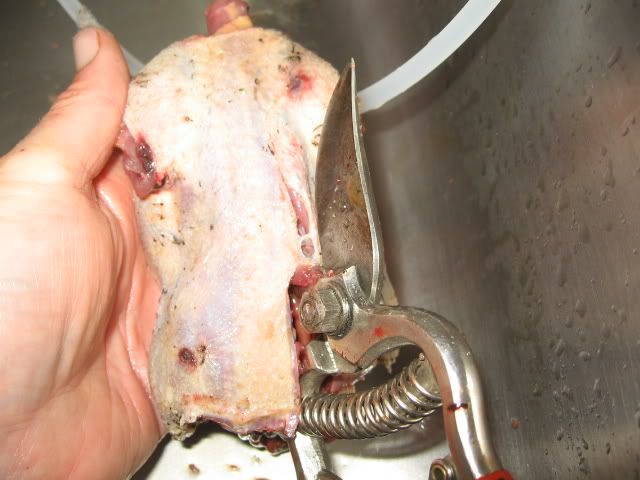 Thats it for a shucked duck not for fellets. Take duck and turn breast up.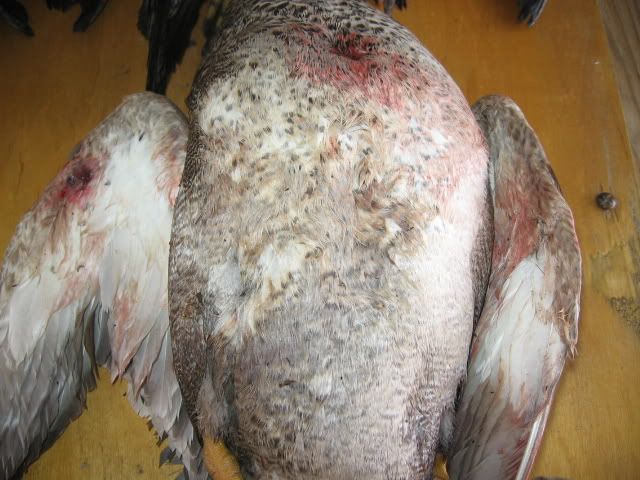 Using your fingers you can feel the edge of the breast bone. Place two fingers on each side of the bone and using it as an internal "knife" split the hide and start rolling it back using your fingers till it looks like this. Wood ducks that are cold will sometimes be hard to do like this but Mallards and Gadwalls just roll off.
Next take a sharp knife and cut straight down the breast bone on both sides.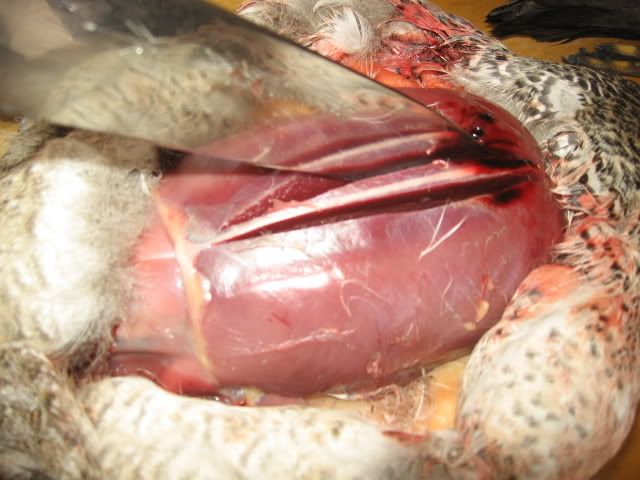 Now just start working the meat off the bone a little at a time. Works off pretty easy.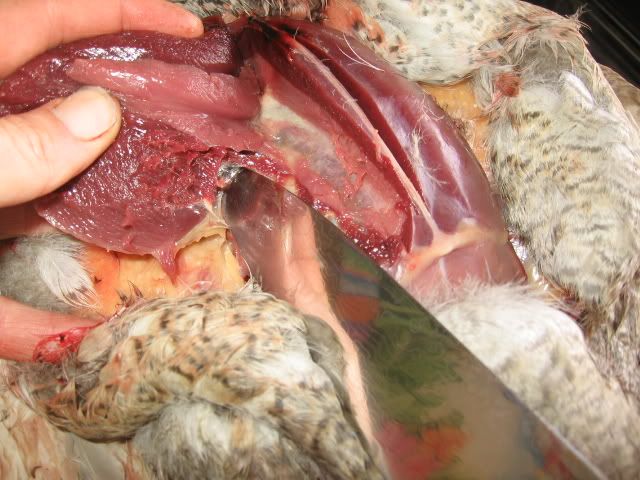 And we end up with a fellet like I used in my gumbo.
Now there is no excuse if I chunk a mess of ducks in your lap to not smile, say thank you and get to work. No if/and/or buts!!!