Pork, Bacon, Belly, Buckboard, Hi Mountain, Thirdeye
Was going to tell you about my Pork Belly bacon project started 10 days ago, however having followed my mentor Thirdeye for several years I will just post a few pictures and let the Master bring you up to date. Thanks Wayne.
http://playingwithfireandsmoke.blogspot.com/2002/10/buckboard-bacon.html
PROCEDURE:
1. Followed the Thirdeye blog pretty much however I had thin 10#'s belly so after removing the skin for snacks I ended up with about 8#'s to cure. They were turned every 48 hours. Total curing time 9 days, soaked out 24 hours, dried out in frig overnight.
2. Made snacks from the skin, Cracklins, Chicharrones, Pork Rinds. Call them what you will they were great.
3. Made 2 different flavors. First was Black Pepper, Garlic Seasoning and My favorite rib rub.
4. Next was Black Pepper, Maple Syrup and Maple Sugar, both sides each.
5. Cooked indirect 150F working up to 225F. Goal was to be done in 3 1/2 hours. Used maple wood for smoke and added a few large handfulls of fresh hay from the barn--nice sweet flavor to season. However after 2 hours the internal temp was 175 or so, pulled and cooled.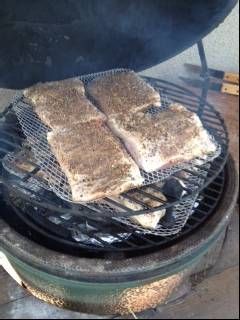 6. Let rest for 3 hours.
7. After resting in refrigerator overnight, sliced them and due to the thinness of the belly the pieces were smaller than regular bacon and they were ready to eat. Tasted like a Pork Belly Pastrami so made some sammies.
8. Had about 6#'s finished product. Placed in 6 oz food saver packages to freeze for later times. The end pieces will be used for beans soon.
Sorry to bore you'll with another bacon project. Thanks for looking!