Well 1st Thanksgiving with and Egg so it is my first Mad Max Turkey. I will say the turkey process was extremely easy with the detailed direction Max provides on The Naked Whiz's site. The gravy was another story for me. While it is simple (with practice I am sure) I found it a little challenging my first time through. It is a decent number of steps when trying to read through the directions. I though my gravy for the 1st time was horrible. It was very dark and had a very strong taste that was bitter.
The turkey looked good and smelled eggsellent while cooking. The only thing is that it cooked faster than I anticipated. I had a 20 lb bird and running the egg at 325 it coked in 4.5 hrs. I think it had to do with using my Digi Q to help with temp cntrol and tenting after the 1st hour or 2. I think when I tented it loosely to keep from browning too quickly it affected the dome temp above the foil. As a result the temp reading at the temp probe was lower than under the foil at the bird. This caused the fan to run hard after each basting to get the dome temp back to 325. I believe this caused much higher temps on the turkey below the foil. I was surprised when I went out at the 4:20 basting to find the temp plug in the breast popped out. I thought it might be off so I got my Thermapen and double checked. Yep it was done. Had a reading of 190 in the thigh and 170+ in the breasts and it was only 2:45. Dinner was not supposed to be til 5:00. Oh well, I just improvised and coolered the bird in foil and went to make the gravy. I don't know what I did wrong there, but I messed it up somehow. Will try to do better next time. Here are the pics.
The Setup - Got the roasting pan from Sam's. All fit but had to turn the feet upside down and hang the top bump over the edge of platesetter. Actually worked great.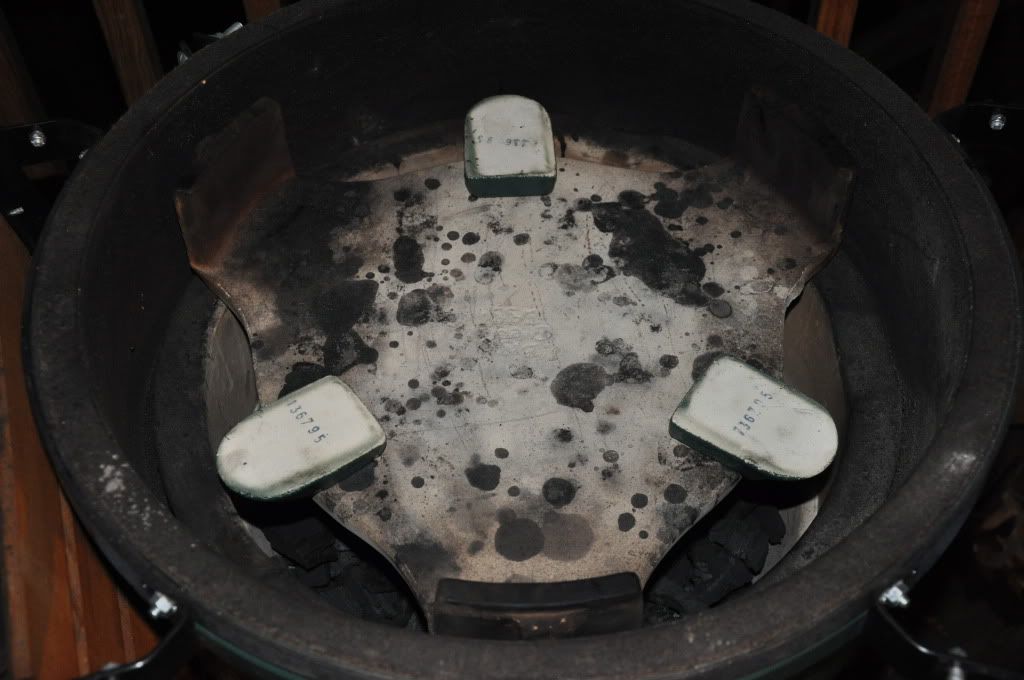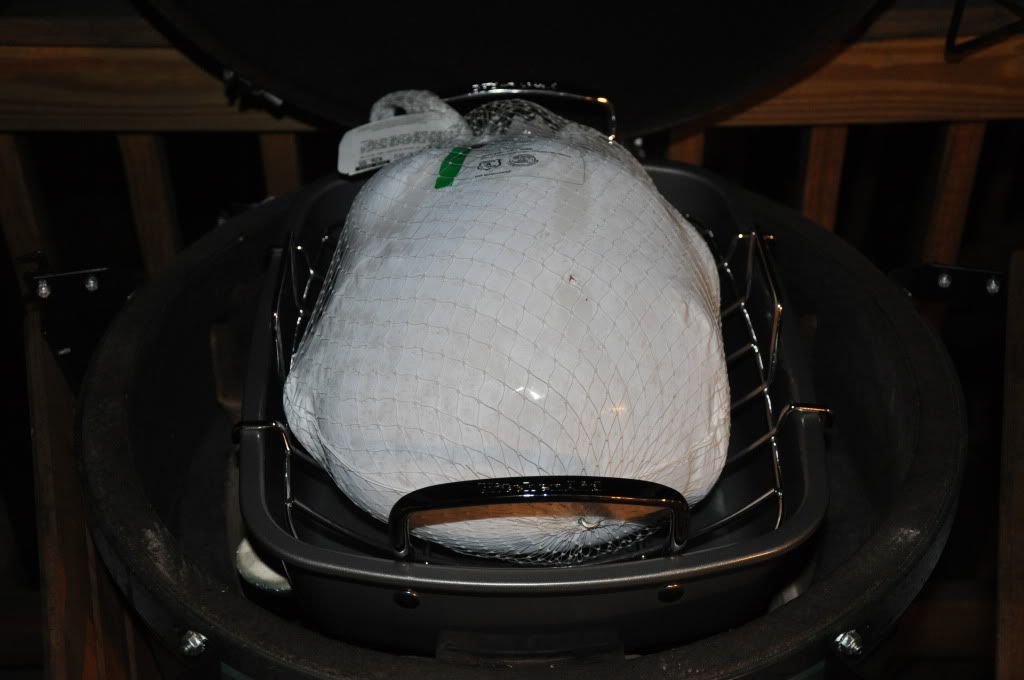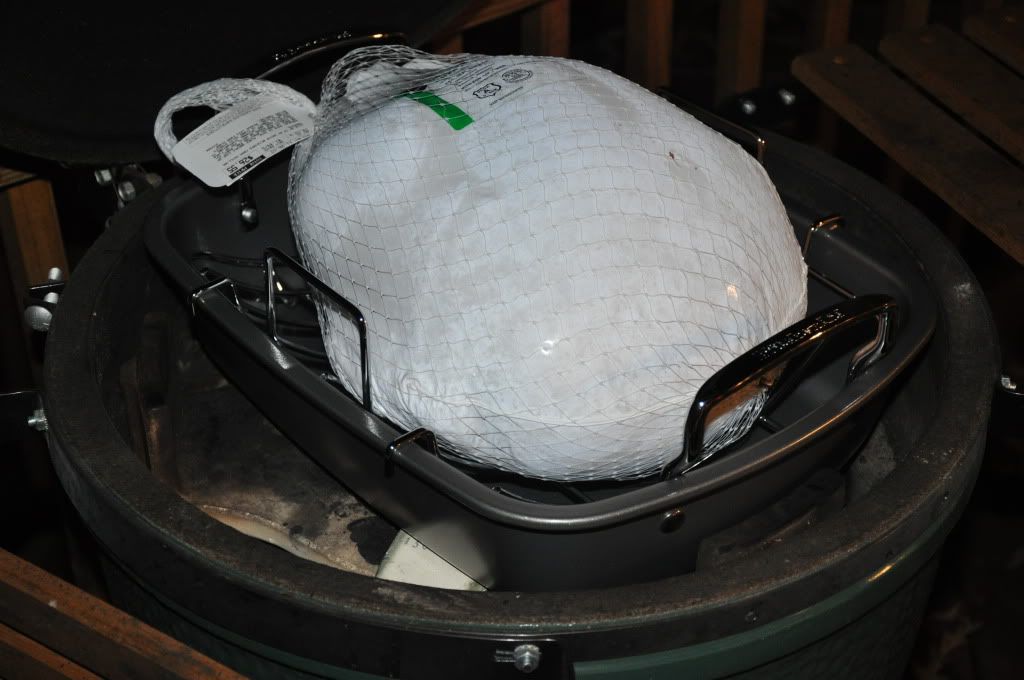 The Prep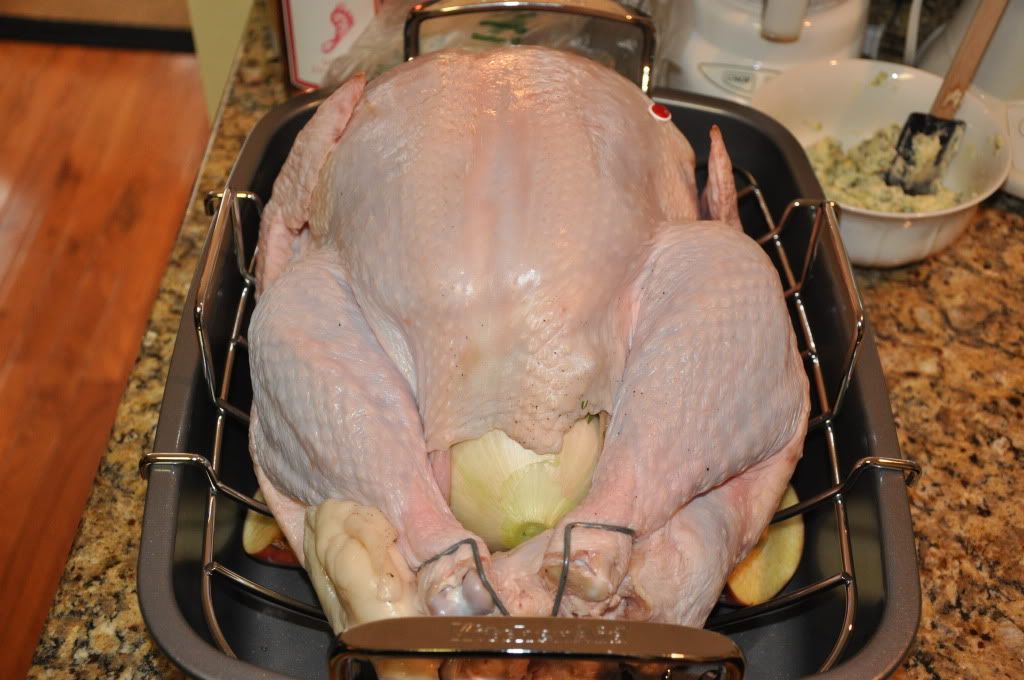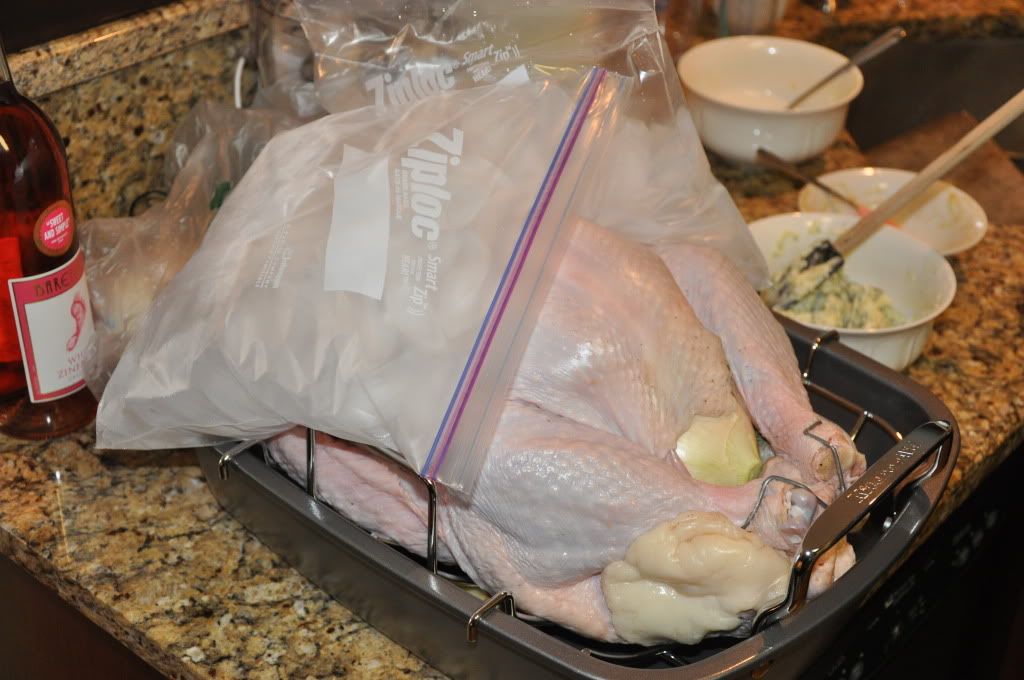 The Cook
After 1st Hour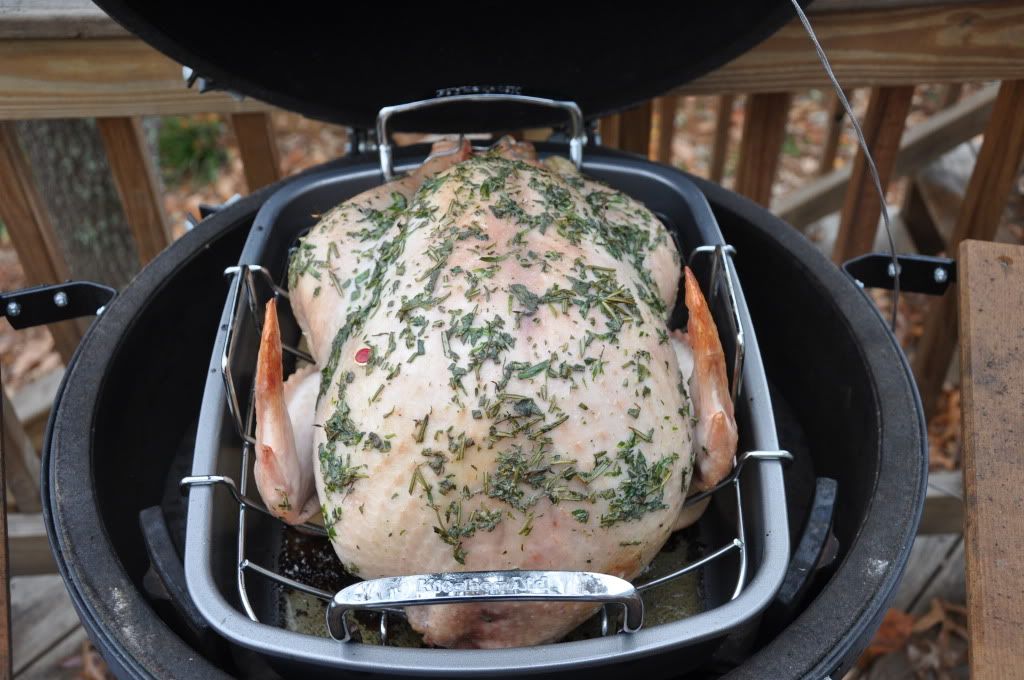 2nd Hour
3rd Hour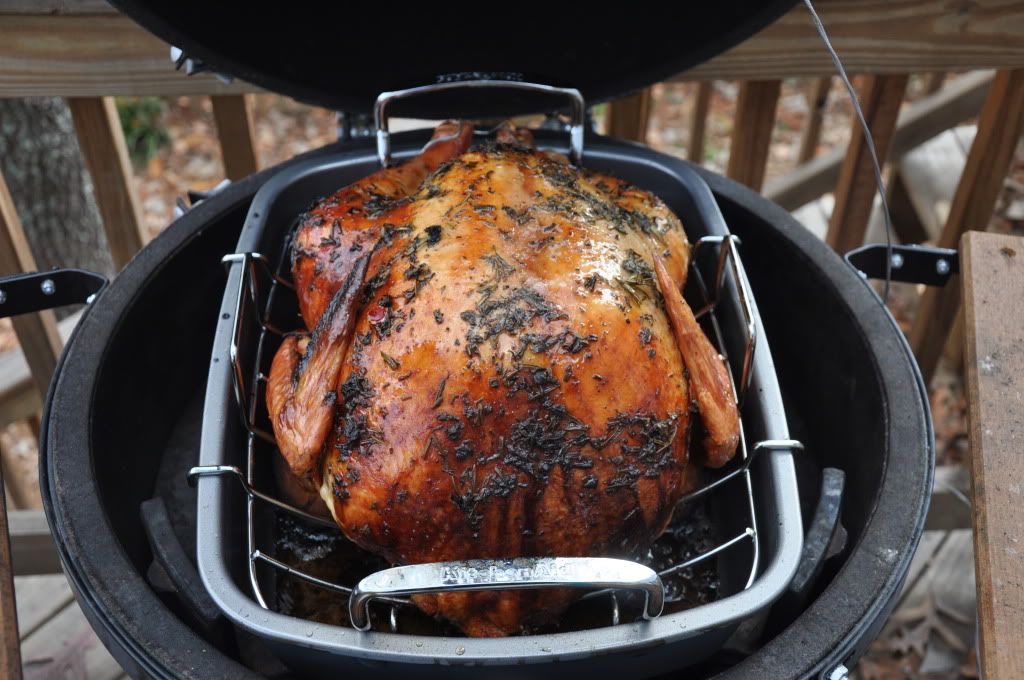 4th Hour - Ooops, its done!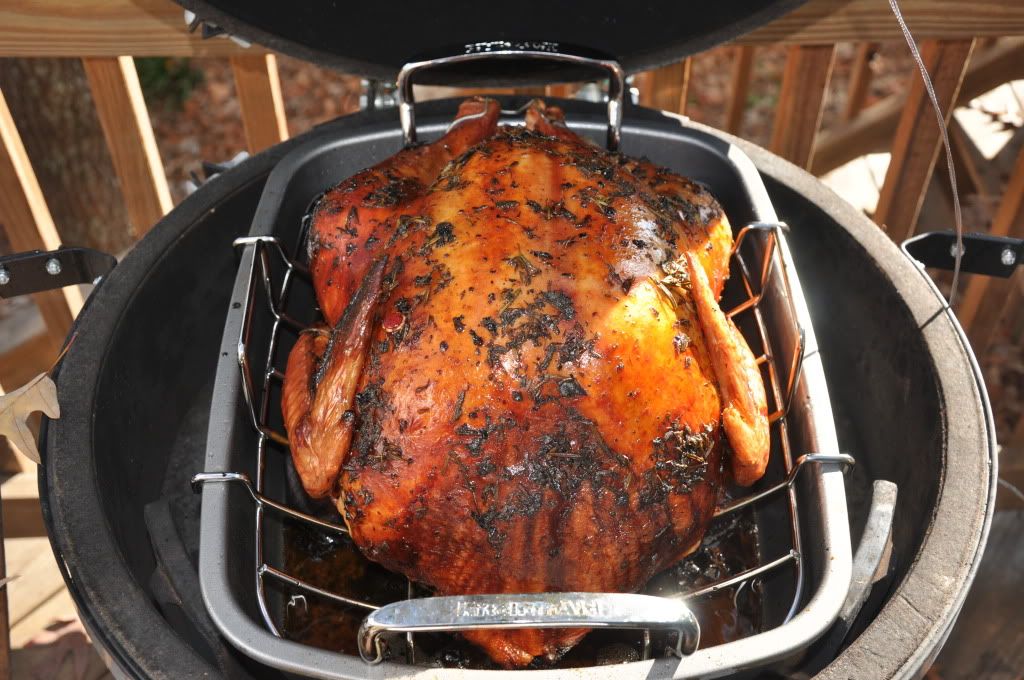 Ready to Carve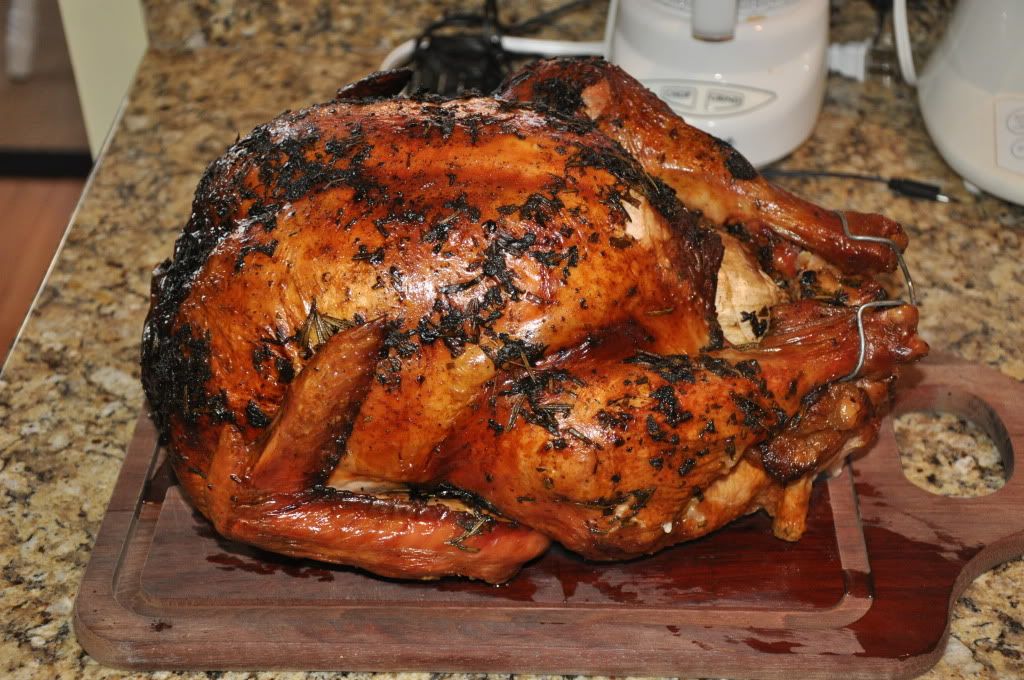 Overall I think it turned out decent. The breasts were not as juicy as I anticipated, but I did overcook them. That says more about me as the cook than the recipe and the process. I thought it has incredible potential and I plan to do an improvement run before I try again at Christmas. It will only get better.
Any suggestions or advice welcome.
Thanks and hope you all had a great Thanksgiving!