Went to an estate sale this am and this jumped in the car, actually have to pick it up tomorrow. Previous owner had rigged it for propane and the bands are nasty rust and will have to be cleaned.
My Dr would kill me, just had left hip replaced 3 weeks ago, if he knew I was at garage sales rather then home recovering from my surgery.
For $10 could not resist. What have I become the new owner of?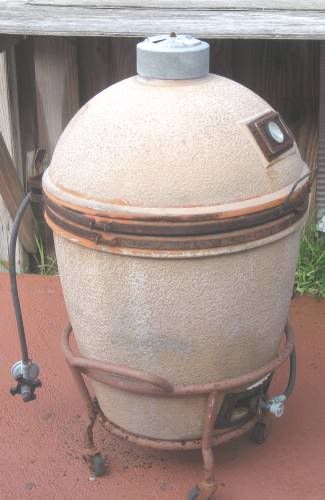 My friend said that if I could not restore it she would have a nice flower pot by the pool. I washed it and scrubbed with stiff brush. The clay interior was in pieces so I carefully removed them and used JB Weld to put back together. What a mess. Had the stand and bands sandblasted, repainted with high temp BBQ black. For the outside paint since I was not going to take the dome temp above 375F I used a green fleck from Lowe's about $10/can 3 or 4 cans forgot. New gasket. Total restoration cost around $150. Use it for lo/slo.