First, congratulations to EVERYONE who participated in Forum Throwdown #3!!! The submissions were all fantastic!!! It never ceases to amaze me that there are SO many talented people within the Forum! Once again, congratulations to ALL! Everything looked delicious!!
After several hours of forum voting.....The Results Are In!!!!! Results were amazingly tight, with the winner being decided by ONE VOTE! Thanks to everyone that took the time to vote!
THE WINNER!!!!! BITSLAMMER!!!
Here's my entry - Bitslammer
Peach Stuffed Pork Tenderloin with Thyme Polenta and Peach Pepper Sauce
Photo Info:
throwdown3_1 - The Raws
throwdown3_2 - Cooking Thyme Polenta on the Mini - Never again unless we have a power outage
throwdown3_3 - Baking the Polenta on the Mini - Not nearly as bad as cooking it.
throwdown3_4 - Tenderloin Stuffed with Peaches, Apple, Onion, Herbed Goat Cheese and of course some thyme and rosemary.
throwdown3_5 - Finishing up on the Medium Egg, Sauce is pureed peaches, maple syrup, butter and a couple red jalapenos for a kick. I let it rduce on the egg to a syrup like consistency. Went direct at the end with the pork and polenta to crisp up the bacon and get some charring on the polenta.
throwdown3_6 Plated with a little thyme garnish.
So there you have it. Wish we could let people have a virtual taste because I'd really like to see what others thought. I really liked this and I think I see a lot more polenta in the near future. Wasn't 1/2 as tough as I thought and could really be taken to all sorts of directions.
AND A VERY CLOSE SECOND, JB!
Thyme-rubbed Pork Tenderloin and Manchego Cheese sauce wrapped in Cornmeal Crepes topped with Grilled Peach Barbecue Sauce
Rubbed tenderloin with evoo, s&p and fresh thyme, grilled direct @ 375F. Crepes were made with yellow cornmeal and flour, done on Egg in nonstick pan. Peach sauce used fresh peaches and common bbq sauce ingredients, mashed peaches after cooking. Cheese sauce started with roux, added chicken stock, half-n-half and then cheese until melted, used some fresh thyme in this as well.
AND A VERY CLOSE THIRD, THIRDEYE!
Submitted by thirdeye......... For Throwdown #3, I made a Country Pork Stew with Cornmeal Dumplings and for dessert, Baked Apples with a Honey Butter Sauce. I got double coverage with the fruit, and used a cornmeal dusting on the meat as well as cornmeal dumplings. A sauce was made for the baked apples and fresh thyme went into the stew.
Here is the summary of each dish. The tenderloin was cubed, seasoned and dredged in cornmeal, then flour, and sauteed in a Dutch oven on the large Egg. Sauteed onion, garlic and squash, some water and broth, potatoes, carrots and tomatoes rounded out the base for the stew. A bundle of fresh thyme, tarragon and parsley were added about halfway through the cook. While the stew was resting, I made a cornmeal dough for the dumplings, and spooned them into a CI skillet on the Small Egg, allowing them to bake for about 5 minutes. They would then be transferred to the Dutch oven to steam atop the stew before plating.
The apples were cored and filled with raisins and seasoned with cinnamon and nutmeg, then baked in the large Egg. A cup of sauce was cooked alongside the apples. The sauce contained cinnamon, apple juice and water. When it reduced by 1/2, honey, butter and more apple juice was added and reduced by 1/2 again, then spooned over the apples when served.
The ingredients are shown in one picture and various pictures show stages of the cook on both Eggs. Since only one shot shows both the stew and the apple, that one will have to be my entry photo. It is the last one in the string.
Wayne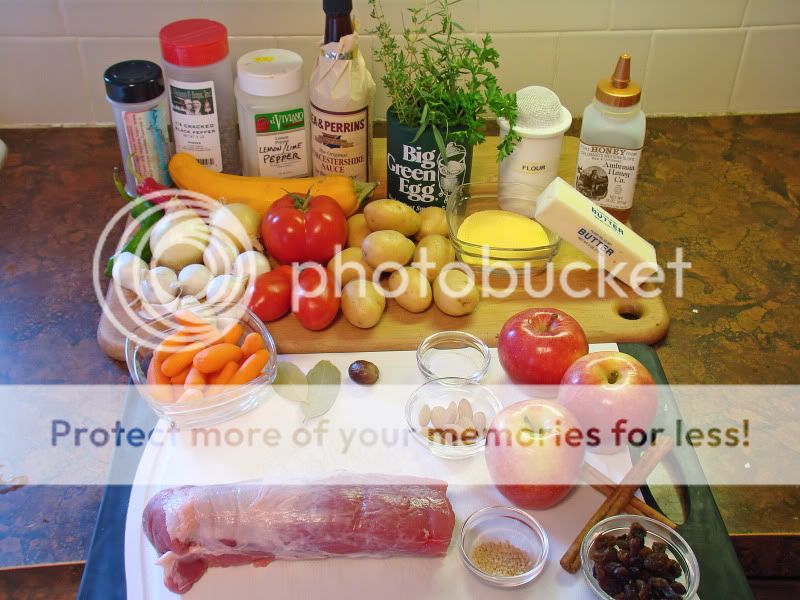 Congratulations again to everyone! Exceptional efforts and results from EVERYONE!