so, for the past couple of months, the spawn's roomie has been saying that when she comes to visit, she wanted an egged turduckhen. . .. so this past week, sarah came down for a visit, and the pressure was on!!! . ..on saturday, i made my first ever turduckhen, and it came out really good. .. .so here goes ....
first, on friday night, i deboned a turkey and a duck. . .this was actually fairly easy. ..i sliced right down the backbone of each bird and basically peeled the bird away from the skellital cage of the turkey. ..the hardest part was separating the thigh bone and wing bone from the skelliton of the turkey ..once i did that, the rest was pretty easy . ..on the duck, i simply cut off the wings and drumsticks, and separating the thigh bones was pretty easy .... oh, and my first 'cheat', i simply bought a package of de-boned chicken thighs instead of de-boning a whole chicken ..
so here are the deboned birds layed out ....
the other thing i did friday night was start a pot of stock using the carcasses of both the duck and the turkey, along with a couple of onions and celery sticks. . .i let that simmer all night long so that i would not only have the stock for mad max gravy, but also to use for the stuffing ...let me tell you, even with all the mad max stock i've made in the past, this stock made with both turkey and duck was simply THE BEST STOCK EVER!! . ...
on saturday morning i got up and first made two batches of stuffing . ..second "cheat" here. ..i used a box of stouffers sage stuffing, and a box of stouffers corn bread stuffing . ..but two things here, 1. i used the turkey/duck stock as the liquid for the stuffing which added great flavor, and 2. i added a pound of grilled up anduille sausage in with with the sage stuffing, and 3. i added in about half a pan of day old corn bread to the cornbread stuffing and again, used the stock as the liquid for the stuffing. ..
so now it was time to layer everything up. .. first, the turkey, then the sage/sausage stuffing, then the duck, then the corn bread stuffing, then the chicken . oh, and on each bird a good seasoning of dizzy tsunami spin and emerl's essence . . .trying to get that cajun thing going. .
now for the fun part, pulling it all together. ..and here is where the hemostats came in handy ... .this is really a four hand job. ..two to pull it together and two to truss it up, but all my extra hands were still in the fart sack on saturday morning, so i was on my own. ... .so i pulled the skin of the turkey on around, and pinched it up with the hemostats. ..worked great. . .. i then used two metal scewers to tie it up the back. ..worked great ...
then i turned it over, and it already had a pretty good looking shape to it. ..i only had to 'mold' it a little bit to make it look like a turkey. . .one thing i did have was a tear in the skin, so using my trusty hemostat, and some butcher's string, i performed a little 'surgery' ...not bad if i do say so myself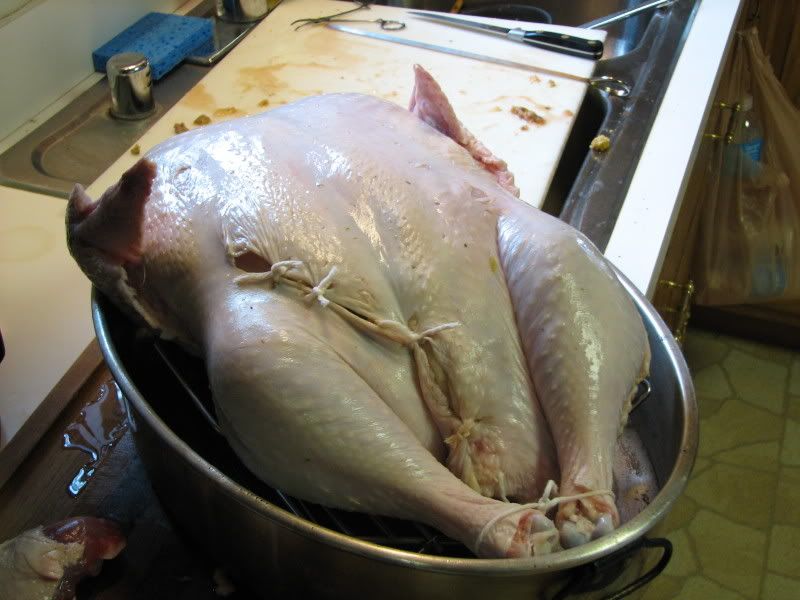 last thing i did prior to putting it in the egg was to take a couple of sticks of butter, and add some of the tsunami spin and emerl's essence for a nice 'cajun' butter. ..
now for the egg. ..my set up was a good load of lump with a big chunk of pecan wood (thanks wise one), then my spider with pizza stone, then my adjustable rig (just like i did for my thanksgiving turkey). . .i had read different things about roasting temps for turduckhens, from 250 degrees up to 375 degrees ....i went with about 300 degrees dome temp, letting it creep up to about 350 near the end . ...for my turducken, which probably weighed around 20 pounds all together, it took about 7 hours to be done. .. KEY POINT HERE. .you have to take multiple temp reading with a thermopen to make sure you hit the duck and the chicken in the center to make sure ALL the meat hits at least 160 . ..i was able to do this without the turkey breast drying out. ...it was all perfect. ...here is a pic at about the three hour mark. ...
and here is the spawn and roomie sarah, admiring my handiwork. ..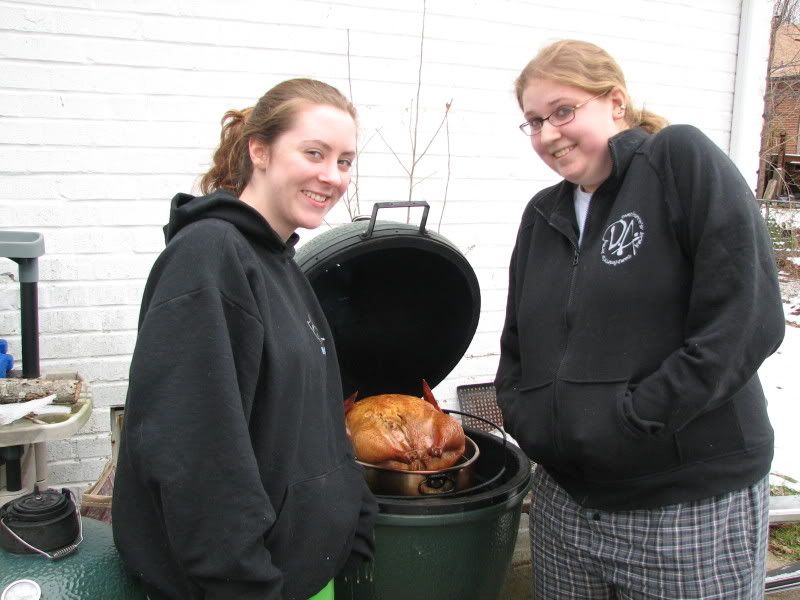 and, TA DA. . .the finished product. .. it was absolutely fantastic. .. may have been one of the best things i've made, and that was the spawn's take on it. . .it sliced up beautifully, and while the drippings were no good for gravy (way too much duck fat in the pan), that turkey/duck stock made for one of the best batches of gravy ever. ...the duck really added a depth of flavor that we haven't experienced before. ..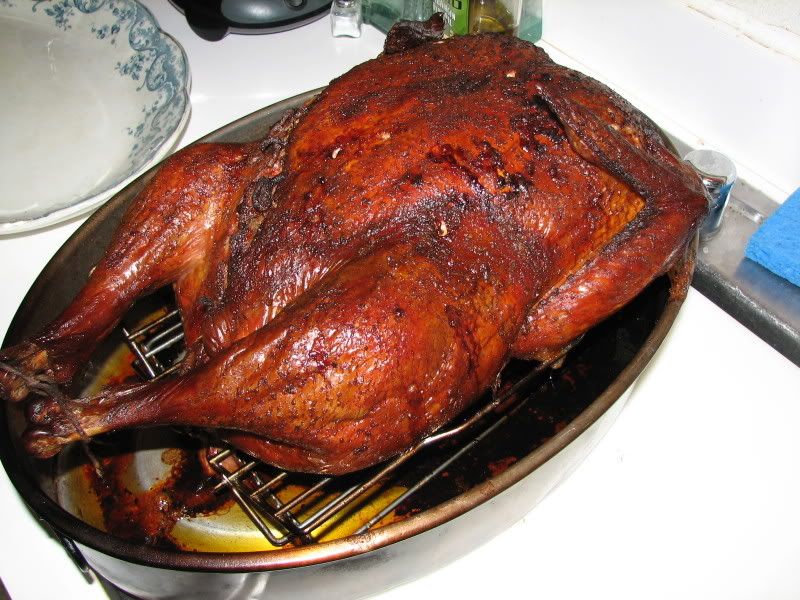 gee, aren't you glad i'm back!!!