Welcome to the EGGhead Forum - a great place to visit and packed with tips and EGGspert advice! You can also join the conversation and get more information and amazing recipes by following Big Green Egg at:
Facebook  |  Twitter  |  Instagram  |  Pinterest  |  Youtube  |  Vimeo
Share your photos by tagging us and using the hashtag #EGGhead4Life.
In Atlanta? Come visit Big Green Egg headquarters, see our new showroom and check out the History of the EGG Museum and 
Culinary Center
!  3786 DeKalb Technology Parkway, Atlanta, GA 30340.
Eggfest 2006 w/ some pics, and Smoked Apple Recipe
Wow, what a great time! It was really nice to see everyone, some new and old faces. Yes, it's true we got spanked on the golf course. That's OK, we'll have better luck next year. [p]
Highlight of the trip! Mr. Big Green Egg himself! He had great things to say about Oklahoma and our eggers. Phillis (Snoop Dog's Sis) and myself took the chance to take a pic.

[p]Pic of our Golfing Crew, taken Friday afternoon. And yes if you look close you might catch a peak at the Blue Hog BBQ Sauce that CarWashMike brought to me. Mike, nice call! That stuff is amazing!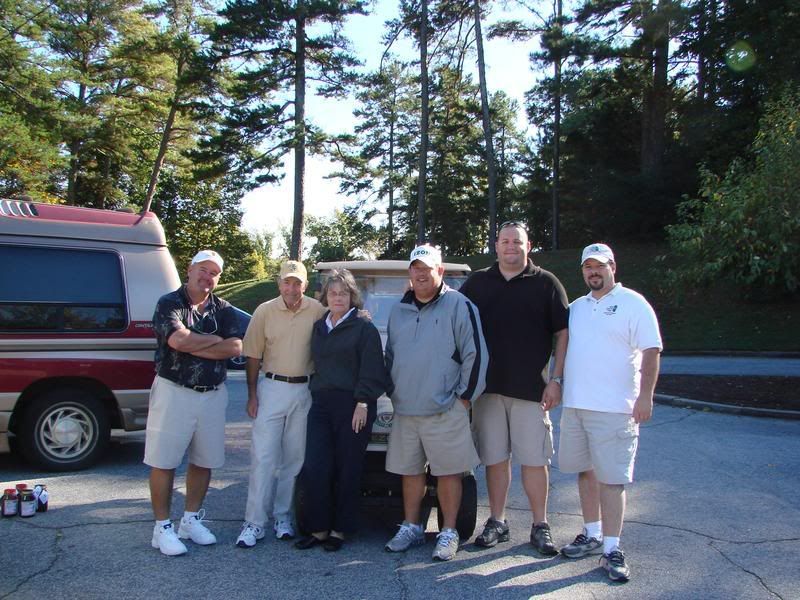 [p]Eggs, lots and lots of eggs!

[p]Added something new to the party this year. New England Smoked Apples! Many asked about the recipe, here you go.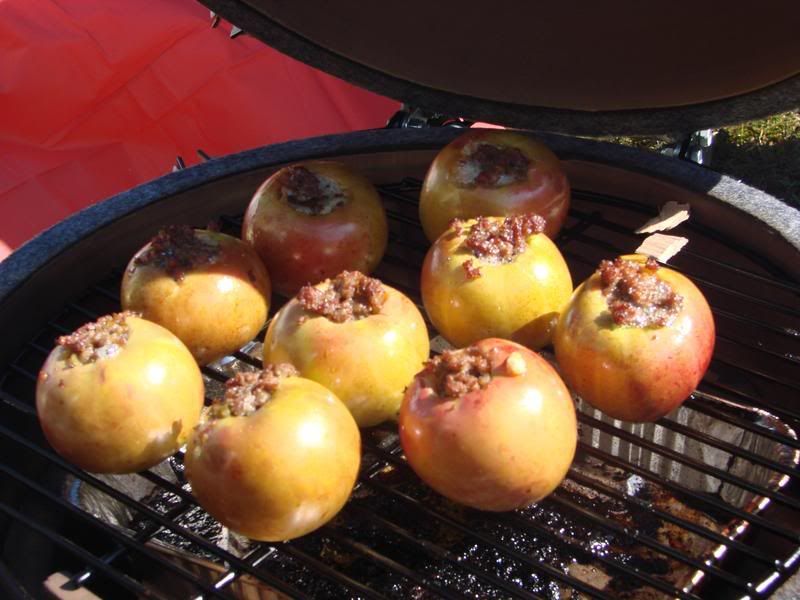 [p]12 Large Apples (McIntosh are what I used, also tried some Red Rome Apples however they took slightly longer to smoke)
Unsalted Butter
One celery stalk
One small sweet onion
1 tsps of dried Sage. (little goes a long way)
16 once bulk original sausage.
Maple Syrup
Apple Wood Chips or Chunks for smoking.[p]1 Tsp of Butter in Med Hot pan. Finely chop the onion and celery stalk, saute them until slightly brown. Add sausage and sage turn heat up to high; break up sausage while cooking with wooden spoon. Cook mixture until all the sausage is done. Remove from heat, and strain. Let cool to room temp before adding to apples. [p]Core apples with melon baller, make sure not to go out the bottom of the apple, leaving a cavity for sausage stuffing. Fill apples 1/2 way with sausage stuffing, then add small amount of Maple Syrup, fill the rest of the cavity with the stuffing. This can be done several hours before cooking, just cover and put in fridge. [p]Ready to cook; get Egg up to around 350-375, indirect w/ drip pan. Add lots of apple wood for smoke flavor. (I've never tried any other woods with this dish). Right after apples hit the egg, put a dab of butter on them. About 20mins into the cook, add some syrup to the top of the apples. Apples should take about 45mins to 1hr, depending on the size of apples. You want them to be soft, when the skin splits is a good sign they are done. Serve hot, and with lots of Syrup! Yum ;-)[p]Serve as a side dish, or as main course. I'm thinking about on Turkey Day, maybe in the morning with breakfast. [p]Enjoy; see you all next year in Egglanta! And will see some of you in Oklahoma on April 20th and 21st, 2007.