There are two very delicious food holidays coming up that we wanted to share with you all because cheese and guac deserve to be celebrated!
Guacamole Day
is on September 16th and
Cheeseburger Day
is on September 18th. Happy cooking EGGheads! It's time to think about getting out to one of the many #EGGfests around the country -
see a list here
Small Brisket results
My project today was cooking a very small (2.5#) brisket. Thanks to everyone who chucked ideas and warnings at me throughout the day. [p]Here is the little bugger with the "point" cut off (the point is barely big enough to justify a sandwich.

[p]The Flat sliced. A nice little smoke ring for such a short cook.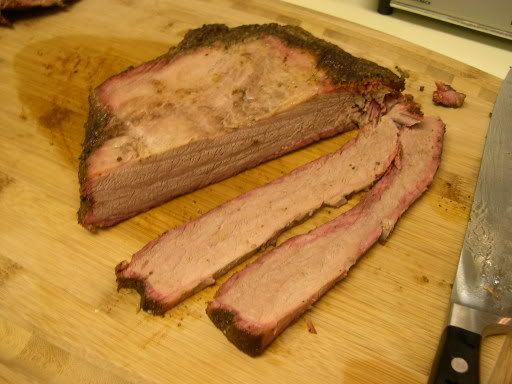 [p]Rubbed with a 50/50 mix of Cowlick and Florida Crystals. Smoked for the first 3 hours with a chunk of Hickory which turned out to be perfect. Total Cook time was 8 hours and it was wrapped for the last 4 (thanks Thirdeye). I couldn't have asked for a better result from this little guy. Great flavor and tenderness. The slight dryness was easily overcame with a little Bone Suckin Sauce.[p]