We're feeling pretty super, how about you? The big game is fast approaching, and while we love football, we love an excuse to invite people over and cook even more! You too can cook like a champion with recipes from
Dr. BBQ's NFL Gameday Cookbook
: Grilled Tuna Sandwiches from Seattle and Baked Brie from New England. Who's going to win? You'll have to cook both to find out.
The 17th Annual EGGtoberfest was amazing - here are the highlights 
Click Here
Small Brisket results
My project today was cooking a very small (2.5#) brisket. Thanks to everyone who chucked ideas and warnings at me throughout the day. [p]Here is the little bugger with the "point" cut off (the point is barely big enough to justify a sandwich.

[p]The Flat sliced. A nice little smoke ring for such a short cook.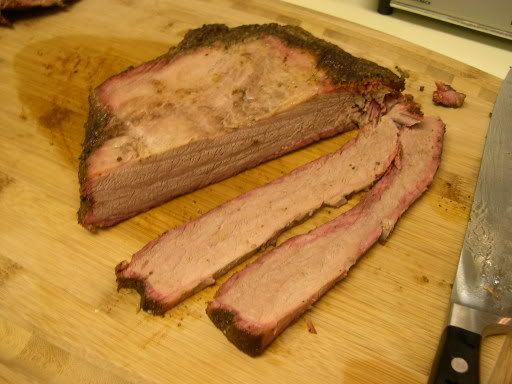 [p]Rubbed with a 50/50 mix of Cowlick and Florida Crystals. Smoked for the first 3 hours with a chunk of Hickory which turned out to be perfect. Total Cook time was 8 hours and it was wrapped for the last 4 (thanks Thirdeye). I couldn't have asked for a better result from this little guy. Great flavor and tenderness. The slight dryness was easily overcame with a little Bone Suckin Sauce.[p]