We started off the weekend cooking bison burgers minus the bun since I'm not eating carbs at the moment. Didn't get any pics as it was late (problems at the cell phone store held us up). They just looked like pre-made hamburger patties, though.
Saturday, my cousin invited us over for dinner so I was able to sit back and relax and not have to do any work for a change. It was a nice change of pace. He grilled up some halibut and some veggies but he cooked it on one of these things.
That pic was taken on my new iPhone. Yeah, I finally broke down and switched from Android to iPhone. Still getting used to it. Some things are better, some are worse. It is nice to have a phone with a working camera again. (All these pics were taken with my phone)
Sunday night we cooked up some boneless, skinless chicken thighs rubbed down with DP Tsunami Spin. I'm tossing the chicken on and SWMBO'ed yells out "Don't forget the sausage!!" Huh? You saw me start to light the Mini. Why didn't you mention that before? Why didn't you tell me to fire up the large instead? Oh well. Chicken already on the Mini, just have to cook in stages.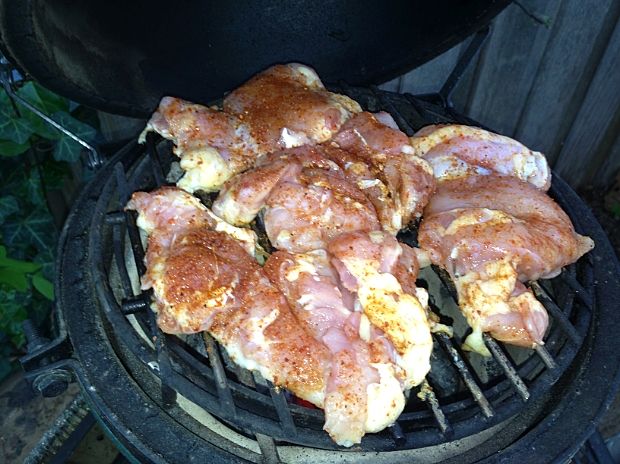 Anyway, nothing really exciting about the food. Just thought I'd share. Hope everybody had a good weekend.
Rowlett, Texas
Griffin's Grub or you can find me on Facebook
The Supreme Potentate, Sovereign Commander and Sultan of Wings