It doesn't get much hotter than the EGG cookin' in July! Make sure to keep yourself hydrated with a bit of whatever you're using for the
Beer Can Chicken
.
Ice Cream Sandwiches
are also a great way to stay cool. Looking for some great ideas for a summer cook out? Try out a
Pimento Cheeseburger
or
Dr. BBQ's Spare Rib Surprise
. Just don't be surprised if your neighbors stop by for a quick bite when they smell what you're cooking!
Big Green Egg headquarters has moved - come visit our new showroom and check out the museum and culinary center too! 3786 DeKalb Technology Parkway, Atlanta, GA 30340
Successful Elder Ward Pulled Pork
I made pulled pork this weekend on my BGE and couldn't be happier with how it turned out. So happy that I am making my first post! It was 2 pork shoulders - 8.5lbs & 6.5lbs. I followed the Elder Ward rub recipe and general cooking method. I tried to follow his philosophy to setup correctly and then you can move on with you life while it cooks...unfortunately, I thought about it with total obsession. Hopefully next time I will be a little more confident & can relax.
All rubbed up and ready to rest
Resting for 2 hours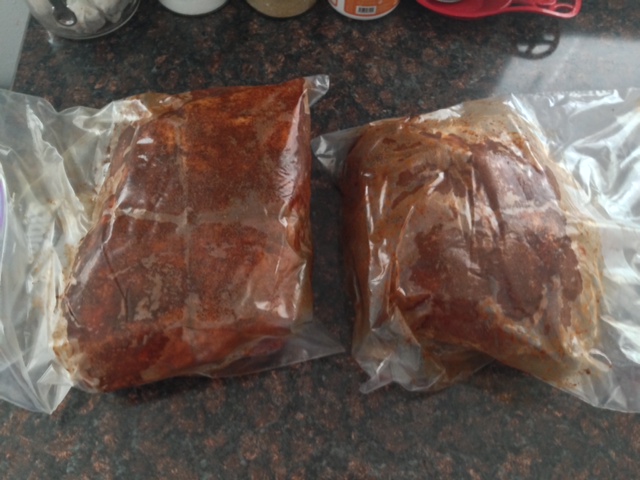 Ready to go - 6:30PM on Friday
Done deal...12:30PM on Saturday - 18 hours @ 250 dome temp indirect
(what looks like a mouse on the grill is my pit thermometer clipped onto a lava rock)
I double wrapped them in extra strength foil 2 times and put them in a cooler for 2 hours.
Ready to pull @ 2:30PM
After pulling I mixed in a very light mixture of the
The Traditional North Carolina Sauce & stock.
Ready to eat @ 3PM on Saturday
A delicious BGE pulled pork sammich -
Add a cold beverage & the FL sunshine & you have the makings for a great weekend.