I cook on my 30+ year old carbon steel wok on my Large BGE and
Tao Charcoal Burner
all the time. But today I decided to take my small egg over to a friends house and break in my new
Wok Shop
12" Wok. I had already seasoned it using that stainless thing that has a R2D2 looking tank connected to it.
I made the rice two days ago and kept it in the fridge. Here is the setup at my friends.
First I threw on some pineapple chunks as the egg was coming up to temp and prepped all the veggies and got all the stuff ready on the table. I cubed up a pork tenderloin and tossed in some corn starch, teriyaki, and soy sauce. After taking the pineapple off the grill cubing it up and then it was Wok and roll time! First I seared the pork.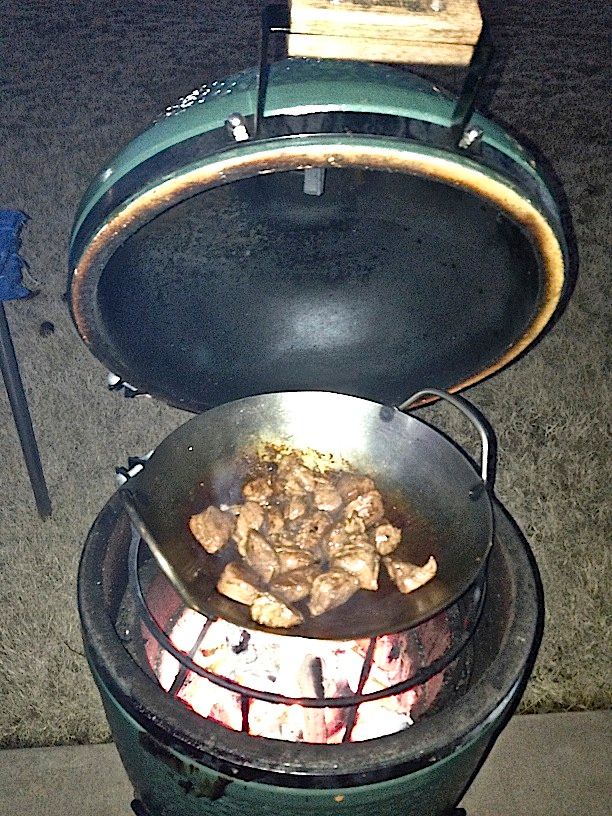 Then pulled them off and switched to the rice.
Then the rice went inside and got covered with foil and I threw in the veggies and once they were done the pork went back in to finish the dish.
Simple and probably just as fast to get the egg up to temp and cooked than run out to get takeout and tastes a million times better. Another great meal with friends and the Big Green Egg!
Large & Small
BGE
, CGW Two-Tier Swing Rack for
BOTH EGGS
, Spider for the Wok, eggCARTen & and Cedar Pergola my
Eggs
call home in Edmond, OK.