Did these last weekend and thought I would share. If you like oriental cooking and don't have "Breath of a Wok' I strongly suggest you look at it. Great info:
This recipe is a variation of one in "Breath of a Wok"
on page 188 Sweet & Sour Ribs.
Getting rested by the pool in a soy,
lemongrass, kaffir lime leaves and some other goodies for a few hours. I took a
full size pork rib with brisket portion and cut lengthwise into thirds and then
separated the ribs into single bite size pieces. Easier to have the butcher do
it on his saw if possible.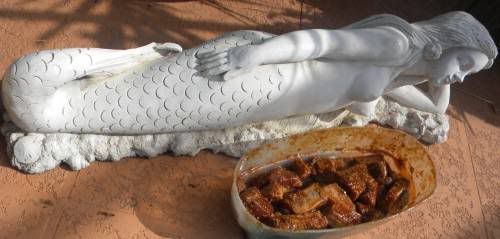 Set LBGE up indirect and got to 400F then some rosemary twigs
and started cooking, basted and turned every 15-20 minutes until they were done
about 1 hour and little change:
Ready to eat:
For sides did some Thai little round eggplants, garlic,
onions, baby portobellos some cilantro and thai basil at the end. Added little
hoisin sauce, black bean paste and some soy.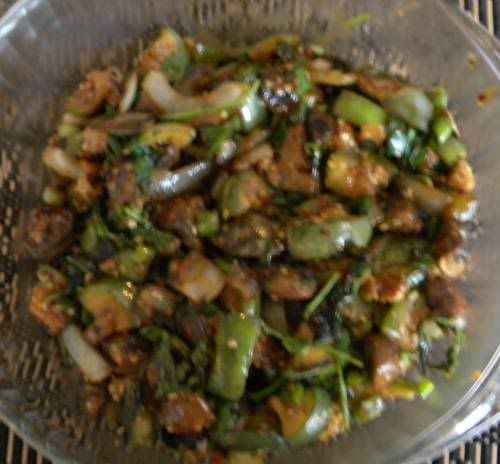 Great finger food portions.
---

Richard Melbooooring Fl.
"KING OF LONEY", SELF APPOINTED!!!!!

IF YOU
WANT TO DRINK ALL DAY, YOU HAVE TO START IN THE MORNING!!

LAGER PRAYER

OUR LAGER, WHICH ART IN BARRELS, HALLOWED BE THY DRINK, THY WILL BE DRUNK,
AT HOME AS IT IS IN THE TAVERN. GIVE US THIS DAY OUR FOAMY HEAD, AND FORGIVE US
OUR SPILLAGES, AS WE FORGIVE THOSE WHO SPILL AGAINST US, AND LEAD US NOT TO
INCARCERATION, BUT DELIVER US FROM HANGOVERS. FOR THINE IS THE BEER, THE BITTER,
THE LAGER.