Got a few days off and havent cooked for our friends in a spell so did a little cook today. Freda is generic name for a hen that my Sis gives to chicken so now ya know the title explenation! :laugh: Made up a rub of pepreka, chili powder, powder ginger, cummin, garlic, black pepper and sea salt. The raws: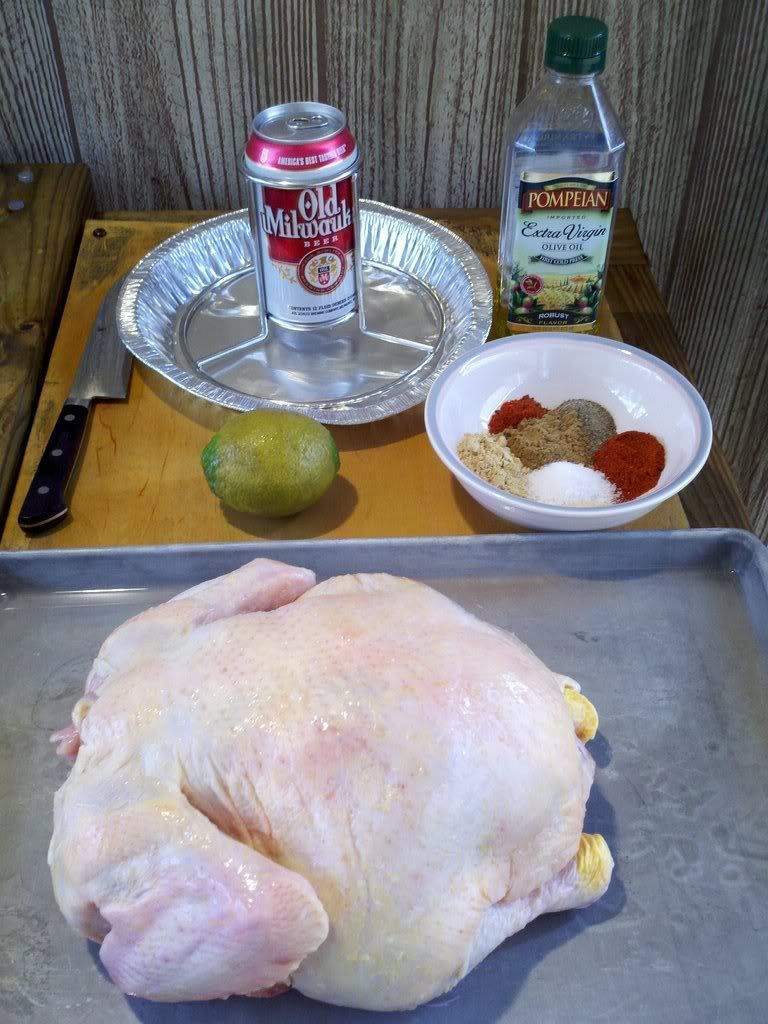 Cut the top out of an OM and place in rack inserting the whole thing up the Freda. Next I slid my fingers under the breast and thigh skin and rubbed the meat down with the rub, coated skin with EVOO a put the rest of the rub on the skin. Cut lime in half and squeeze under skin well then stuff neck with one of the lime halfs. Tye the wings across chest close to body.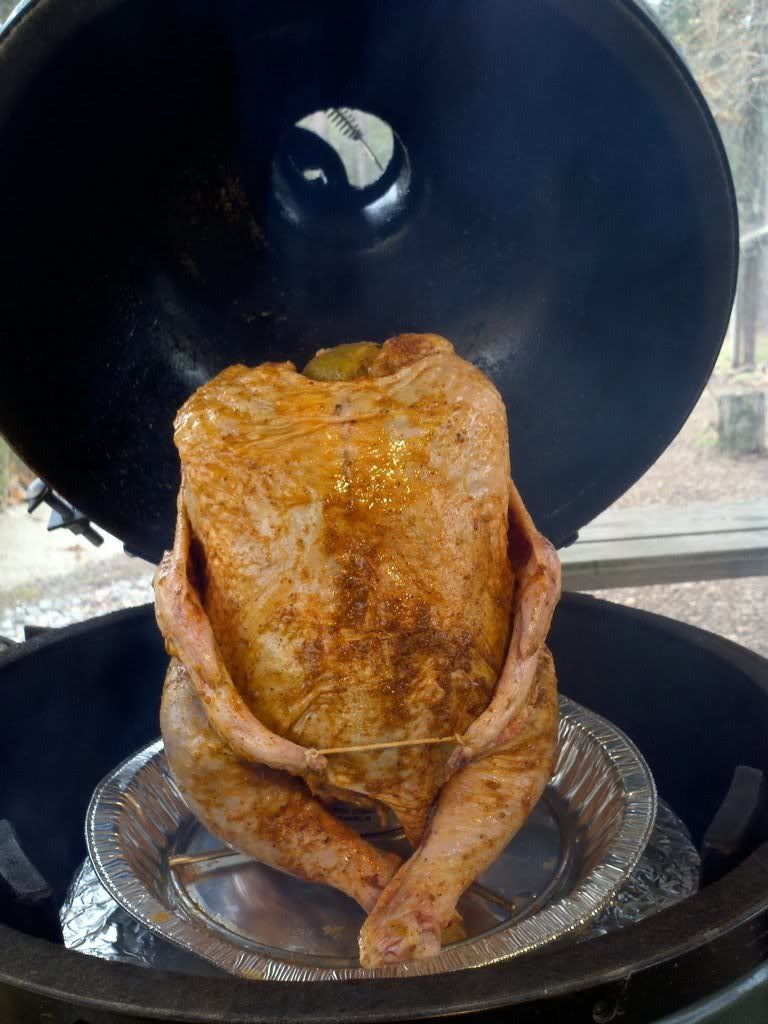 250 on platesetter till 160 breast.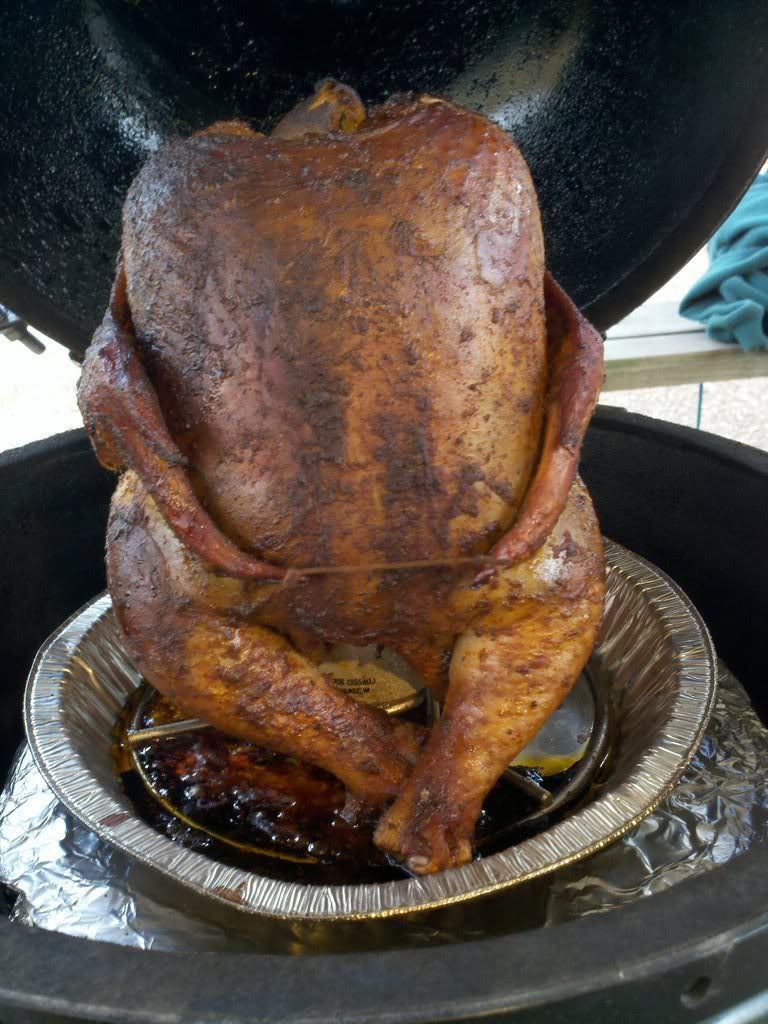 Break time!! :woohoo: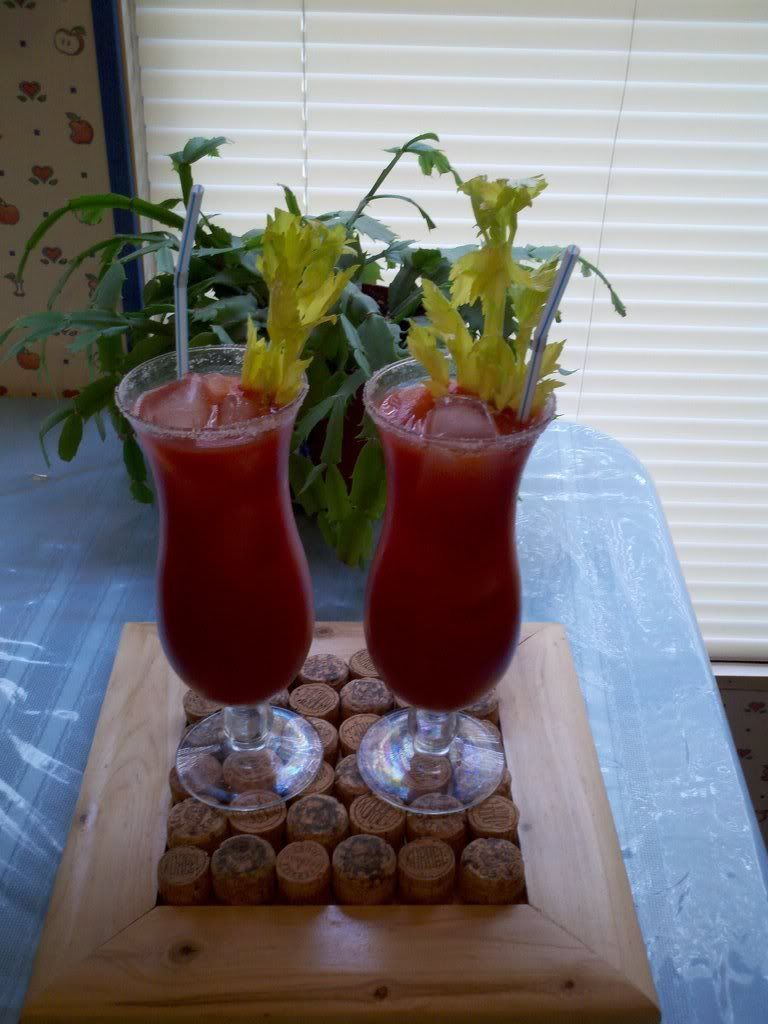 Next up:
Linguine with Shrimp and Lemon Oil
Recipe courtesy Giada De Laurentiis
Prep Time:
10 min
Inactive Prep Time:
--
Cook Time:
15 min
Level:
Easy
Serves:
4 to 6 servings
Ingredients
For the lemon oil:
* 1/2 cup extra-virgin olive oil
* 1 lemon, zested
For the pasta:
* 1 pound linguine pasta
* 2 tablespoons olive oil
* 2 shallots, diced
* 2 garlic cloves, minced
* 16 ounces frozen shrimp
* 1/4 cup lemon juice (about 2 lemons)
* 1 lemon, zested
* 1 teaspoon salt
* 1/2 teaspoon freshly ground black pepper
* 3 ounces arugula (about 3 packed cups)
* 1/4 cup chopped fresh flat-leaf parsley
Directions
For the lemon oil:
Combine the olive oil and the lemon zest in a small bowl and reserve.
For the pasta:
Bring a large pot of salted water to a boil over high heat. Add the pasta and cook until tender but still firm to the bite, stirring occasionally, about 8 to 10 minutes. Drain pasta, reserving 1 cup of the cooking liquid.
Meanwhile, in a large, heavy skillet warm the olive oil over medium heat. Add the shallots and garlic and cook for 2 minutes. Add the shrimp and cook until pink, about 5 minutes. Add the cooked linguine, lemon juice, lemon zest, salt, and pepper. Toss to combine. Turn off the heat and add the arugula. Using a mesh sieve, strain the lemon zest out of the reserved lemon olive oil and add the oil to the pasta. The zest can be discarded. Add some of the cooking water to desired consistency. Add the chopped parsley to the pasta and toss to combine. Serve immediately.
Yep Stike and my secreat Santa!
Degree in anthropology and can cook as well! Hear's the raws: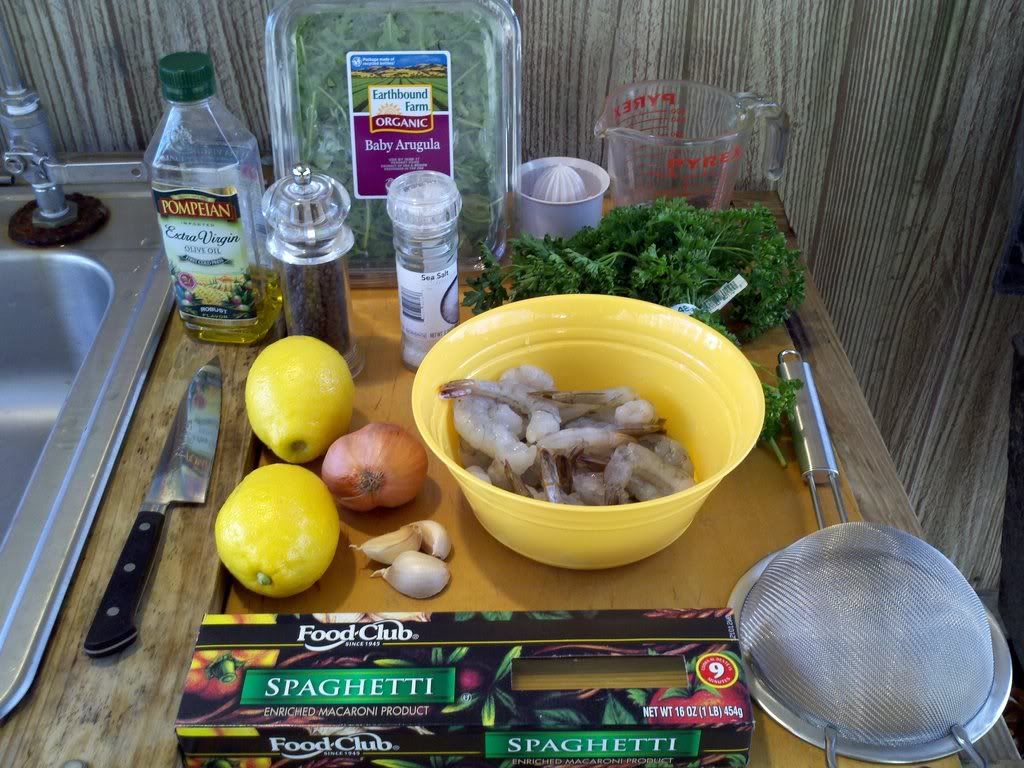 Garlic and scallians saltaed and shrimps are on!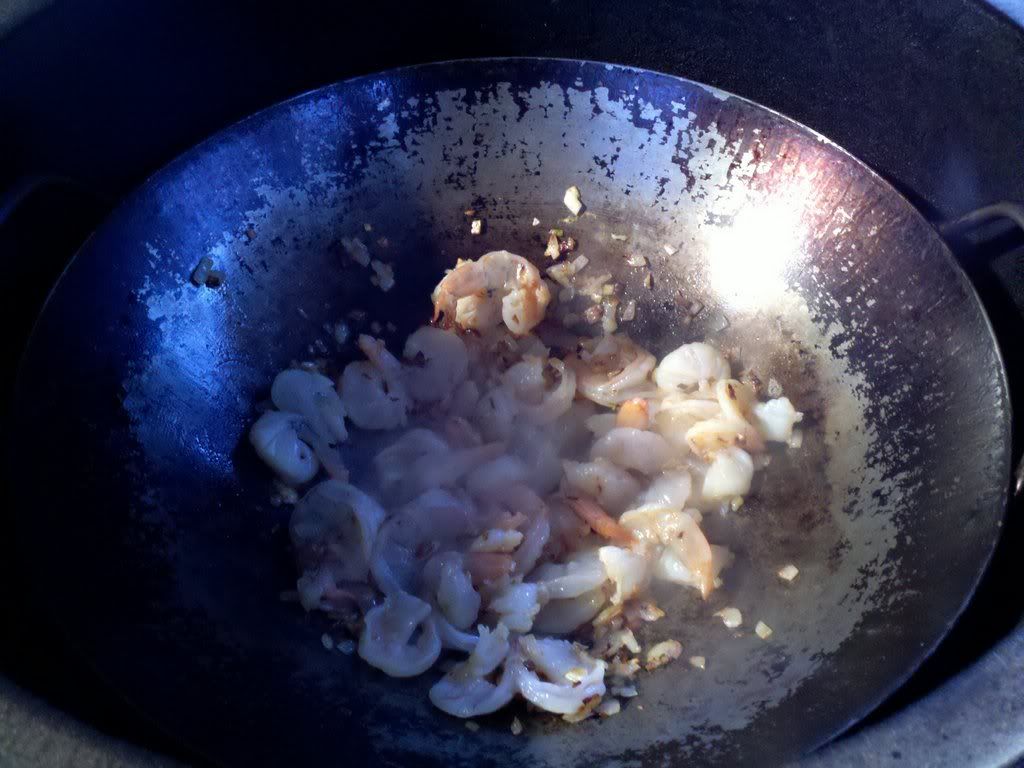 Almost ready to serve!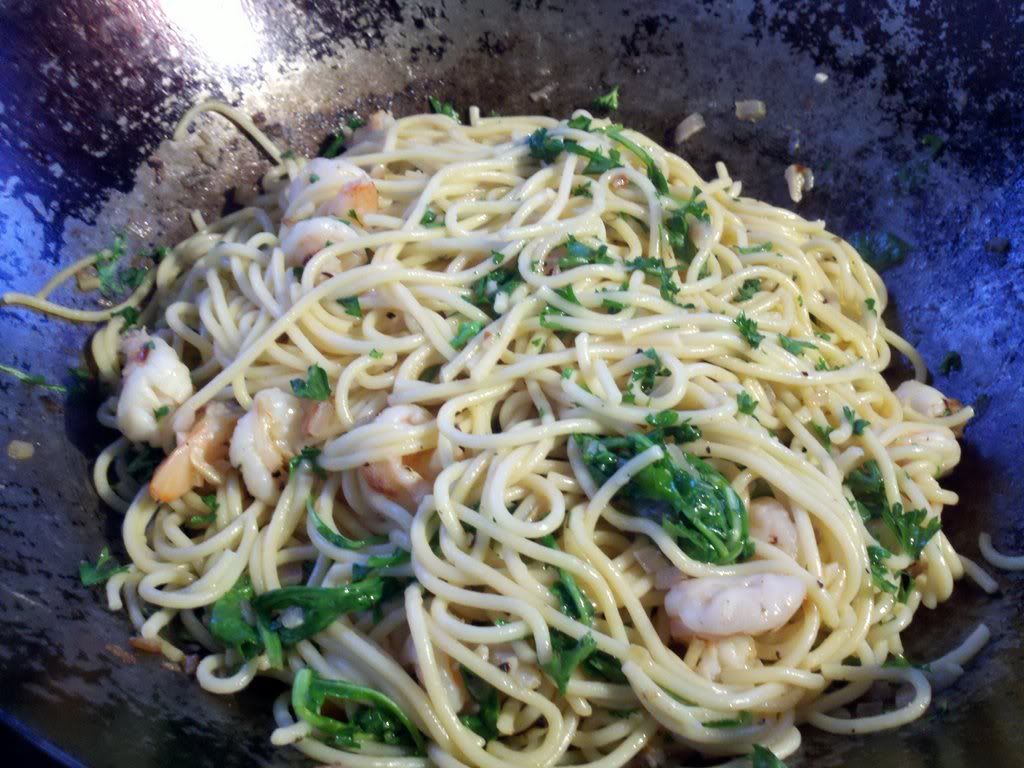 Yea I know...light beer BUT it was FREE lite beer!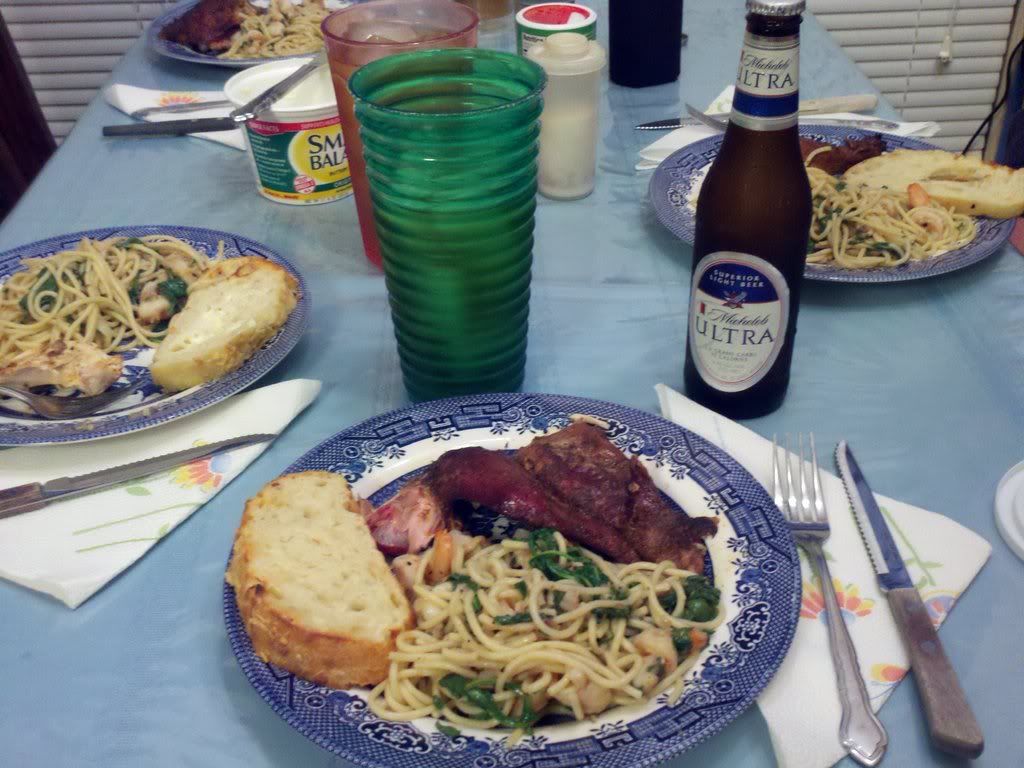 Auron ate some'en in pasture yesterday that made him sick last night till 3:30am. I'm going to bed. Nite ya'll.