A big thank you to Pyro who gave me this recipe years ago and is still a dandy. I have not made it in a while so hear goes. A wonderful morning in the bottoms and the ducks were there in numbers!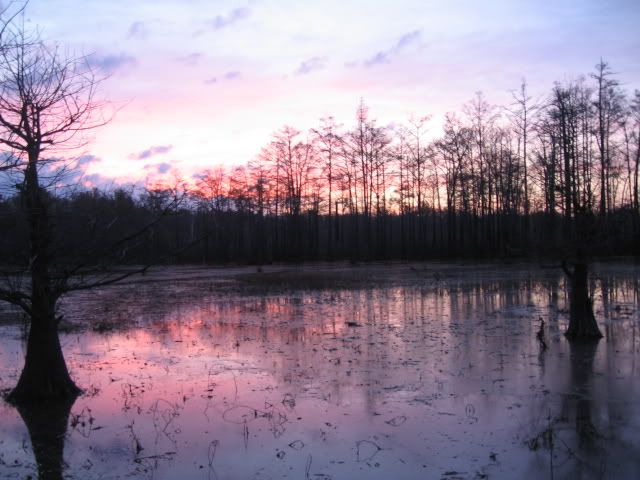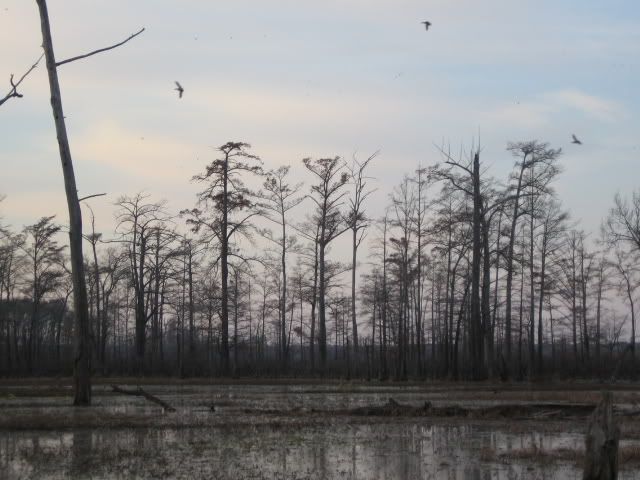 Ok the raws: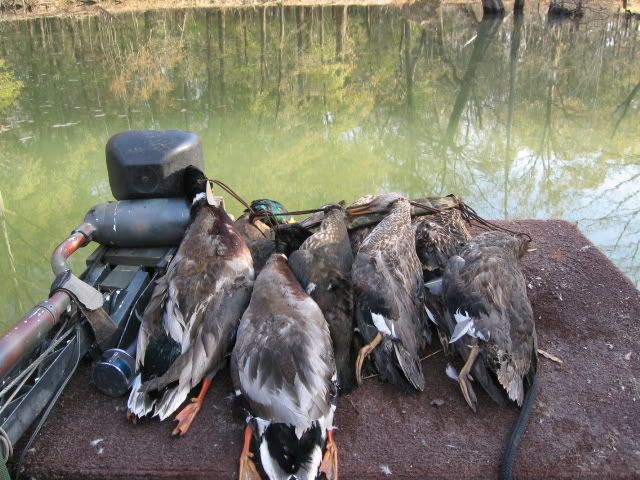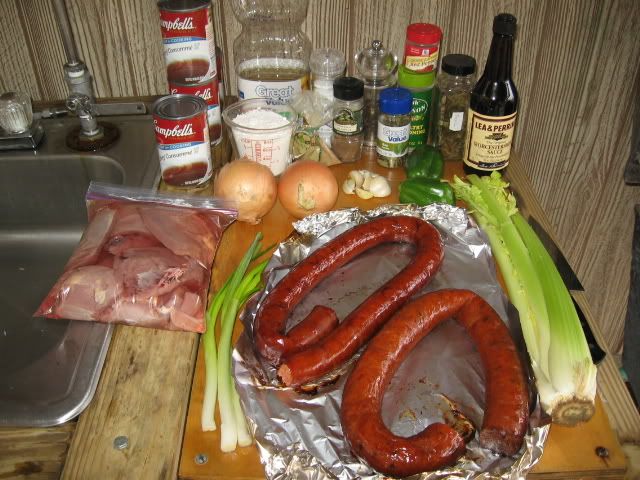 Hears the recipe:
DUCK AND ANDOUILLE GUMBO
2 mallard ducks, cut into serving pieces
11/4 lbs. andouille sausage
2 medium onions, finely chopped
1 bell pepper, finely chopped
4 stalks celery, finely chopped
1 cup cooking oil
1 cup flour
4 cloves garlic, finely chopped
3 bay leaves
1/4 tsp. allspice
1/4 tsp. cayenne pepper
1 tsp. basil
1/4 tsp. powdered cloves
1/2 tsp. poultry seasoning
1 tbsp. salt
6 shakes black pepper
4 tbsp. Worcestershire sauce
4 drops Tabasco
5 green onions, finely chopped
4 (101/2-oz.) cans beef consommé
3 cans water
Make a stock with consommé and water in a large, heavy iron pot and bring to a low boil. In a separate heavy iron pot brown duck pieces well in hot cooking oil. (This browning will prevent excess duck fat from cooking out into the gumbo.) When all duck pieces are browned well, place them in the pot of stock. Drain about 3/4 cup of the oil and fat from pot used to brown duck and set aside for later use in making roux. Add the chopped onions, pepper, and celery to the remaining hot oil and sauté until very tender, stirring well. When vegetables are cooked, combine them with the duck and stock.
Slice andouille into round slices about 1/4 inch thick and brown in the pot used to brown the duck. (Cook out as much grease from the andouille as possible.) Add the browned andouille to the duck, stir well, and maintain cooking at a simmer. As the mixture simmers add the chopped garlic and the rest of the seasonings and stir until all are well blended.
Make a medium dark roux in the pot used for browning duck and sausage. Use the oil and fat saved from browning and an equal amount of flour. When the roux is cooked, remove from heat and add enough stock from the duck and andouille to thin it; then add the thinned roux to the duck and sausage. (If roux is added to duck without thinning it would form lumps.)
Stir mixture will and adjust heat to cook at a low simmer. Cover and cook until duck is very tender (about 21/4 hours). At end of cooking remove from heat, add Tabasco, check for salt, add chopped green onions, and let sit for 5 minutes. Serve over rice. Serves six to eight.
I will tell you right now this is not a good first Egg recipe as every thing was done on the Egg. No gas or electricity allowed and as such I did not follow recipe exactly. Had way more vegs and flower than I needed for my pot. Started out by prepping all the raws. First smoked my andui in the Egg for about an hour and half at 225 then duck in oil saving a cup of drippings.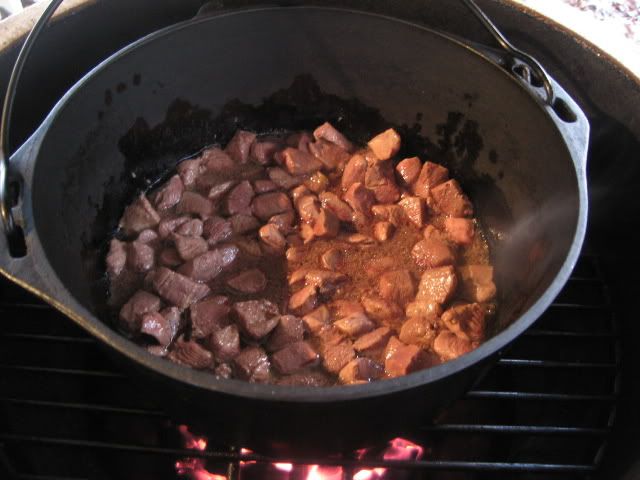 Set aside and add all vegs with oil and cook till very tinder. I don't like crunchy vegs in soup or gumbo. Set to side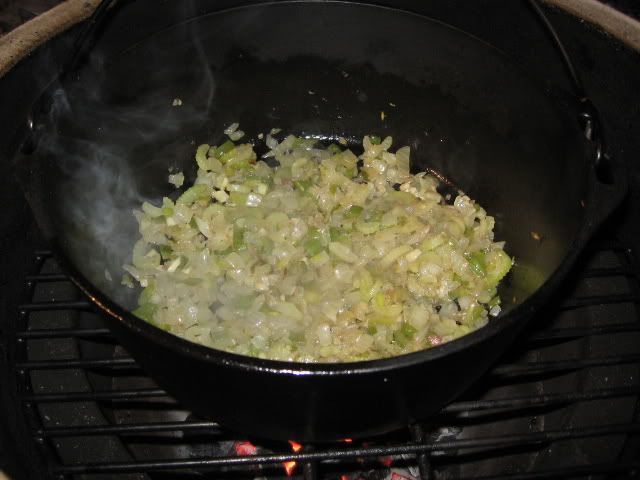 Next heat duck drippings to hot and add flower slowley till a thick past. At this point I removed cast iron from Egg as it retained enought heat to make the rue.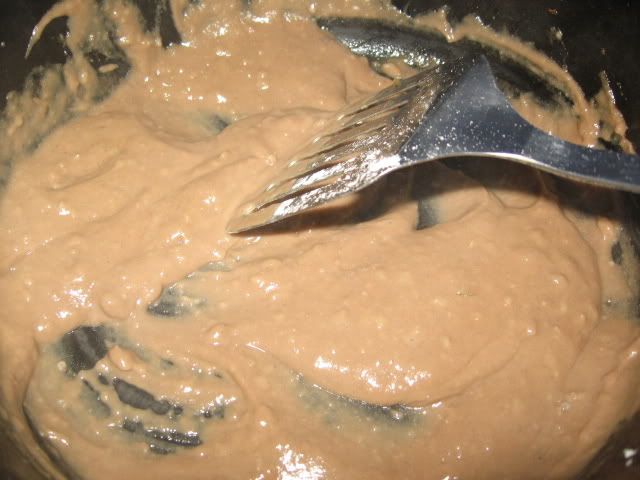 Return to Egg and slowly start adding beef consame to rue stiring all the time. If you do not do this stage correct you will have duck and flower lump gumbo!! :laugh: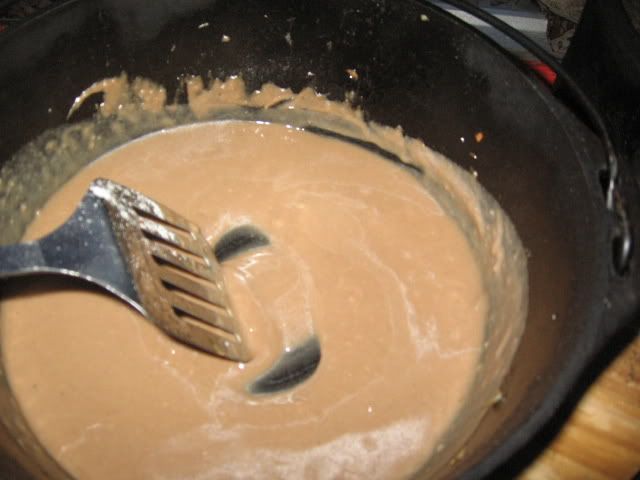 After adding the beef consame I added vegs and meats then filled with water till 1/12 inches from top then added spices and stir well. Cook indirect on smoke rocks at 300-325 for 1 1/2 hours or so adding secreat ingrediant 30 min. before done.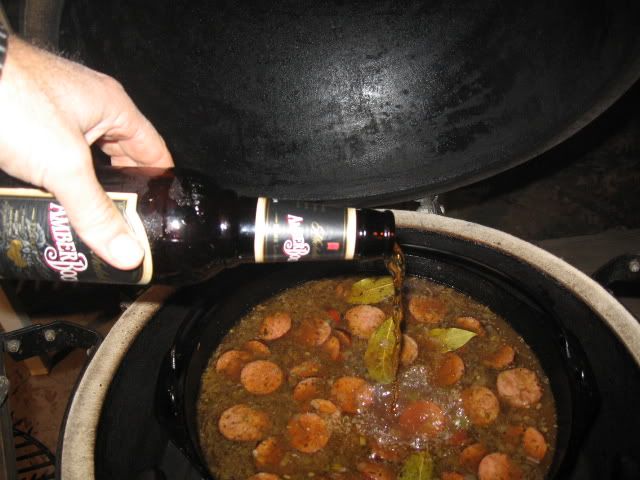 Serve with home made corn bread and fresh ADP its heard to beat!