We had our annual apple pressing party this weekend and in addition to our usual crowd, we had 7 friends from out of town come on Friday and stay til Sunday, so the egg got a bit of use. My camera was broken so I didn't get many food photos, but the grilled peaches were a hit and were deemed photo worthy.
We grilled them cut side down first, flipped them over and added butter and brown sugar while the bottoms grilled. These were served with homemade vanilla ice cream and drizzled with peach balsamic vinegar. They were so good, we served them again on Saturday when the big crowd arrived. On Saturday we did half peaches and half nectarines and the nectarines were just as good. If I had had DP pineapple rub, I definitely would have put that on there.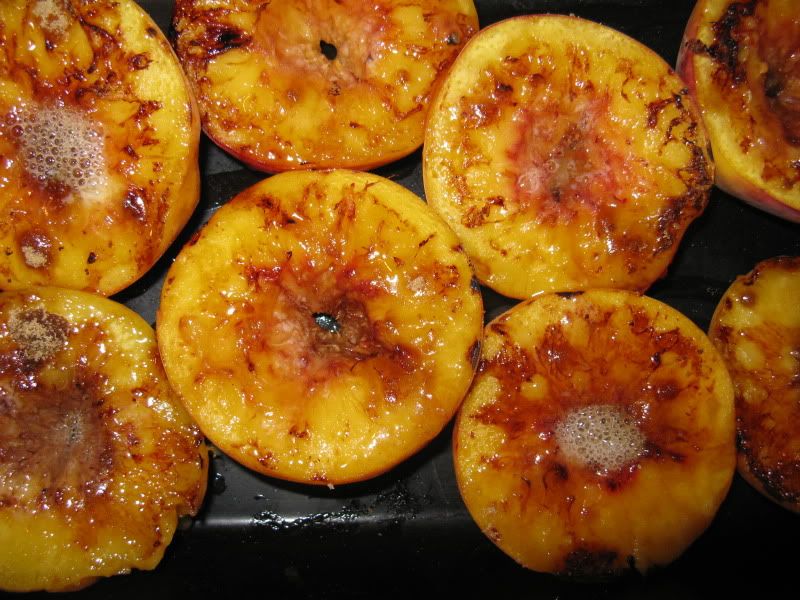 On Friday night we also did salmon on the egg and then on Saturday we did stuffed portabella mushrooms, zucchini boats, assorted Costco sausages, and the peaches/nectarines.
The zucchini were sort of interesting. I cut them lenghwise, hollowed them out, filled them with a mixture of goat cheese and roasted garlic, drizzled them with tuscan flavored oil and balsamic, and then grilled them. I'll definitely do them again.