The horrid winter is finishing here - so Im getting a chance to use the BGE for the first real time (they only have a few of the here in New Zealand).
So I thought I would try a smoked Kahawai (fish) pie.
I didnt smoke the fish - but started with a already smoked one (Will try smoking in the egg next time).
Its a easy to catch fish - we can normally get them off the shore at the end of our street:
Its a Kahawai (Sea Salmon) (Not me in the pic) - but hey - its about the fish: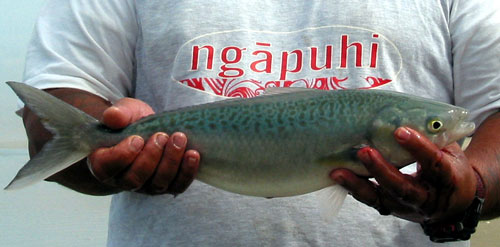 Anyway - it turned out great 400F / indirect about 35 mins:
The "T" is for Tanky. That way the wife cant take credit !
Anyway - I'm very happy. Thanks to all on here for the inspiration to try something other than sausages on the BBQ.
Tank the Kiwi.