...and some smoked/dried tomatoes and jalapenos, too
jalapenos are coming in gangbusters along with tomatoes. i dried a batch together, with not too much smoke. took the dried peppers (about a dozen) and ran them thru the food processor to make some powdered semi-smoked jalapenos. they don't truly count as chipotles, but makes for a nice ersatz chili-powder
dried tomatoes until leathery, and they are currently in the fridge in olive oil.
here's the photogenic set-up
some light smoke
ran a little low, overnight.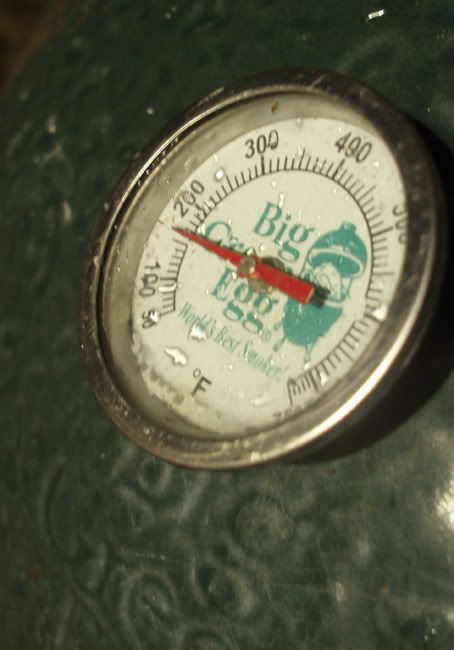 fire went out, so i started it again and it cruised all day
wanted to make some more bacon ala Ruhlman. This time decided that i would do a few batches. i paid dearly for the belly the first time i did it, and the yield was maybe 3 pounds. this time i asked my 'butcher' in the local grocery store to order some pork bellies. his price would be better. when they came in, and he wrapped them up for me, i discovered to my non-butcher horror that he assumed i wanted the belly bone-in (spares attached). I wasn't going to turn him down after his ordering them for me, and decided i could always use ribs, too. bought two packages like this one here, about 14 pounds each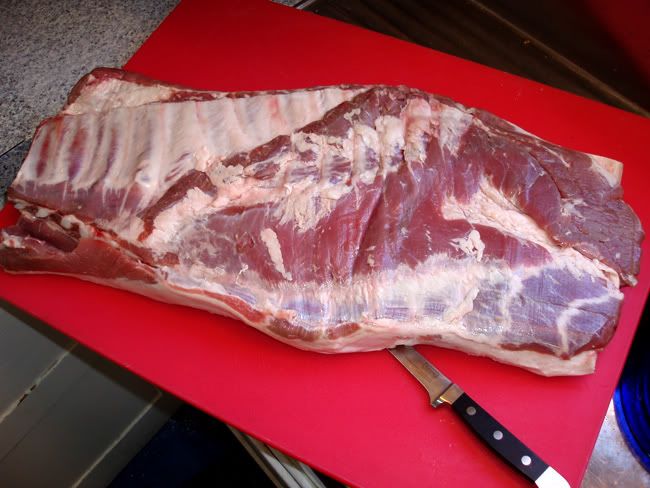 now to try my hand at getting the spares off without destroying the belly. not my best effort.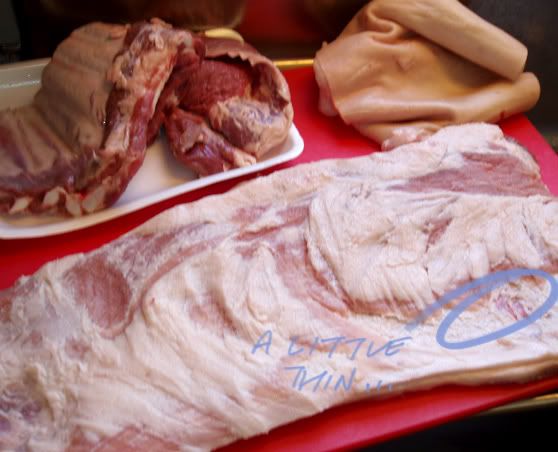 spares in the back left, skin to the right rear, and the belly in front. seems to be a thin spot. this happened both times. just wasn't sure if i was supposed to sacrifice the spares for the belly, or the other way around. i split them along a seam.
had about 4 pounds of skin when done, a pound and a half of ground pork, and only 6 oz of unusable trimmings (middle rear).
froze the skin, but haven't done anything with it. actually had the ground pork in a meatloaf on wednedsay night. used everything but the squeal.
ribs went on the next day. that gold is actually the raking sunlight, not mustard.
i tossed the bellies (each cut in two, making four four) into a dry cure and its own two-gallon ziploc bag. i did ruhlman's sweet and savory recipes.
here they are post-cure, rinse only (no soak), and after 24hrs of pellicle loving.
set the egg for a low but still hot smoke. last bacon i did was cold-smoked, but tried these hot-smoked per the recipe. i think i prefer the cold smoked, as it is still uncooked when done. truth be told, the frikkin fire got to 400 briefly, as i was keepin tabs on a new garage door being installed. :laugh:
the door... (those iron rails are coming down in the spring and wood wall/rails are going up. work in progress :laugh:
because i was doing both sweet AND savory at the same time, i held off on the maple smoke as i had used previously. i went with a more subtle apple wood smoke, and not too much of it.
sliced them up with a "new" knife i liberated from my father's shed (along with another). they are my great grandmother's. very thin, but carbon steel, and slice thru the bacon like buttah. i didn't even chill it first in the freezer.
ended up with ten foodsaver bags of about a pound to pound and a half each. two here are missing, as they went into the freezer in prep for travel the next day (a four day fishing jaunt for four fat fs)
believe it or not, i also packed for the trip an additional pound+ of back bacon i had made, but have no pics of that. i had made 7 pounds of back bacon the week before and it was from that batch
on the trip, we cooked the bacon for breakfast along with some masterful frittatas (theirs) and middling scrambled eggs (mine). savory was the star of the show. sweet was good, but would have benefited from some maple smoke.
dinner one evening for the four of us was a melange o'meat, including beefsteak, lamb chops, veal chops, and some sausages for the guy from philly (who made philly steak sangwiches the first night, of which i had two)
when i landed for the stopover on the way back to boston, i ordered a massive salad and had a side of fruit salad. it had been nothing but cured and fresh meats all weekend.... hahaha. well, and beer.
lots. of. beer.
the spot