Just trying to emulate Frank from Houma by smoking 15 slabs of BB ribs on XLG.
My sister asked me to BBQ 15 slabs of BB's and 200 chicken drumettes for my nephew's graduation party. I've never egged that much food. However, I recalled Frank from Houma's post of smoking 12 slabs of BB on the XLG.
I thought I would try for 15. I got some firebricks and went to egg. I removed the firering and placed the platesetter legs up un the firebox. I used the grid my XLG BGE came with, and three 22.5 inch grids, and a 17 inch grid in that order, bottom to top.I was able to shut the lid, so it was a go.
I used some mixed sweetwoods for smoke and egged the BB ribs at 225 dome on Thursday for 4 hours. At first some of the layers and adjacent ribs were in contact. After about 2 hours more space among the ribs developed. I rearranged the layers half way through the cook. After 4 hours, I immediately placed them in the fridge. I had spoken with Little Chef and she kindly gave me the necessary logistics and food safety information so that I did not kill my sister's guests. Thanks Michelle! After they comletely cooled in the fridge, I wrapped each slab in plastic wrap.
The party was from 2 – 6 pm so I had to space my finishing of the slabs. I took out 5 slabs one hour before placing on my sister's Weber (ya gotta do, what ya gotta do sometimes) so they got to ambient temperature, then I placed them on the grid at about 300 – 350 for about 30 minutes, then added sauce and continued until the sauce carmelized and the ribs bent. I tested the temp for safety precautions and got reading in the 195 – 200 range. I brought out more ribs each hour, letting them come to ambient temperature for an hour before reheating.
Got rave reviews. They were tender and moist with a slight pull off the bone.
Next time I attempt this I will try using bolts instead of bricks which should allow for more space among the rib racks.
One could not emulate a finer egger than Frank!
Test grid set up to make sure I could close the dome, 5 levels: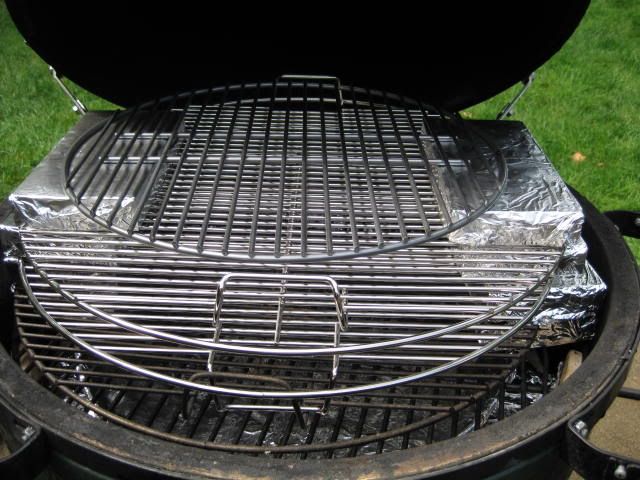 15 prepped BB slabs with rub:
5 layers of BB ribs, 3 slabs on each layer (you can barely see the bottom layer):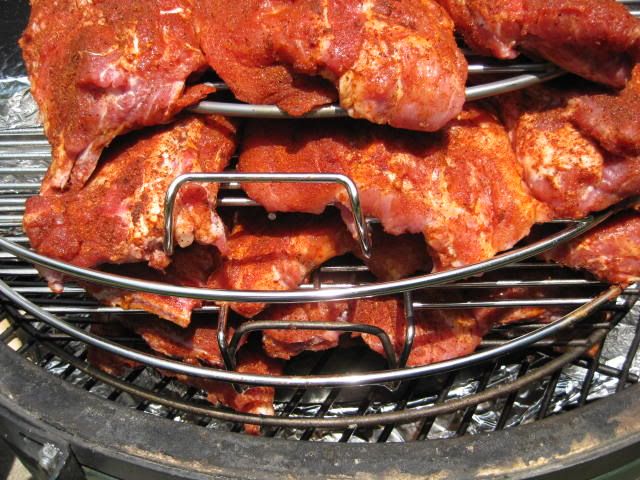 Smoking away: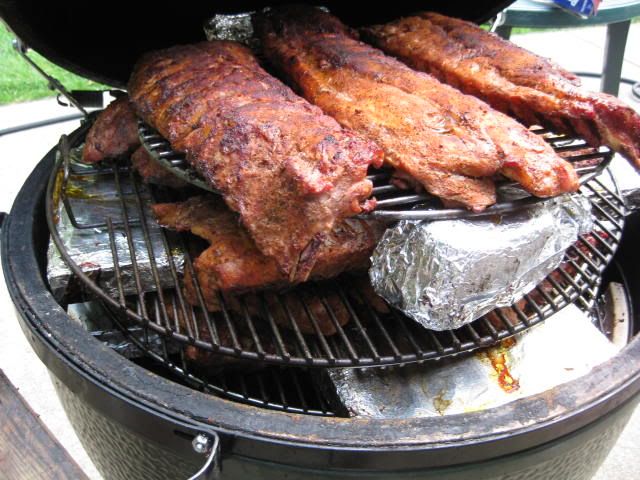 All 15 slabs of BB's taken off the egg: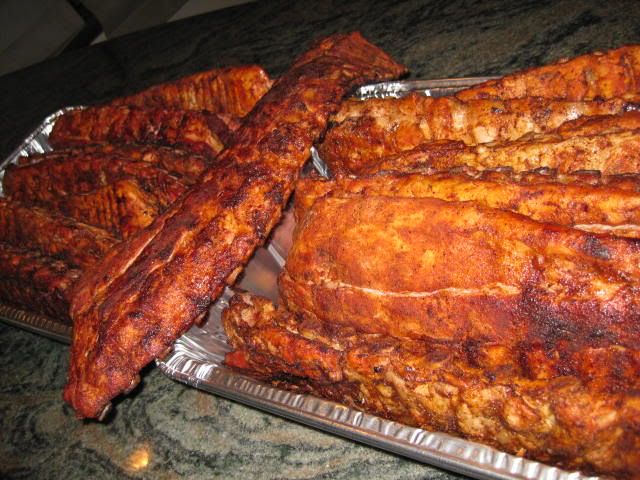 In the fridge for 2 days. I immediately placed them in the fridge after cooking and once they completely cooled, I individually wrapped each slab in plastic wrap, them covered the pan holding them with more plastic wrap: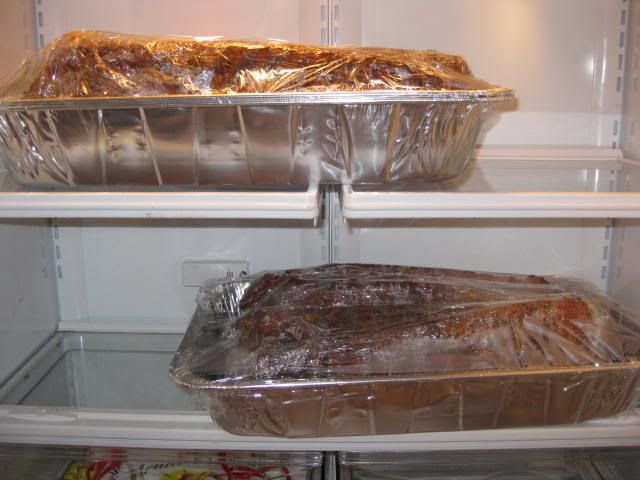 Finishing off the BB ribs on my sister's gasp!, Weber: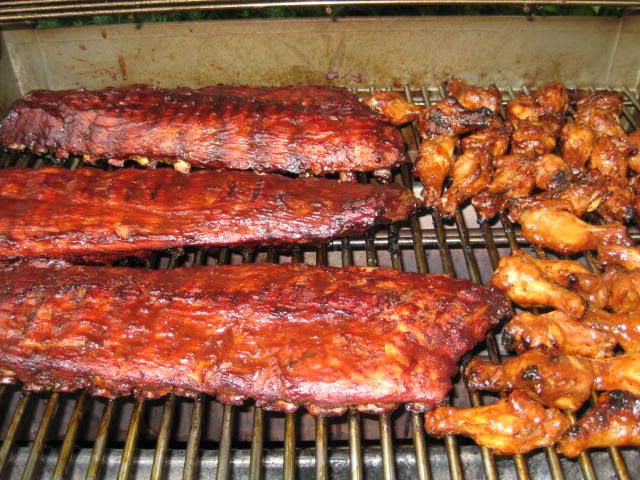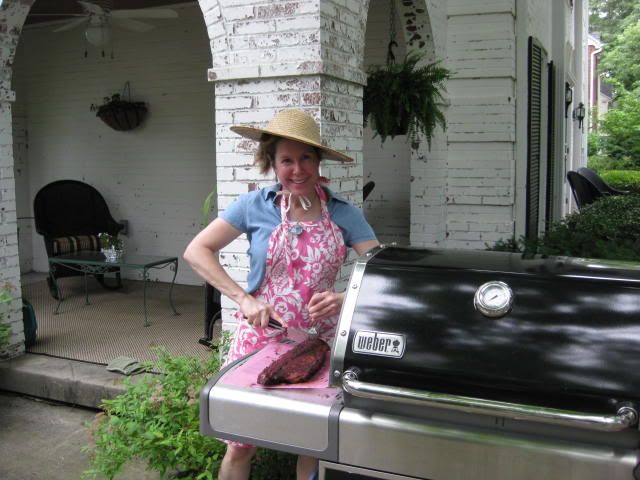 My nephew was most appreciative. Still can't understand how a Buckeye got a scholarship to University of Michigan though, lol.
Some gorgeous Buckeyes out flanking a Wolverine: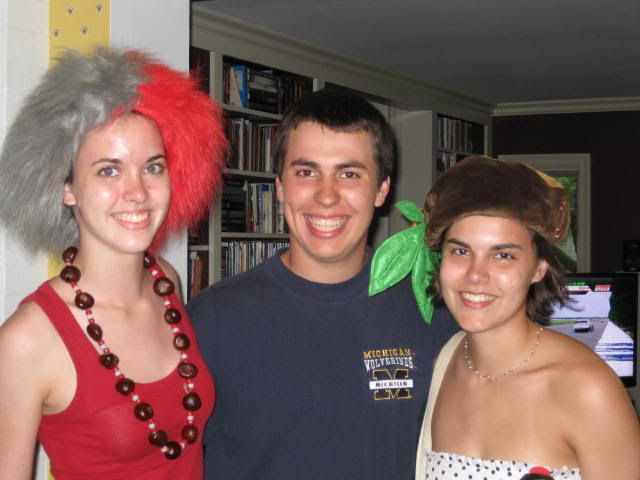 With great gratitude to Frank from Houma and Little Chef!