I stopped by my favorite meat counter the other day at Sam's and found whole boneless pork loins for $1.48/#. I thought that sounded like a pretty good price so I selected one at about 9+ pounds. At home I grabbed the 8" Shun and a ruler and tackled it. I settled on 1 1/2" thick and the recently sharpened Shun cut them like butter.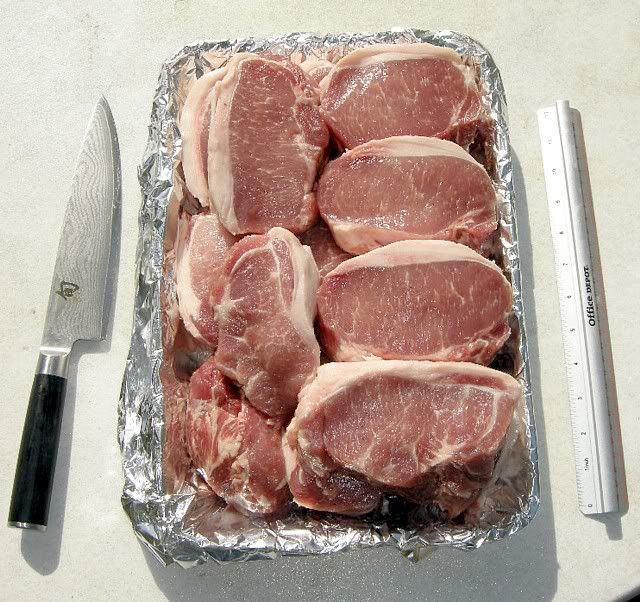 This loin had a nice little marbling of fat. I figure if it is good for beef why not pork?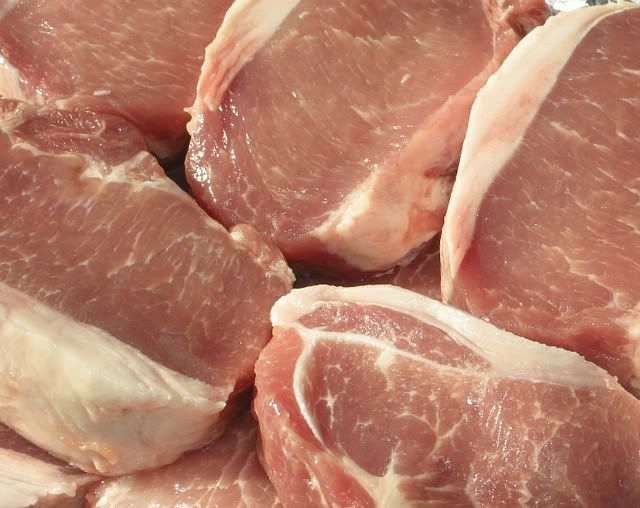 Tonight I rubbed 3 with sea salt, pepper and my homemade rub. The rest (12) are safely FoodSaver packed and in the freezer.
My Rub
1/2 C paprika
1/4 C fine Sea salt
2 C Drk. Brown Sugar
2 T Dry Mustard
1/4 C Chilli powder
1/4 C Cumin
2 T Blk. Pepper
2 T Garlic powder
1 T Onion powder
1 t Cayenne pepper
1 T Nutmeg
1 T Cinnamon
I heated the egg up to 400º with the lump that was in it, a mix of Royal Oak and mesquite charcoal and put them on a raised grid. It has been awhile since I have cooked pork chops and my thought was to treat them similar to the large chicken breast I have been cooking recently. They have been coming out perfect and these chops were a similar chunk of protein.
Turning about every 4 minutes had them to about 145º internal in about 20 minutes and ready for a little sauce.
Tender, juicy and full of flavor is almost an understatement. Some of the best pork I have had in a long time.
Gator