After my "buyers remorse" post I got a lot of responses and emails. I did a bunch of searching through old threads and today I had a decent cook. I'm still having trouble getting rid of the bad smoke. After 30 minutes there was still a bit coming out of the egg....anyway...
I rubbed some pork steaks with salt, pepper and garlic powder. When I finally got the egg to 300 I direct grilled each side for 10 minutes. Then I put the steaks in a pan with Maull's sauce and a little water. Kept them on at 300 for 90 minutes to let them simmer. Here's the result.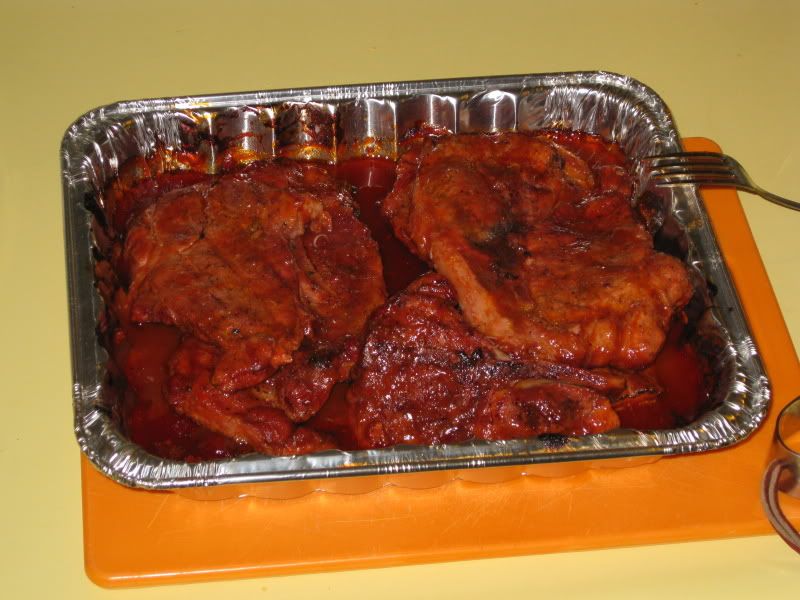 They were pretty good. This is the first time I've done a slow cook for this long. I had a hard time getting the temp steady, but once I did it stayed dead on. I had the top closed with the daisy wheel open and the bottom vent maybe at 1/2 inch. Temp had fallen a little at the end but only to about 285. The wife loved them. She was getting tired of my bad egg mood so she was pretty happy too.
For all my adult life I've been "fiddling" with my food on the grill. I need to learn to leave it alone. I kept wanting to mess with it.
Thanks again to everyone for the kind words and help. Seems like this is my first step! And don't mind the ugly yellow countertops. We just bought the house last May and haven't tackled the kitchen yet.