Welcome to the EGGhead Forum - a great place to visit and packed with tips and EGGspert advice! You can also join the conversation and get more information and amazing kamado recipes by following Big Green Egg at:
Facebook  |  Twitter  |  Instagram  |  Pinterest  |  Youtube  |  Vimeo
Share your photos by tagging us and using the hashtag #EGGhead4Life.
In Atlanta? Come visit Big Green Egg headquarters, including our retail showroom, the History of the EGG Museum and 
Culinary Center
!  3786 DeKalb Technology Parkway, Atlanta, GA 30340.
Meatloaf on the Egg......mmmm.....mmmmmm.......good!
Finally did a meatloaf on the Egg tonight and it was good good good.
I decided to do it in a baking dish because that is what all our guru's and their sites said they did. I think I'd put it on one of those disposable grids if I made it this way again, it was plenty juicey and I didn't get the crispy outside I'd have liked better.[p]First the extra stuff. I was going to finely chop but the wife was helping and put the peppers in a electric chopping gizmo. Two peppers one red one green, a small onion (I did chop that by hand) a tablespoon or so of fresh from the jar garlic, a jiggle or two of worchesteshire sauce, some ketchup, one egg, a can of mushrooms that I finely chopped (by hand) and some DP RTS. [p]
[p]To all that I added one 2.25 lb package of 80/20 ground beef, formed it into a loaf, and put it in a baking dish. It has so stuff in it that it kinda reminds me of pickle loaf.[p]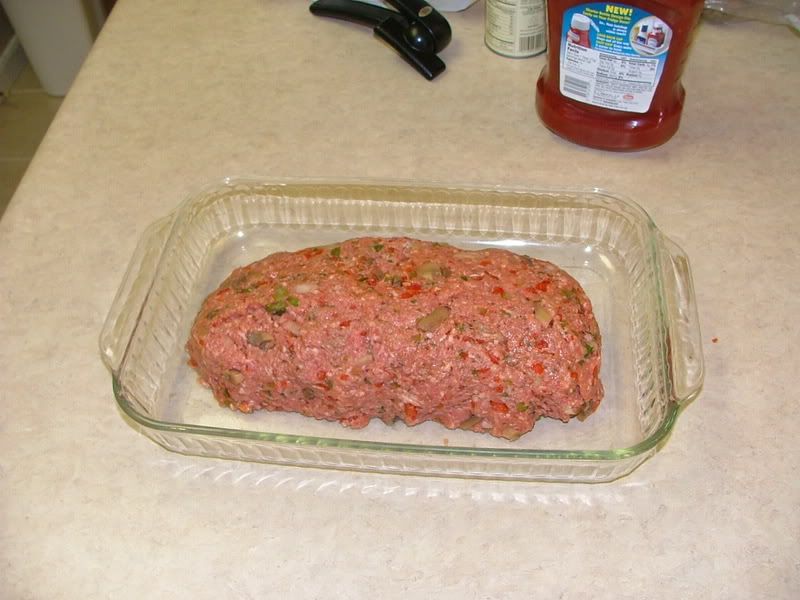 [p]I put some more RTS on top and then smeared on some more ketchup and off to the egg we went

[p]My kids must have been getting some vibes from Texas as my daughter pulled out a huge LR sized bag of tater tots from the freezer case. Using common sense and the authoritative no of father hood I said "sure honey anything you want".....not really, we got the smaller sized bag......[p]
[p]Plated with some fresh brussel sprouts and who knows how old processed chopped formed and preserved potatos. After I made the tots look like Mount Fuji in December I was able to eat them. I think this was the second time in 20+ years that I've ate those things....the last time they were doing a nacho impression, coated in cheese sauce and covered in hot peppers.[p]Bottom line. Meatloaf is awesome on the Egg. I probably went way overkill with all the stuff I put in it but it certainly was as juicey as you could want it. I think I try it with the same amount of stuff.....maybe a few other items :>) and put it on a grid indirect to see if I can't get a little burger bark action going. The inside should stay plenty moist. This puppy was swimming in juices from the veggies with just a little fat on top.