Welcome to the EGGhead Forum - a great place to visit and packed with tips and EGGspert advice! You can also join the conversation and get more information and amazing kamado recipes by following Big Green Egg to Experience our World of Flavor™ at:
Want to see how the EGG is made?
Click to Watch
Product Review: Bucket Head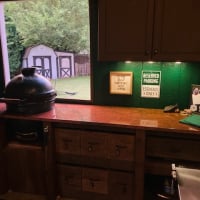 A month or so ago, I was thumbing through my Twitter timeline and saw
@BBQFinds
promoting Home Depot's Bucket Head. Not quite ready to fire on the Kick Ash basket, but a bit tired of the constant scraping with the tool, I took a calculated stab (hope?) that this would land somewhere in the middle. For $30 and with room to stow it, I bit that day and have used it 15-20 times.
Figured I'd peck out a review. First, some pics …
Pros: 
Snaps right on the bucket, no prob … The bucket handle extends over the top of the vac attachment. That's clutch because you're holding the bucket 95% of the time you're vacuuming … The suction is really good, including no issue with those spur-sized chunks of unburned lump that puncture bare feet … Incredibly light and easy to tote. 
Cons: Power cord could be longer. You'd really have to have a fortunate setup to avoid using an extension. Not much more than an annoyance for me, though.


Overall: Really happy with the product. Worried that it might be too gadgety/good to be true, but it's delivered consistently. I've got an elevated setup with a Large BGE nested in a custom base/countertop. For a deep clean with the guts out, I wouldn't mind another foot of suction hose. Slight knock, but doesn't qualify as a con.

Rating: 4 Brisket Slices (Outta 5)

#BlueSmoke



Tim
Large BGE (2020), Outdoor Kitchen (Summer 2021)
Aurora, IL
Comments