Couple of weeks ago,. was in Portland, OR, and had some very good food from a Thai style restaurant called Pok Pok. Came across several of their recipes on the web, and decided a chicken recipe, "Kai Yaang," was doable.
The chef insists on using only authentic ingredients, and that adds a lot to the way the flavors end up. I couldn't find any Thai fish sauce, or light soy, and so settled for Vietnamese.
The result wasn't a complete success, but was really good for a 1st try. The chicken was completely moist, and completely infused w. flavor. The down side was that it was a little too salty.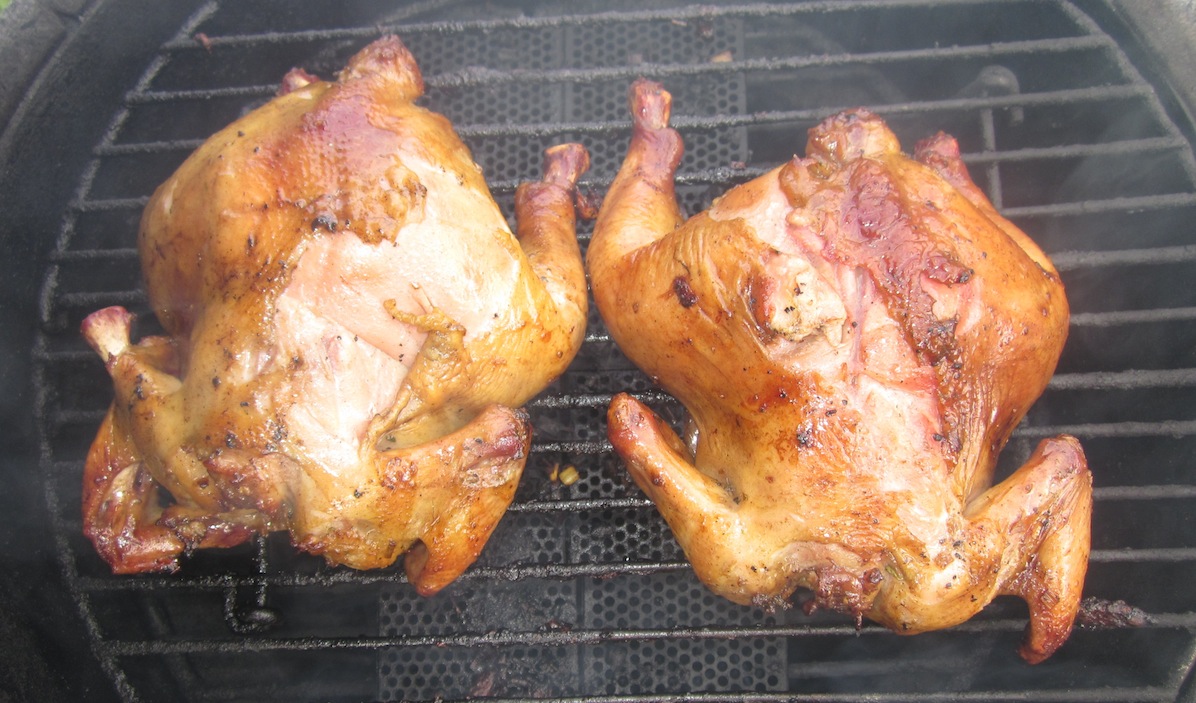 None of the recipe techniques was hard, but it was lenfthly. Used lots of lemon grass, garlic and cilantro. Some white pepper, some shallots.
Started w. an over nite brine w. salt sugar, and a mince of lemon grass, garlic and cilantro stems. I think I did not rinse the game hens well enough when I removed them from the brine, and that may have been the origin of the excess salt. Then the birds were stuffed with a mixture of the same veg, and left to dry in the fridge for a min. of 4 hours. At that point, they are glazed w. a sauce that includes the fish and soy sauce, and left to dry another 2 hours.
Cooked indirect, breasts down, 350, for 45 minutes. Flipped for 10. Then basted w. oil flavored by gently frying shallots, which were strained out. Another 10 -15 min. Finally, brushed w. dilute honey and cooked direct till golden brown. Breasts were 165F.
Oh, and the stuffing wasn't cooked thru. For me, not much of a loss, because the flavor was so obvious.
Didn't get around to making either of the suggested dipping sauces, which also wasn't a noticeable loss. Worth trying again.