Dancing around the food channels recently came across a story about a restaurant in the midwest that makes oriental/pizza goodies. So after some research came up with this snack.
Appetizer, Crab Rangoon, Pizza, Richard Fl.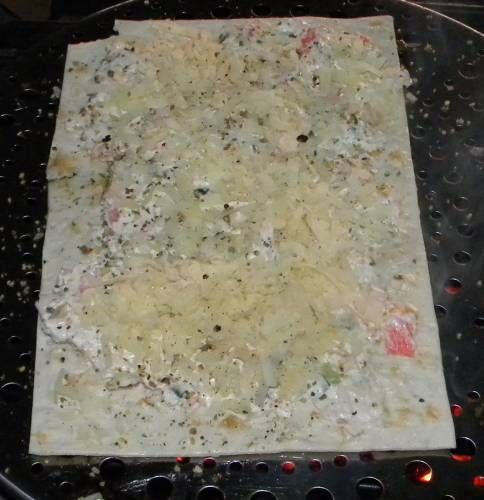 INGREDIENTS:
1/2 Lb Crab Meat or Surimi, chopped, Imitation Crab Meat
2 8 Ozs Pkg Cream Cheese, Softened
3-4 Tbs Horseradish Sauce
3-4 Tbs Hot Sauce
2-3 Stems Garlic Chives or Scallions, Chopped fine
1-2 Tbs Ground Black Pepper
*********
1 Sheet Flatbread, I used California Lavash,
http://www.californialavash.com/
Asagio Cheese
Parmesan Cheese
Mae Ploy, Sweet Chilli Sauce, Product of Thailand
PROCEDURE
1. Mix the first six ingredients.
2. Prepare your BGE or oven for a 400-425F pizza style cook, cook for 5-7 minutes.
3. Spread the cream cheese mixture over the flatbread, leaving about 1/2 inch around the perimeter uncovered.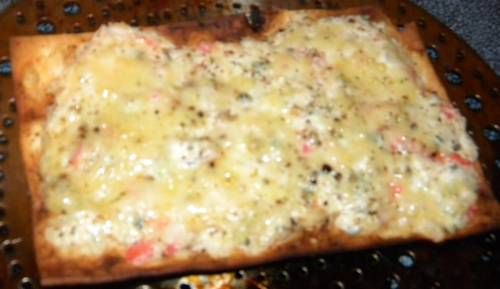 4. Sprinkle the Asagio and Parmesan cheese lightly over the mixture and place in oven 5-7 minutes or until the flatbread edges turn slightly brown and crispy.
5. Remove from heating element and cut into bite size pieces. Add a drop or so of the Mae Ploy on each piece.
6. Serve hot
Recipe Type: Appetizer
Source
Source: BGE Forum, Richard Fl, 2013/10/12