Still trying to eat healthy whenever possible. Plain salad is getting boring, so why not add some steak to it and make it manly?
Took a flat iron out to defrost and then marinated it in red wine with some sprigs of rosemary and thyme from our garden, couple of bay leaves, 1/2 onion roughly chopped and 4 or 5 cloves of garlic roughly chopped for about 4 hours.
While that was marinating, I whipped up a horseradish dressing. First time grating horseradish...that'll clear up your sinuses nicely. Let it chill in the fridge for at least an hour.
1 cup mayonnaise
1 tablespoon minced garlic
1/2 cup grated horseradish (yes, freshly grated, not out of a jar. I'm not sure how much you would use if you use the jarred stuff)
Juice of one lemon
1 teaspoon Dijon mustard
1/2 teaspoon Worcestershire sauce
1/2 teaspoon hot sauce (we like Louisiana hot sauce, but Franks or Tabasco or whatever you prefer will be fine)
Fired up the Egg at around 600F and grilled the flat iron steak about 2 minutes per side and pulled it roughly around 135 and let it rest for 10 minutes before slicing.
While it was resting, we tossed the salad with the dressing. Time to slice, ain't that purdy?
Layed the strips of steak on top of the salad and then shaved some thin slices of Parmesan on top.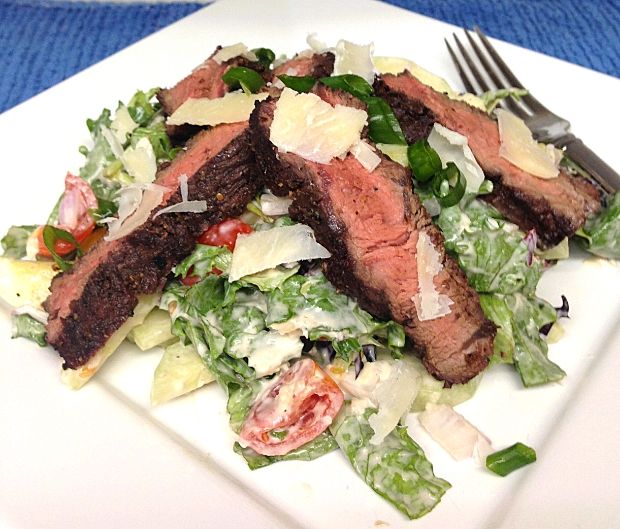 I was really impressed with the salad. It was filling and mostly healthy except for that cup of mayo (we did use light mayo, though). Horseradish always pairs nicely with beef and it gave the dressing just a hint of heat, but it was also, cool, creamy and refreshing. I went to bed satisfied. We've been so busy and out of town much, I haven't had much chance to get on the Egg, so it was nice to get back to grilling again.
Rowlett, Texas
Griffin's Grub or you can find me on Facebook
The Supreme Potentate, Sovereign Commander and Sultan of Wings