After working hard in the yard all afternoon yesterday, we were sitting on the porch having a few beverages, enjoying the nice weather and trying to figure out something to do about dinner. SWMBO'ed really wanted steak, I think, but after all the hard work I wanted something lighter. We finally decided on trying to do paella for the first time.
Last year, my parents brought us back a paella pan and some saffron from Spain. We've been meaning to try them out, but we kept getting busy or would forget about it. The pan I have doesn't appear to be the same size as the one most people are using. It's 9" across on the bottom and 11" on the top. Correct me if I'm wrong, but I think most others have bigger ones. Since it didn't seem the same size, we kinda took a few recipes and tried to adjust them to fit our needs. While we didn't nail the soccrat or the rice, but the paella had a nice flavor and we got the seafood done perfectly. Not blog worthy, but we'll keep working on it till we get it right.
Anyway, got the Egg rolling at 400 with the AR in it to give it some height. Mise en place (except seafood) consisted of Spanish chorizo, onions, tomatoes, red pepper, garlic, bomba rice, salt, paprika, olive oil and a glass of red to fortify my nerves.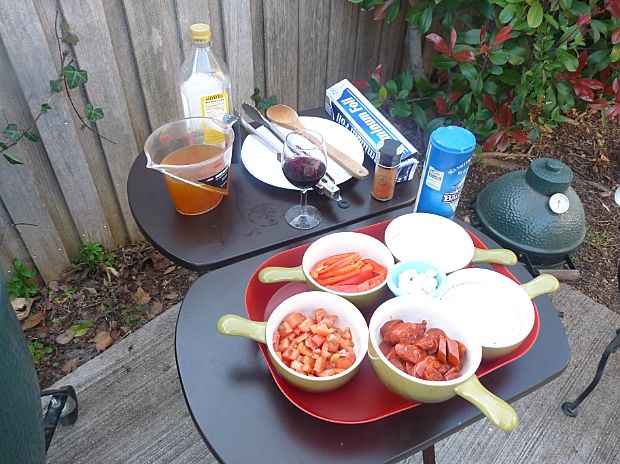 Started out by browning off some Spanish chorizo. Picture to show our setup and the pan we used.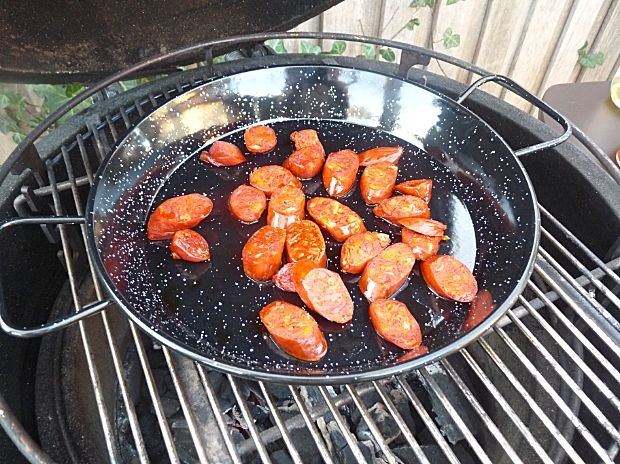 I'll skip all the other steps and jump to almost done. Seafood had been added which was shrimp, mussels, scallops and some tentacles
Done. We let it rest for 5 minutes while I grilled up some bread to go with it.
Plated up
We actually sat down at the table for this meal and used small plates with the pan between us which worked out perfect. Once we figured out the rice wasn't perfect, we just foraged through the paella pan getting all the seafood and chorizo. Wasn't going to let all that go to waste.
While it wasn't perfect, I think we learned a few things.
1. Don't overcrowd the paella pan. I think we added to much stuff.
2. Wait longer after putting in the rice to add seafood. I could have kept cooking it to get the rice perfect, but then the seafood would have been overcooked. When it came down to it, I'd rather have the seafood cooked perfectly and the rice undercooked, than perfect rice and overcooked seafood.
3. I need to do more research into cooking paella. I don't think I know enough about it.
4. Paella is a fun cook. We'll be trying this again till we get it right. We've also thought of a few versions that we want to try out.
Anyway, thanks for taking a look.
Rowlett, Texas
Griffin's Grub or you can find me on Facebook
The Supreme Potentate, Sovereign Commander and Sultan of Wings