Didn't quite turn out as well as I expected. Error on my part about not really knowing when to pull them. Should have gone back and re-read my thread where I asked for advice. For seem reason 180 to 200 was in my head, but I didn't listen. Oh well, live and learn.
First off, 4 individually cut beef ribs. Don't usually do beef ribs as the way the butcher cuts them they look like they came from an anorexic cow. These ones look like they had some meat on them and the price was right.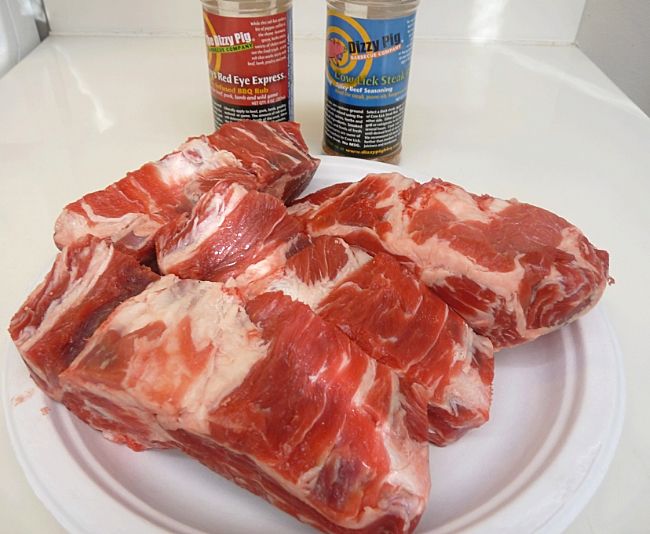 2 of them got some whatsthishere sauce splashed on and some DP Cow Lick
The other two got the sauce and some Red Eye Express
These went on to the MINI, yup I said MINI, at 350 using Central Market's Mesquite Lump and some Kingsford mesquite chips. Been awhile since I used the mesquite lump. Man I miss that stuff. Mesquite is so awesome, the rest of the country outside of Texas just don't know what they are missing. Maybe you have to be raised on the stuff.
That's a lot of meat on the MINI! Olie, the ever faithful guardian of the Egg kept watch, hoping for a reward.
Starting to look pretty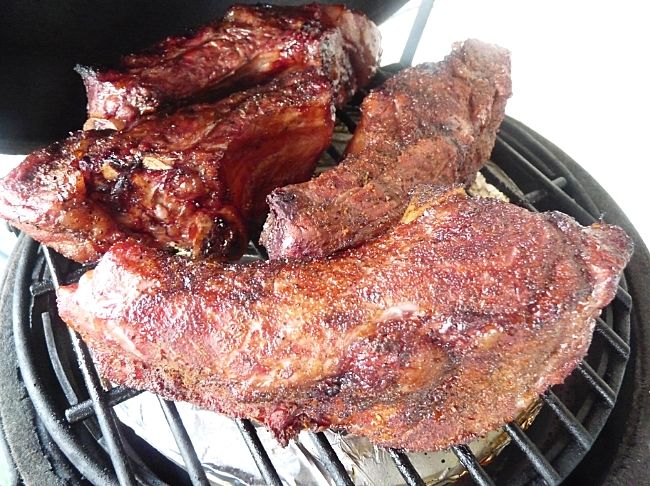 I let them go about an hour and a half. Can't 'member what temp I pulled them, but it wasn't 180 (let alone 200)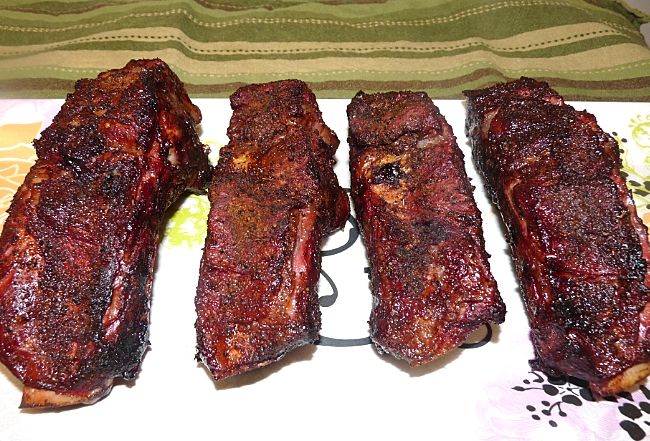 Plated them up with some corn on the cob and some potato salad I found at Central Market (when you are cooking for one, its kind of pointless to make you own).
Bite test. Bit of a smoke ring. Little tough.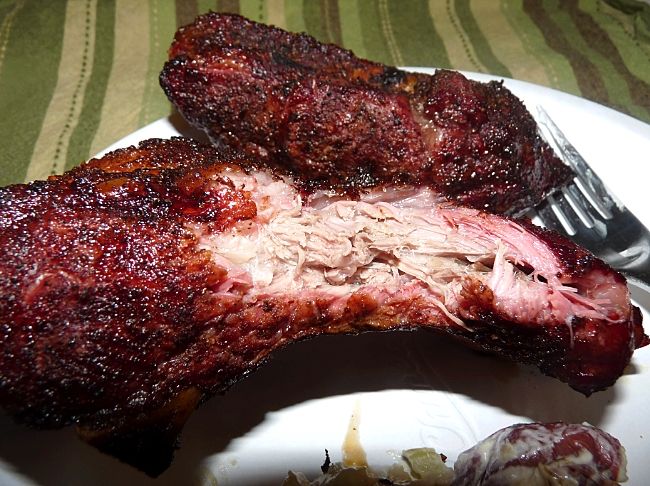 I could tell from the first bite that they weren't really done, but at this point I was hungry enough to go ahead and eat what was on my plate. The other two got wrapped in foil and tossed back on for another 45 minutes. Notice they pulled back from the end qutie a bit more in the next picture.
Ate the other two for lunch Monday and even though I had to nuke them to rewarm them, they were much better. The extra cooking time in the foil pushed them along further to where they should have been. Considering this was only my second time doing beef ribs and first time trying the turbo method and I was eating alone, I wasn't all that upset. Can't knock them all out of the park. Ya live and ya learn, right? Next time I'll have a bit more knowledge and experience and I expect they will turn out better.
Rowlett, Texas
Griffin's Grub or you can find me on Facebook
The Supreme Potentate, Sovereign Commander and Sultan of Wings